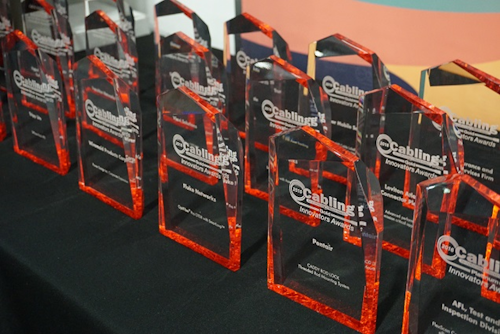 At the 2019 BICSI Fall Conference and Exhibition (Sep. 29- Oct 3) in Las Vegas, Cabling Installation & Maintenance magazine and CablingInstall.com presented its annual Cabling Innovators Awards, celebrating the year's most-innovative applications of cabling and communications technology products, applications and projects.
The awards featured 10 submission categories for products and applications, including one dedicated to Splicing and Termination Equipment.
As specified by the awards program, "The tools and devices used in the process of cable termination and splicing are featured here. Fusion splicers and mechanical splices, closures/trays, cleavers, and fiber cleaning and inspection equipment are among the products for fiber termination. Also in this category are crimpers, punchdown tools, and any other toolbelt items used in the termination process."
For the 2019 Cabling Innovators Awards, three entrants in this category received recognition, including one Platinum, one Gold, and one Silver honoree. As described by the nominated companies, the awarded products and systems are as follows.
Splicer Accessory Management via Bluetooth – AFL – Platinum Award
AFL's line of Bluetooth enabled splicers and fiber prep accessories were designed with user-value at the forefront. For clarification, AFL has four Bluetooth enabled splicers and one Bluetooth enabled cleaver and thermal stripper. Bluetooth implemented into products for basic feature control or data transfer is not new or innovate, but the aforementioned products go far beyond this basic scope.
The way AFL's splicers and accessories use wireless communication actually save the customer appreciable time and money, greatly reducing the cost of ownership compared to a traditional non-Bluetooth enabled set of splicing equipment. Specifically, the cleaver has a cleave counting mechanism managed internally from which the splicer continuously reads from to track cleaver blade wear and overall life. Each position at each setting has an independent cleave count, so when a particular position at a particular height no longer produce good cleaves, the splicer tells the cleaver to rotate the blade and does so via an internal motor. The splicer is able to make these decisions via image processing of the fibers pre-splice to determine cleave quality.
If a "user defined" number of bad cleaves occurs within a "user defined" number of total cleaves, the splicer rotates the cleaver blade. The splicer then records this position as expended, preventing the operator from mistakenly using this position again by giving an on-screen alarm if manually rotated to this position. In addition, the splicer also automatically switches the cleaver's counter back and forth between single and ribbon cleave counting, depending on the number of fibers you are splicing. These features save the customer time and money by: reducing operator management of the cleaver, which any fiber tech knows can be a pain, maximizing the life of your cleaver, rather than losing track of good and bad positions, and reducing cleaver damage and repair costs, by automatically rotating the blade and removing the need for the operator to manually do so.
This feature set is beneficial to all users, but in varying degrees. The largest benefactors are those splicing high-density cables, where a single splice location requires multiple blade rotations. For the thermal stripper the value is not as prominent, but is still convenient and further contributes to operator-free accessory management. The splicer will store automatic heat recipes per splice mode so instead of having to remember which heat setting you need per ribbon type or OEM, the splicer manages this and adjusts your stripper's heat settings accordingly.
HDX Splice Module - Leviton Manufacturing Co., Inc. – Gold Award
The HDX Fiber Splice Module merges the flexibility of field fusion splicing with ultra-high-density fiber networks for Wide Area Networks (WAN), campus environments, high-count riser buildings, government installations, data centers and central offices. The HDX Splice Module continues Leviton's efforts to make fiber optic network deployment easier, cleaner and safer. The modules integrate fiber adapter bulkhead and splice holders, eliminating the need for splice trays. It is also available for LC or MTP patching, and is the only MTP splice module on the market, allowing for field splicing during network migrations up to 400 Gb/s. Additionally, its internal LC Pigtail (U.S. Patent Pending) provides single fiber and ribbon fiber splicing, with a single product to accommodate different splicing techniques and preferences.
The HDX Splice Module comes with a pre-routed, color-coded pigtail for faster, cleaner network deployment in field termination applications. The clear cover and innovative splice holder protects splices for safer and easier access from the front of the rack. And it is designed for minimal effort: only one hand is needed to install and remove the clear cover. A thumb latch allows for easy removal from panels or enclosures. This eases the termination process and minimizes unnecessary movements during the initial install and later MACs. Additionally, the HDX Splice Module is part of the HDX platform of Frames, Rack-Mount Enclosures, Panels and Wall-mount Enclosures, which focuses on ultra-high density and network manageability. The splice modules have the same patching form factor as HDX cassettes and adapter plates, and the same method for inserting and removing from enclosures and panels. This creates consistency and familiarity for all areas of the network, across installations and throughout future MACs.
The HDX Fiber Splice Module offers field termination capability in an ultra-high-density footprint to minimize patching space and increase flexibility during installation and MACs. By reducing the likelihood of a cabling "rip-and-replace", data center managers are more likely to keep their installed fiber cabling and only replace the connectivity patching to the active gear. As the first and only MTP Fusion Splice module, this means migrations from 10 to 40, 100, 200 and 400 Gb/s are possible in legacy installations without prolonged downtime or scraping the entire base of installed fiber. This saves the expense and waste of prematurely throwing away fiber cable that is still suitable for the network requirement. At the product level, the innovative internal pigtail allows both single fiber and ribbon fiber splicing capabilities. By providing two splicing options in a single product, Leviton has minimized unnecessary inventory of multiple products by distributors, and made the purchasing easier by contractors and end-users, as a single product can be used for both applications. This means fewer variations of the product on the shelf, and less likelihood of stranded inventory or wasted resources.
The HDX Fiber Splice Module is engineered to take network installations and tech refreshes through the next generation. It reduces the number of physical connections to help meet channel loss levels, allowing for network migrations in field splicing applications, and maximizing the life of the installed fiber cabling infrastructure. By including features such as one-handed management, a clear cover, an innovative splice holder, and US patent pending fiber pigtail, the HDX Splice Module keeps the installer in mind. It's offered in single-mode (OS2) UPC and APC and multimode (OM4). It truly merges the flexibility of field fusion splicing with ultra-high-density fiber networks for Wide Area Networks (WAN), campus environments, high-count riser buildings, government installations, data centers and central offices.
Fiber Splice Cassettes – Legrand – Silver Award
Legrand's Splice Cassettes enable fast field termination and provides cable management within the housing. They are designed for use with either single-mode (OS2) or multimode (OM3/OM4) fiber, features 12 or 24 fibers in LC Duplex, LC Quad, or SC Duplex connector styles.
Both the 12- and 24-fiber cassettes support fusion splicing of individual or ribbon fibers. Heat shrinks, pigtail slack and cable slack are all managed within the cassette and eliminates the need for individual splice trays or special housings. Splicing can also be done away from the rack housing if needed. The design allows easy mounting from either the front or rear of an enclosure or panel. Individual fibers within a cassette may also be accessed without disturbing other fibers in the housing.
The Fiber Splice Cassettes simplify the installation process and deliver extremely low loss, while enabling the lowest total cost of ownership among splicing solutions. The pigtail is pre-routed with an optimal bend radius which saves time and protects the precious fibers within. The cassettes are designed to pair with Legrand enclosures and panels.