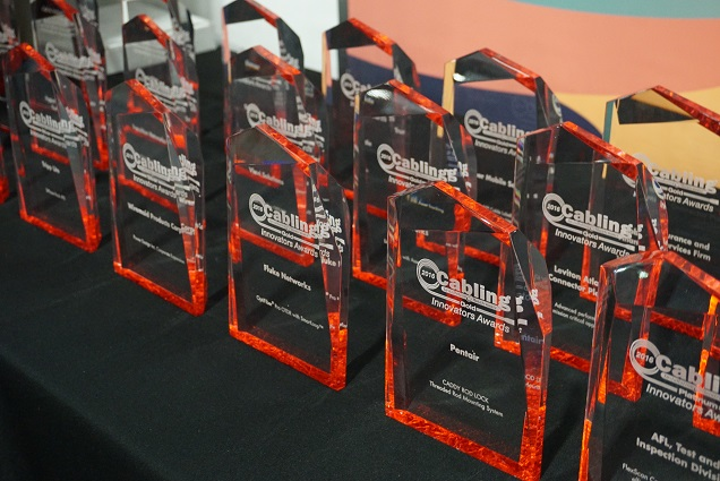 At the 2019 BICSI Fall Conference and Exhibition (Sep. 29- Oct 3) in Las Vegas, Cabling Installation & Maintenance magazine and CablingInstall.com presented its annual Cabling Innovators Awards, celebrating the year's most-innovative applications of cabling and communications technology products, applications and projects.
The awards featured 10 submission categories for products and applications, including one devoted to Test Equipment.
As specified by the awards program, "From the traditional to the unique, test and measurement equipment, tools, and accessories are recognized in this category."
For the 2019 Cabling Innovators Awards, ten entrants in this category received recognition, including one Platinum, four Gold, and five Silver honorees. As described by the nominated companies, the awarded products and systems are as follows.
MicroScanner PoE Cable Verifier - Fluke Networks – Platinum Award
The Fluke Networks MicroScanner PoE speeds the installation and troubleshooting of Power over Ethernet (PoE) devices including those supporting the new high power 802.3bt standard, which was ratified in September of 2018. The tester, which can verify and troubleshoot Ethernet cabling, displays a simple indication of the class of power available as reported by the switch in accordance with the Ethernet Alliance designations. This information indicates if sufficient power is available for the device in question. With an MSRP of $725 US, the product is priced within reach of every technician.
PoE provides substantial cost, efficiency and flexibility benefits, sparking an explosion of powered devices such as cameras, access points, and displays, along with switches to support them. Unfortunately, the term "PoE" is not defined by any standard and a wide variety of standardized and somewhat-standardized implementations are available. Even more confusing, multiple standards, multiple power levels, a variety of non-standardized names such as "PoE+", "PoE++", and other designators are used. The result is that it's difficult even for experts to know what devices will work together.
The Ethernet Alliance launched a certification program to end this confusion. Power levels and requirements are designated by a number from zero to eight indicating the amount (or "class") of power sourced or required. Technicians need to simply ensure that the class number of the source is equal to or greater than the class of the powered device. When connected to a PoE switch, the MicroScanner PoE will display the maximum power class indicated by the switch, making it easy for the tech to know if the switch and device are compatible.
The MicroScanner PoE also provides a complete set of tools for the technician installing PoE and non-PoE devices. Cable wiremapping, a built-in toner, and distance-to-fault indicators can track down cabling problems quickly. When connected to a live switch port, the unit displays the speed of the port up to 10 Gbps, especially useful for troubleshooting slow access points. Cable identifiers can be used to track which cable goes where.
Ensuring quality installations of a PoE network is a three-step process. First, designers should use EA PoE certification to ensure their selected equipment will work together. Second, the cabling installation should be certified to meet not only the category cabling requirements, but also the resistance measurements that are critical to PoE. Third, techs should be outfitted with tools such as the MicroScanner PoE so they can ensure they're properly connected to devices which can supply the necessary power.
FlexScan FS300-325 Quad OTDR simplifies MMF & SMF verification – AFL – Gold Award
Innovations are meaningful when they provide a significant benefit to users. Yet, all too often, innovations which developers think are cool simply complicate a product, making it more difficult to use and reducing user productivity. The FlexScan Quad OTDR takes the best of AFL's popular FS200 pocket-sized, easy-to-use, single-mode point-to-point and PON OTDR – and makes it even better. FlexScan Quad OTDR adds point-to-point multimode support, is still pocket-sized, still packed with performance, still fast, but now includes integrated, user-configurable Print-to-PDF reporting, is even easier to use with a larger, brighter, higher resolution, gesture-recognition touchscreen display and offers longer battery life. Like FlexScan FS200 single-mode OTDRs, the FS300 includes an integrated red laser Visual Fault Locator, plus optional integrated optical light source, power meter and Bluetooth/WiFi communications, ensuring technicians have all the tools they need to verify and troubleshoot either single-mode or multimode networks.
The FS300-325 is designed for contract installers supporting both multimode and single-mode networks, including FTTH PONs and Passive Optical LANs (POLANs). FS300's SmartAuto multi-pulse acquisition and icon-based LinkMap display simplify test setup and rapidly deliver accurate, easy-to-understand results, enabling even novice technicians to correctly verify and/or troubleshoot fiber optic networks in a single visit. With integrated print-to-PDF, user-configurable reports can be generated on the spot, in the FlexScan, without leaving the field. Saved test results and PDF reports can be uploaded via USB, Bluetooth or WiFi. Designed with field technicians in mind, FlexScan delivers this capability at half the size and half the weight of other Quad OTDRs. FlexScan Quad OTDR's innovation is simplification. First time easy equals first time right equals shorter test times, fewer retests, more jobs done in less time at less cost.
 OptiFiber Pro High Dynamic Range (HDR) OTDR - Fluke Networks – Gold Award
The OptiFiber Pro High Dynamic Range (HDR) Optical Time Domain Reflectometer is the first OTDR that fulfills contractors', installers' and network owners' demands for a single solution to deal with applications ranging from FTTx, PON and datacenters to category-rated structured cabling. Versiv users report that its efficient and familiar interface cuts costs by 65% when testing, certifying and maintaining copper and fiber network installations. The OptiFiber Pro HDR OTDR is designed to support the growing need for an OTDR able to test and document HDR applications supporting outside plant (OSP) back-haul and long-haul services, peer-to-peer (P2P), passive optical network (PON), and fiber-to-the-premises installations. Three new singlemode modules address 1490 nm, 1625 nm and combined 1310/1550 nm with a dynamic range of up to 42 dB, allowing users to find more faults over longer distances.
"We've used Versiv for a long time and it has reduced our certification cost," according to Chuck Ziegler, Senior Project Manager at Fisk Electric, a Houston, Texas-based electrical, security, and cabling contractor. "Now, we'll be able to apply that same efficiency to our outside plant and FTTx jobs."
There are two features that make the OptiFiber Pro stand out in a crowded market. The first is OptiFiber's unmatched user interface. Other OTDRs have touchscreens, but OptiFiber Pro is the only one that works like a smart phone, with gestures including swiping and pinch-and-zoom, which brings trace analysis into the modern era. Novices can use the AutoOTDR feature, which characterizes the cable, then automatically sets up parameters including range, pulse width and averaging before running a test. Project managers can set limits for each link before sending the unit to the field, giving the technician a PASS or FAIL indication so they know if links are good – even if they've never used an OTDR before. By touching the screen, users can instantly switch between three views: a traditional trace, a list of events, or the EventMap, which graphically identifies events such as connectors, bad splices, and even ghosts. Touch any event and you'll see the loss and reflectance. The HDR model adds automatic bend and splitter detection to the list. Experts can use this analysis as a starting point and tweak settings using the Expert Manual mode to identify harder-to-find events. The SmartLoop feature simplifies bi-directional testing as required by standards. Unlike other testers, all the features noted above are standard on the OptiFiber Pro, and do not require post-processing or a separate PC.
The second difference is that OptiFiber Pro is part of the Versiv Cabling Certification System. The setup and operation of fiber and copper testing is therefore predominantly the same – a huge benefit for firms employing any of the tens of thousands of technicians have been certified on Versiv. Versiv uses Fluke Networks' LinkWare PC or LinkWare Live – a single system for copper, fiber loss, and OTDR – that can integrate all results into a single, complete project report. With over 40,000 users and 20 million results uploaded to the cloud, LinkWare is the industry's leading cable test reporting solution.
NetXpert XG - Softing Inc. – Gold Award
NetXpert XG is the first passive cable tester and active network LAN manager to prove the speed of copper and fiber optic Ethernet up to 10Gbits/sec with BERT (bit error rate test), SNR (signal to noise ratio), and delay skew tests.
Here's the challenge. You certified your Ethernet cable installation 5 years ago after the cable was laid and before any network devices were connected. But today, 5 years later, devices are connected, your network is up and running, and you are starting to see that you need more bandwidth. It's easy to replace your switches and wireless access points, but ripping and replacing your CAT 5 or CAT 6 cable? That's expensive, time consuming, and maybe unnecessary! What if your CAT 5 or CAT 6 Ethernet could run beyond certified design specifications? It's possible. Maybe you had a clean installation. Maybe you're runs are short. If you only had a method to prove that your installed cables could run at N-BaseT, 2.5Gbit/sec, 5Gbit/sec, or even up to 10Gbit/sec before you started buying switches and routers, you could leave the cables in place, upgrade your switches and routers with confidence, and achieve up to 10Gbit/sec without ripping and replacing cables. What's more likely is that after testing, you'll probably find a few cables that fail a test, and can't run at higher speeds. However, if you can identify those few cables with problems, and fix those cables, the savings would be huge not ripping and replacing all of your cables! You might, for example, identify the cable fault and improve the speed simply by re-terminating the cable.
That's exactly what NetXpert XG does. NetXpert XG proves your network speed by performing a live BERT test that actually transmits up to 10 giga bits of data per second, and then error checks each bit at the other end of the cable. It also identifies faults, which can allow you to fix the cable instead of replacing the cable. When your cables pass your gigabit tests, even your CAT 5 or CAT 6 cables, you can confidently upgrade your switches, routers, and wireless access points to achieve gigabit speeds across your network. If you purchased a NetXpert XG as part of a network upgrade strategy, it would easily pay for itself by proving the network speed. In addition, however, NetXpert XG is packed with value for your facility even after you prove your network speed. NetXpert XG has active network management functions, so you can test security cameras, POE devices, test VLANs, ping, traceroute, identify switch ports, be a DHCP client, decode CDP and LLDP protocols, and perform network discovery. And, as a passive cable tester and using the remote, you can perform wiremap tests, measure length of cable, check cable terminations, detect length to open/shorts, and a tone generator is included. NetXpert XG uses SFP ports to support many different fiber connector types.
The two attributes that make NetXpert XG truly innovative is (1) the massive business impact of proving your network speed beyond design spec and perhaps pinpointing just a handful of cables that can be repaired to increase your network speed up to 10Gbits/sec without ripping and replacing all cables. And (2) the ongoing added benefit of NetXpert XG as a copper and fiber active network LAN manager and passive cable tester in the day-to-day life of your facility when devices are connected and running on your network.
 Manta-W+ Fiber Microscope for Inspecting MPO Connectors – Sumix – Gold Award
The Manta-W+ fiber inspection microscope from Sumix represents a significant leap in technology that substantially simplifies and speeds up multi-fiber connector inspection. Multi-Fiber Push-On connectors, MPO and MTP are increasingly used in telecom central office, data center, FTTH, and test and measurement laboratory applications. Dirty or damaged connectors result in errors and expensive network downtime. Inspecting the end face and verifying each individual fiber has proven to be a challenge for operators.
The Manta-W+ is the first microscope probe in the market that captures and analyzes all fiber terminations (up to 6 rows of 12 or 16 fibers) of an MPO connector at once, which dramatically decreases testing time. With the Manta-W+, operators can inspect MPO patchcord in just ONE scan – as fast as 4 seconds for MT12 – and to check entire ferrule surface including guide holes. Fast MPO connector inspection results in dramatic operational expenses reduction in the data center. Automatic and accurate multifocusing, optimal multi-illumination, Pass/Fail analysis of defects, contaminations, and scratches as per IEC standards – all steps are performed at once and leave no room for operator's errors. Since Manta-W+ enables visual inspection of the whole MT ferrule from guide hole to guide hole, an operator can see dirt and debris that might be overlooked when checked with devices with smaller field of view. It is believed that contamination can migrate from guide holes to individual fiber ends over time due to local vibration and may later cause network failures.
The Manta-W+ high contrast optical resolution of 1.8 micron and 1.0 micron per pixel along with precision algorithm provide detection of 0.5 micron defects and allow measuring their width as low as 0.75 micron. Applicable for field use, lab and manufacturing, the Manta-W+ is an essential tool to verify quality of the produced fiber optic connectors, perform receiving inspection, prevent and troubleshoot network failures. The high speed of operation and no need to repeat tests is the recipe for great enhanced productivity using Manta-W+ probe. The Manta-W+ microscope supports not just MPO connections but also other connector types including LC, FC, SC, E2000, CS, PRIZM, QSFP, ARINC, MIL-38999, ODC, Q-ODC, High-power SMA, Avim, mini-Avim, OptiTip/OptiTap and many more, both patch cord and bulkhead sides of fiber interconnect, with an extensive selection of interchangeable tips available.
In summary, combination of the following features makes Manta-W+ microscope probe a truly unique product in the market of field, lab and production test equipment: wide field of view - 4.1 x 3.0 mm, that fits up to 6 rows of 12 or 16 fibers at one screen (while competing solutions offer testing fiber by fiber, or several fibers per scan); automatic and accurate multifocusing, optimal multi-illumination, precise algorithms for Pass/Fail analysis of anomalies as per IEC standards eliminate operator's errors; high contrast optical resolution of 1.8 micron and 1.0 micron per pixel qualifying Manta-W+ to be used even as a benchtop microscope; fast autofocus and test (it takes only 4 seconds to check a standard MTP®/MPO connector (12 or 16 fibers) without autofocus and 6 seconds using autofocus while competing solutions are much slower); compact size and portability.
 FOCIS Lightning – AFL – Silver Award
FOCIS Lightning is the only truly handheld and self-contained fast MPO/MTP connector inspection microscope on the market today. The innovative use of dual 5M pixel CMOS image sensors, liquid lens optics, a complex and compact objective lens system, and FPGA-based image processing make possible the small size and lightweight form factor. The integrated color LCD screen, on-board flash memory, and powerful yet low power microprocessor makes FOCIS Lightning completely self-contained, with an optional FOCIS Flex mobile app (iOS and Android) for reporting purposes and to create a conduit to AFL's aeRos cloud-based workflow management platform.
The value of FOCIS Lightning to enterprise and hyperscale data center operators is enormous, as the feature attributes of FOCIS Lightning make 100% multi-fiber connector inspection a practical reality for the first time, from an OPEX perspective. Pristine connector endfaces are vitally important in modern data centers with 100G/200G/400G optical links, with respect to maintaining 24/7 "up time" goals. FOCIS Lightning documents connector endface conditions 10X to 100X faster than legacy mechanical scanning methods. This inspection probe also captures key up / key down connector polarity (to ensure correct fiber numbering) and supports IEC-based pass/fail auto-analysis on both MPO-12 and MPO-16 connectors with up to two rows.
FOCIS Lightning completes pass/fail auto-analysis in about 10 seconds on a 12 fiber MPO-12 connector, and provides views of the individual fibers, including the inspection zone overlay GIF and JPEG endface image, plus a scratch and defect "zone table" for each individual fiber. An instant 2X zoom feature allows a closely look at the top and bottom halves of the connector, with a partial view of the alignment holes or pins. FOCIS Lightning stores up to 10,000 endface images and zone table results, so that a full day's work is captured even in secure environments where Bluetooth or WiFi are prohibited. A "no wireless" version of FOCIS Lightning is available to meet the most stringent data center security requirements.
FOCIS Lightning ships in easy access kits with both UPC and APC adapter tips for both MPO-12 and MPO-16 connectors, and accessories including a rechargeable battery power supply, USB cable, Quick Reference Guide, a tackle box with alignment sleeves, and both MPO-12 and MPO-16 One-Click cleaners. In 2H19, AFL will offer a free firmware upgrade to allow FOCIS Lightning to inspect single fiber connectors, such as LC and SC, using an innovative single fiber coupler adapter. With this low cost upgrade, FOCIS Lightning will have the ability to inspect all fiber optic connector types, using AFL's large portfolio of adapter tips.
TestPro CV100 Fiber Optic Adapters - AEM International, Ltd. - Silver Award
The TestPro CV100 Multifunction Cable Tester was purpose built to help contractors, IT organizations and IoT device installers ensure infrastructure readiness across Smart Building technologies through interchangeable hot swappable adapters. This flexibility allows users to add function as their needs change or as budgets are available to build out their overall toolset.
This award submission is for AEM's new fiber optic test adapters, announced in Q2 of this year. These adapters offer a unique set of test and measurement capabilities for the purpose of providing more test function at the user's fingertips with an ever-increasing need for unique test function purpose-built for the modern smart building. TestPro CV100's fiber optic solution offers two sets of adapters, specific to Singlemode and Multimode implementations, giving users the flexibility to adopt both technologies or one or the other based on their needs and budgets. These adapters are available as stand-alone add-ons or as part of a TestPro CV100 kit that include additional test functions for copper cabling, PoE load testing, Multi-gigabit link speed testing, and other test functions.
Fiber optic measurements for both Singlemode and Multimode provide Tier-1 certification in compliance with IEEE 802.3 series, TIA-568.3-D, IEC-14763-3, as well as customizable limits, that run as part of an Autotest that completes in 4 seconds. The Multimode adapter supports testing of OM5 fiber in addition to earlier generation fiber standards. In an effort to put more function at the user's fingertips, these adapters also include an integrated Visual Fault Locator to provide a quick indication of a break in the fiber, as well as an integrated connection port for measuring electrical voltage for hybrid powered fiber applications in support of smart building initiatives. The TestPro fiber adapter automatically sense an electrical voltage connection and reports voltage level without any intervention required by the user. This allows users to validate that the required electrical input voltage going into an end device such as a security camera or even a PoE extender that is supplying PoE to end devices is being provided. Combine that with TestPro's ability to measure actual PoE load and you have a powerful solution with a unique set of capabilities that will allow you to test and troubleshoot across a broad network topology.
As part of the Autotest report, TestPro will report for each fiber pair Result/Limit Margin, the configuration such as loopback, two fiber single direction or two fiber bidirectional, length, delay, number of splices, and splice loss in addition to a complete list of compliant networks. This is useful to both the contractor and network owner as assurance of support for their specific network and requirements in a single test report. TestPro's trademarked LiveWiremap function allows the user to get an immediate indication of connectivity, the moment cables are connected to the test adapters. This is a useful time saver avoiding wasted time spent making a connection then manually initiating testing when continuity cannot even be achieved due to misalignment of the connections between TX and RX. In addition, the Encircled Flux (EF) compliant source means there is no need for costly, specialized encircled flux adapters, furthering the contractor's ability to get more done with less external components and everything they need at their fingertips.
The fiber optic adapters come standard with interchangeable FC on TX port and interchangeable LC on RX port and launch cords. SC, ST and FC adapters and reference launch cords are available as accessory items and sold separately.
Optical Xplorer – EXFO – Silver Award
The Optical Xplorer the world's first optical fiber multimeter (OFM), a new purpose-built category of fiber test tools that upskills frontline field technicians to carry out installation, activation and repair operations quicker and more cost effectively than ever. Optical Xplorer speeds up link-health verification with embedded fault tracking, going beyond the obvious to identify and locate all causes of failure in seconds. Combining power checking and light source capabilities in one simple-to-use tool, it equips frontline technicians of any skill level to find and fix problems as part of their daily tasks.
Optical Xplorer is more than an improvement of existing test tools—it represents a completely new approach to fiber installation, turn-up and repair. It is a highly intuitive, go/no-go job helper that boosts frontline technician's efficiency that ensures better network quality and minimizes delays and cost of escalations to expert technicians. The Optical Xplorer verifies optical links in seconds - the fastest verification in the industry - by measuring power, insertion loss (IL), return loss (ORL) and length. When potential issues are suspected, it finds and identifies the fault automatically and intelligently, accelerating fiber deployments, simplifying activation procedures and improving robustness of repairs.
High demand for new fiber deployments, necessity to outsource and shortage in skilled employees make it difficult for both operators and contractors to keep expenses down and achieve a decent ROI. Current tools—visual fault locators (VFL), light sources and power meters—are good to flag problems, but not enough to pinpoint and solve them. For that, multiple trial and error manipulations are required or level-2 support from an expert technician is needed, whichi means additional truck rolls. In addition, OTDRs are too sophisticated for simple tasks and represent an important investment in terms of expertise and CAPEX. With those challenges, plus the necessity to hire and train frontline technicians who are completely new to fiber testing, better tools and procedures are urgently required to help achieve faster fiber validation and ultimately quicker, extremely reliable deployments.
As the just-right tool for fiber optic link testing, frontline fiber techs are empowered to do more, faster and using less equipment. Other benefits include: Cuts hidden costs to reduce total cost of ownership (TCO). Hidden costs throughout a product's life make up a massive, yet sometimes overlooked, part of TCO. Optical Xplorer's lifetime calibration, patented Click-Out Optical Connector and field replaceable battery empower field techs to do more, cutting costly downtime and logistics associated with factory-based updates, maintenance and repairs; Searches only for potential faults, wasting no time on good links. The Fault Xplorer feature self-launches during the optical link verification process, automatically exploring only those links suspected as faulty, eliminating any doubts while saving testing time; Validates link quality in seconds, assigning a 1 to 5-star rating. With the built-in EXFO Advisor™ feature, technicians get the benefit of EXFO's 30+ years of fiber expertise and sophisticated algorithms at the push of a button, assigning ratings to links based on industry best practices.
 Amprobe UAT-600 Series Underground Utilities Locator - Amprobe, A Fluke Company – Silver Award
Accurately locating buried utilities in an outdoor construction project is imperative, not only to avoid risking outages by hitting a buried electrical, gas, or water line but also to prevent potential injuries and fatalities. The Amprobe UAT-600 Series, including the UAT-610 and UAT-620 models, feature multiple tracing modes allow users to locate and trace energized and de-energized utilities in a variety of applications. The Receiver can detect buried utilities up to 100 feet deep with accurate depth measurement to 20 feet, letting users know exactly how far they can dig before reaching the line.
A feature that truly sets the UAT-600 Series apart from other locators is the high safety rating. The UAT-600 Series is the only underground utility locator on the market that features CAT IV 600 V, allowing users to safely connect the Transmitter directly to an energized line up to 600 V in a CAT IV environment. Once connected, the Receiver will be able to identify the correct location and depth of this specific line, even if there are other utilities buried in the vicinity. The ability to connect directly to an energized line is revolutionary because no other underground utility locator is designed for this type of application. Previously, if users needed to trace a specific line by transmitting a signal with a transmitter, the utility needed to be de-energized first, which can lead to a loss of time and productivity. With a CAT IV 600 V safety rating, users can be assured that not only will they be able efficiently trace the location of the specific energized utility, but remain safe while doing so.
The UAT-600 Series includes some additional features designed with user's needs in mind. The Receiver screen display is high-contrast, allowing for clear viewing in full sunlight, and features an automatic backlight for shaded and dark areas. The intuitive Transmitter automatically chooses the correct locating function based on the connected accessory and includes selectable 8/33 kHz frequencies for differing applications. When there is no access to connect the Transmitter directly to a cable with test leads, the Signal Clamp can be used to induce a signal without making electrical contact. When ground fault locating is required, the optional A-Frame accessory can be used in combination with the Transmitter.
With an ever-increasing number of buried utilities to identify and accurately map, Amprobe saw the need for an underground utilities locator that was easy to use, applicable to a variety of locating needs, and above all, safe. Workers lives should never be put at risk on the jobsite, and with the UAT-600 Series, they can be assured that not only will they be able to connect and accurately trace energized lines but also know exactly what is underground before they dig.
FI-3000 FiberInspector Pro - Fluke Networks – Silver Award
The Fluke Networks FI-3000 FiberInspector Pro is the industry's most efficient Multi-Fiber Push On (MPO) endface inspection camera. MPO technology allow simultaneous connection of up to 32 fibers transmitting hundreds of gigabits of information, but issusceptible to the number one cause of fiber failure: contamination. Technicians using the FI-3000 can view the fiber endface instantly using the Live View feature and then use the gesture-based interface to zoom in on individual fibers or perform a pass/fail test in seconds.
"The growth of higher density networks in data centers and fiber-to the home, office, or antenna (FTTx) is driving widespread adoption of MPO technology," according to Mike Hughes, VP of Product Management at US Conec, a global leader in the development and supply of high-density optical interconnects, and inventor of the MTP high performance MPO connector. "A speck of dust that's invisible to the human eye can cause intermittent errors or even complete failure on a fiber optic connection. That's why it's essential that every fiber interconnect – even on cables straight from the factory – be inspected before it's connected."
"The FiberInspector Pro is the most efficient tool we've evaluated for inspection of MPO connectors," stated Ed Wilson, Senior Operations manager of Curran IT, a leading independent engineering, IT and facilities services business. The FI-3000 FiberInspector Pro offers an extensive feature set that makes testing MPO trunks easy and efficient. The multiple camera design with autofocus provides a Live View of the entire endface on a smart phone or Versiv instantly. Touching "Test" provides an automated PASS/FAIL result compliant with IEC 61300-3-35 in seconds– for any one- and two- row configurations or 8, 10, 12, or 16 fibers.
While the FI-3000 offers breakthroughs in speed, documentation, and ergonomics, our beta users tell us their favorite feature of the product is the Live View user interface, This allows them to see the endface of the connector as soon as it's plugged in and then touch any fiber to zoom in on it. After certifying, they can switch from a summary view of pass/fail results to an image of each individual fiber with defects highlighted and use simple gestures to pan across the entire connector. This view gives them complete confidence that the MPO is ready to connect.
The FI-3000 features unique ergonomics that support easy inspection of panels or cables, with controls on the back which make it easy to operate with one hand. The built-in PortBright illumination makes it easy to find the right port in dark or crowded patch panels. LED's indicate Pass or Fail conditions, and the handy holster not only keeps the FI-3000 at hand, but also includes room fiber cleaning supplies.
Currently, the tester works with iOS or Android smart devices through the FI-IN App. The app allows users to store results, or even share them with others as an image or a PDF report. Later this year, the FI-3000 will work with the Versiv Cabling Certification System. That will allow Versiv users to generate inspection reports using LinkWare PC or LinkWare Live – just like they do today for copper, fiber loss, and OTDR – and integrate them into a single, complete project report. With over 40,000 users and 20 million results uploaded to the cloud, LinkWare is the industry's leading cable test reporting solution. All the tests from a single project – copper, fiber loss, OTDR and fiber inspection – will be able to be combined into a single report.