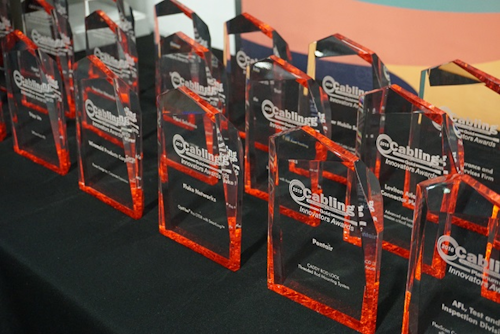 At the 2019 BICSI Fall Conference and Exhibition (Sep. 29- Oct 3) in Las Vegas, Cabling Installation & Maintenance magazine and CablingInstall.com presented its annual Cabling Innovators Awards, celebrating the year's most-innovative applications of cabling and communications technology products, applications and projects.
The awards featured 10 submission categories for products and applications, including one devoted to Value-Added Programs.
As specified by the awards program, "If your organization has launched a program that improves or enhances the way ICT professionals carry out their work, it's worthy of recognition in this category. Anything from a warranty program, to an as-a-service offering, to training and education offerings can be entered here. ​"
For the 2019 Cabling Innovators Awards, two entrants in this category received recognition, including one Platinum, and one Silver honoree. As described by the nominated companies, the awarded programs are as follows.
Digital Lighting Partner (DLP) Program – Siemon – Platinum Award
With an average number of 115 luminaires per 10,000 square feet, and smart lighting deployments expected to reach 2.54 billion units by 2020, PoE-powered LED lights outfitted with sensors and integrated with IoT applications are a key component of intelligent building initiatives. PoE-powered LED lights provide significantly lower energy costs and healthier working conditions through daylight harvesting, occupancy control, air quality monitoring and an overall healthier, cost-effective form of lighting that has less carbon emissions, no hazardous mercury and significantly longer lifespan compared to traditional fluorescents. As a leading advocate for intelligent building design where low-voltage building systems communicate via Internet Protocol and are powered over converged network infrastructures, developing a program like the Digital Lighting Partner program to address PoE lighting deployments made sense for both Siemon certified installers and customers alike.
PoE lighting systems are extremely sophisticated and rely on a well-designed infrastructure of high performance balanced twisted-pair cabling, network electronics, and software connecting and communicating with IP (internet protocol) addressable luminaires, dimmers, sensors, and controllers to deliver maximum performance, comfort, and energy savings benefits. As IP-based intelligent building and PoE lighting technologies continue to grow and are rapidly converting network cabling from its traditional role as datacom-only infrastructure to a whole building asset, Siemon's DLP program provides significant advantages to low-voltage contractors who already understand the basic ins and outs of IP network deployment.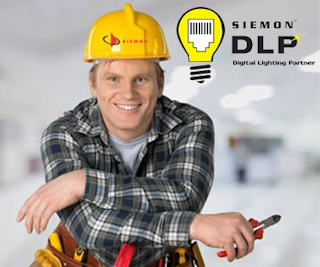 Specifically designed to help contractors leverage their IP infrastructure expertise to become a go-to expert in the PoE lighting space, Siemon's DLP program addresses PoE lighting design best practices such as placement of luminaires, dimmers, sensors and controllers, as well as various configurations. It also addresses cable media selection and remote powering considerations. Through the program, Siemon Certified DLPs have the benefit of aligning with Siemon partners, including top PoE equipment and lighting vendors and intelligent building consultants and integrators, to further expand opportunity through joint marketing, leads and referral incentives. DLPs gain exclusive access to ongoing training and educational resources, as well as Siemon intelligent building and technical services experts who can help them position the value of a high-performance converged infrastructure and PoE lighting to end-users, provide design guidance and BOM reviews, and assist with the entire proposal process from coordination and bid document preparation, to final proposal delivery.
In addition to providing growth and opportunity to low-voltage contractors, the DLP Program provides significant benefits to end user companies across all vertical markets, allowing them to capitalize on PoE lighting opportunities in a way that maximizes CapEX and OPEx savings. By deploying a certified DLP, customers are provided with experienced PoE lighting system design and turn-key deployment that ensures systems meet their specific use case and align with their business goals. They also gain up to a 20-year infrastructure warranty and access to intelligent building experts and PoE lighting manufacturers – all backed by Siemon's commitment to continual training and education to better serve their customers.
The response to the DLP program among both contractors and customers has been extremely positive. Chicago-based Encompass Audio Visual said, "PoE powering our future has become a realistic goal thanks in part to the minds at Siemon, who have a proven track record of delivering performance and a quality infrastructure second to none. The DLP program answers the question of who will install and support this new lighting technology." Brian Soika, Director of Procurement at Rice University recently stated, "When we embarked on a new 75,000 square-foot building project on campus, it was through our partnership with Siemon that Rice was able to work with a Digital Lighting Partner to ensure proper implementation." Learn more about the program.
Cat 6A Interactive Reference Guide - Leviton Manufacturing Co., Inc. – Silver Award
Start your next Cat 6A project with confidence with the new Cat 6A Interactive Reference Guide. Over the past five years, Cat 6A adoption has increased dramatically, becoming the dominant media type for 10 Gb/s networks. Data centers, hospitals, schools and other enterprise networks applications like wireless and power over Ethernet all rely on Cat 6A cabling for greater bandwidth to meet today's data demand. And when comparing costs per port of equipment, maintenance and assembly of 10G Ethernet, Cat 6A and twisted pair has become significantly more cost-effective than other technologies. Successful Category 6A cabling projects require proper design, planning, products and installation practices. Installation for Cat 6A projects is different from previous generation structured cabling systems, and will change installation requirements for routing and handling, as well as design of pathways and spaces.
Leviton's new Cat 6A Interactive Reference Guide gives you a better understanding of these requirements to more efficiently plan, bid and install a Cat 6A system. The comprehensive guide covers all aspects of Cat 6A, including installation tips, standards, general environments, product recommendations and termination instructions. No other manufacturer offers a 90-page interactive PDF like the Cat 6A Interactive Reference Guide. As a resource, it's easy to navigate and use. Plus, the guide is not just marketing material for a Leviton product, but also detailed and comprehensive instructions on how to install cables, and best practices for installing, maintaining and organizing a project. Additionally, since it's electronic, the guide can be accessed on a smart phone, even when a worker is at the jobsite.
The Leviton Cat 6A Interactive Reference Guide enables users to start their next Cat 6A project with confidence. The guide covers all aspects of Cat 6A, including: applications and environments such as data centers and wireless access points, PoE and IT/AV standards, best practices, tips for pathways, telecom rooms, testing, a term glossary and more. The guide is a downloadable 90-page interactive PDF. No paper or other materials are used or needed. Workers can access the guide on their smart phones while on the jobsite. It produces zero waste.
Successful Cat 6A cabling projects require proper design, planning, products and installation practices. Cat 6A cable may differ from previous generation cable, and will change installation requirements for routing and handling, as well as design of pathways and spaces. Leviton's Cat 6A Interactive Reference Guide gives you a better understanding of these requirements to more efficiently plan, bid and install a Cat 6A system. The comprehensive guide covers all you need to know. Since the Leviton Cat 6A Interactive Reference Guide was launched six months ago, it has been downloaded thousands of times by contractors and network installers. The guide is widely used, is comprehensive, can be read from a smart phone anywhere, requires no extra materials and creates zero waste. Download the guide.