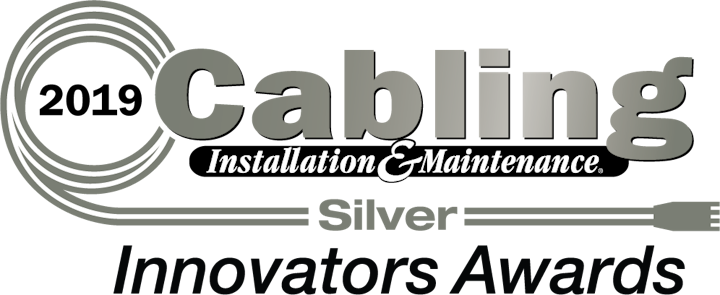 As part of the 2019 Cabling Innovators Awards ceremony, taking place October 1, Cabling Installation & Maintenance will award Silver, Gold and Platinum awards.
A Silver level Cabling Innovator Award is granted to an innovation that has resulted in not just incremental improvement, but in marked improvement over previous methods, approaches, or use of systems and products.
Here is a list of the 2019 Cabling Innovators Silver Awards, listed alphabetically by the company receiving the award.
AEM's TestPro CV100 Fiber-Optic Adapters, which offer a unique set of test and measurement capabilities for the purpose of providing more test functions at a user's fingertips, with an ever-increasing need for unique test functions purpose-built for today's smart building.
AFL's Focus Lightning, a handheld and self-contained, fast MPO/MTP connector inspection microscope.
Amprobe's UAT-600 Series Underground Utilities Locator allows users to safely connect its transmitter directly to an energized line—an innovative feature that increases productivity while enabling those users to avoid outages or worse by detecting buried utilities.
Three innovations from Belden receive Silver awards in 2019. The 10GX REVConnect Wall-Mount System is a Category 6A wall-mount crossconnect that provides installers and end-users with high density, flexibility, ease-of-use and efficiency. Belden's DCX Optical Distribution Frame system is a high-density, high-fiber-count management system for large ODFs providing cable interconnections to integrate fiber splicing, fiber termination, fiber-optic adapters and connectors, and cable connections in a single unit. And the REVConnect Connectivity System brings the characteristics of reliability, ease, and versatility to preterminated assemblies, preloaded patch panels, FlexPlugs, couplers, and a wall-mount system.
Brady's M611 Mobile Printer allows installers to use the tools they're already taking to the jobsite to improve the efficiency of cable identification, reduce costs, and reduce waste.
Enhancements to CommScope's imVision building network management system include PoE management, as well as the incorporation of physical network security functions—the combination of which enables this building administration system to be used as a security and safety platform.
Comtran's VITALink Ethernet Cables are a UL-2196-approved circuit integrity solution for Ethernet applications, meeting TIA channel requirements and combining circuit integrity with the ability to transmit data up to 10 Mbits/sec.
Windwave, an internet service provider, took an innovative approach to connectivity when it used Dura-Line's HDPE conduit to create a large duct bank for a data-center-interconnect project.
EXFO's Optical Xplorer defines a new test and measurement category—the optical fiber multimeter, or OFM. This tool upskills frontline field technicians to carry out installation, activation, and repair operations more quickly and more effectively than before.
Fluke Networks' FI-3000 FiberInspector Pro allows technicians to see the endface of an MPO connector—with up to 32 fibers—instantly using the Live View feature. It also offers a gesture-based interface to zoom in on individual fibers, and it performs a pass/fail test in seconds.
Three products from Legrand have earned Silver Innovators Awards. The EZ Patch Flat Pack delivers bulk packaged cords in patch-panel quantities, which is a quick and convenient way to introduce new cabling into a network. Legrand's Fiber Splice Cassettes enable fast field termination and provide cable management within the housing. They are designed for singlemode or multimode fiber, with 12 or 24 fibers in LC Duplex, LC Quad, or SC Duplex connector styles. And the Shielded High-Density Jack fits in existing HDJ mounting products as well as the HDJ patch panel, allowing up to 48 ports in 1 RU.
Leviton Network Technologies' Cable Management Clip and Cat 6A Interactive Reference Guide are award-worthy. The Cable Management Clip saves time and provides a simple way to manage individual cables on the rear of patch panels. The individual spring clips add bend-radius control and create a clean layout in dense installations. The Cat 6A Interactive Reference Guide is an easy-to-navigate resource with comprehensive how-to instructions for installing cables, as well as maintaining and organizing a project. On the jobsite, the user needs only their smartphone to access this interactive guide.
Bright by Lynn Electronics is a self-powered traceable fiber jumper that enables traceability at the push of a button—identifying port locations within seconds and without having to unplug the cord.
Milliken's 3-Cell Vis Divide, introduced in 2018, expands the company's portfolio of segmented HDPE rigid conduit that provides dedicated pathways in which to place multiple cables in a single conduit. Its molded-in fabric divider improves efficiency by using all the conduit's available space, while avoiding the risk of cable-over-cable damage.
The Dual Rail Cable Tray and J-Hook Suspension System from Mono Systems have earned Silver Innovators Awards. The Dual Rail Cable Tray is founded on the unique qualities of Mono Systems' MonoTray, offers 3 separated pathways in a single NEC-compliant tray design. It is ready for low-voltage PoE+, fire alarm, and power—and is designed to provide separation of PoE+ from standard structured cabling. The J-Hook Suspension System features the H-GRP-10K, which meets the challenges associated with suspending J-Hooks within and around I-Beams and similar structures. The installer loops the H-GRP-10K's looped cable over an approved structure, threads it through the cylinder, adjusts to length, and cuts off any excess.
Rosenberger's Generation 3 Pyxis Intelligent Infrastructure Management System is a server-free platform that brings monitoring and management capabilities to the data center, the telecom room, or the equipment room. This system can reduce the risk of unintentional network interruption, caused by improper physical-layer management, by 99 percent.
Three panel products from Signamax proved themselves innovative to our judging panel. Signamax's Data Center Fabric Passive Panel, MDX-Series Patch Panel, and Zero-U Identification Panel all demonstrate marked improvement over previous-generation products. The Data Center Fabric Passive Panel merges extreme port densities with hyperscale connectivity into a 1U enclosure, to replicate the A/B fabrics or the Fibre Channel backbone switches in today's modern data center. The MDX-Series Patch Panel adds a new level to the integration of high-performance connecting hardware with cable management solutions. Its diverse cable management options save vertical mounting space and save on auxiliary cable management hardware, as well as saving the time and environmental impacts associated with additional materials and packaging. And the Zero-U Identification Patch Panel is designed for situations in which there is no readily available means of administering or labeling telecommunications equipment. These panels can provide identification and labeling for practically any object intended for mounting in a 19-inch rack.
The Firestop Locator app from Specified Technologies provides a platform for designers, specifiers, installers, and end users to implement and track life-safety services through initial design, implementation, installation, and into final inspection. Its reporting capability enables transparency among team members; reports can be exported to any platform or software program at any time.
HD82 is a high-density fiber-optic patching system from Tactical Deployment Systems includes a rack-mountable chassis that can accommodate up to 12 rear-entry molded cassettes in a single U. The reduced-footprint cassettes are customizable at the front and rear points of entry, and along with an internal strain-relief ring, they include an external snap-on pulling eye cap for ease of installation.
Wirewerks' NextSTEP 3 Series Modules, its NextSTEP Distribution Frame, and its Quick-Lock Device for Cable Attachment and Strain Relief earn Silver Innovators Awards. The NextSTEP 3 Series Modules add BASE-8 capability to the company's NextSTEP Solution, enabling customers to map their own best path to tomorrow's high-speed networks. The NextSTEP 3-Series Modules include distribution, patch, and WDM modules. The NextSTEP Distribution Frame saves space in colocation facilities and data centers. This small-footprint optical distribution frame manages to provide high fiber density, enabling data center and colo operators to bring efficiency to their fiber-management operations and bring control to the chaos. And Wirewerks' Quick Lock Attachment solves issues with over- or under-tightened cable ties, while speeding installations and protecting cable performance. The Quick-Lock Device's two simple components combine to accommodate virtually types and sizes of fiber cable commonly used with splice trays and patch modules.
Congratulations to the 2019 Cabling Innovators Silver Award Honorees.