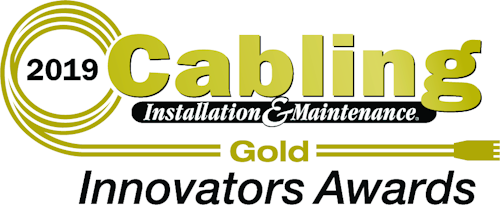 As part of the 2019 Cabling Innovators Awards ceremony, taking place October 1, Cabling Installation & Maintenance will award Silver, Gold and Platinum awards.
Gold-level awards are earned by organizations whose innovations are judged to be excellent, and whose benefits are clear. Each gold-level innovation makes a substantial improvement over previous methods employed, approaches taken, or products and systems used.
Briefly described here are the 2019 Cabling Innovators Gold Awards.
AFL's FlexScan FS300-325 Quad OTDR simplifies the verification of multimode and singlemode fiber-optic cabling systems. It is a pocket-sized tester that includes an integrated red-laser VFL as well as an optional optical light source, power meter, and Bluetooth/WiFi communications, along with user-configurable print-to-PDF reporting and a high-resolution gesture-recognition touchscreen.
Two innovations from Belden are Gold award recipients—one a product and one a customer use case. Belden cable and connectivity solutions are used throughout the Atlanta Braves' new SunTrust Park—as well as throughout the larger development project, which the Braves call The Battery Atlanta. Within Suntrust Park, Belden infrastructure enables 200-Gbits/sec bandwidth, a 5G cellular network, 10,000 ports and more than 800 hotspots, more than 1250 wireless access points, radar technology, displays, point-of-sale systems, suite-control systems and displays, and connectivity to the Ballpark app. The REVConnect Flex Plug also earns a Gold award, as an innovation that answers questions and addresses challenges associated with first-generation field-terminated plug. The REVConnect Flex Plug eliminates compatibility questions can be deployed where many other plugs encounter size or routing roadblocks, and introduces a low-profile footprint and bonded-pair cable to accommodate 90- and 180-degree bends.
Chatsworth Products' product set for edge computing, and its corrosion-resistant finish are Gold Award recipients. CPI's edge computing portfolio helped an online food-service company expand its fulfillment and distribution operations, including a manufacturing facility. Working with the project design team, experts from Chatsworth collaborated to develop and deliver a custom solution that included modular enclosures of differing sizes, air-conditioning units, panels and doors, power, and more solutions that were mounted above the floor to preserve the customer's valuable production space. Chatsworth partnered with cable-tray system provider Pemsa to supply the Rejiband Wire Mesh Cable Tray in the United States. The Pemsa Rejiband tray is available in a proprietary black C8 finish that provides high corrosion resistance nearly equivalent to that of stainless steel, making it a cost-effective alternative to hot dip galvanized and stainless steel in nontraditional and harsh environments.
CommScope's Ceiling Connector Assembly provides a high-quality cable interconnection for applications emerging from the convergence of traditional facilities network with IT. With more devices now being deployed in the ceiling, this assembly overcomes the challenges of in-the-ceiling hand termination. It is available as a standalone unit or preterminated to an RJ45 plug, and allows the use of a factory-terminated patch cord with a standard plug.
Corning Optical Communications implemented Next-Generation LAN Solutions when it relocated its own division headquarters, achieving both a highly collaborative environment for employees and a technological showcase. Working in conjunction with Johnson Controls, Corning cut installation and lifecycle costs while creating an optimized infrastructure, deploying the Metasys building automation system along with security, voice, data, video, WiFi, AV, cellular, and intelligent window glass systems on one digital fiber-optic backbone.
Credo Semiconductor's Active Electrical Cables serve the data center interconnect market, eliminating the hassles of copper cables for 100G and 200G ports while providing the plug-and-play capability and performance of active optical cables for 400G ports. Specific innovations in the Active Electrical Cables include in-cable gearshifting, retiming, and forward error correction.
Esticom's Takeoff and Estimating System is a comprehensive and easy-to-use software-as-a-service tool that incorporates modules for takeoff, estimating, and job management. It taps into the power of the machine learning and the cloud, which enable the AutoCount feature that improves the accuracy of counting similar symbols or shapes across an entire plan set.
The OptiFiber Pro High Dynamic Range OTDR from Fluke Networks fulfills the demand for a single solution that deals with applications ranging from FTTx, PON and data centers to category-rated structured cabling. The OTDR's touchscreen works like a smartphone, and even novices can use the AutoOTDR feature that characterizes the cable then automatically sets up parameters including range, pulse width and averaging before running a test.
Drybit Category 6A Indoor/Outdoor Category 6A Plenum-Rated Cable is UL-Listed CMP and designed for outdoor or wet environments. The cable incorporates a jacket that is waterproof and resistant to more than 2000 chemicals, and also encompasses a design that ensures it can deliver 10-Gbit Ethernet while fully and continuously submerged. Both Category 6 and Category 6A DryBit cables are UL verified to the TIA-568-C.2 standard.
Jonard Tools' patented Dual-Function Fiber-Optic Midspan Slit & Ring Tools meet the growing need for tools that will help technicians install and maintain fiber-optic cables by allowing for slitting and ringing operations in one tool. Jonard's engineering and sales teams worked closely with cable manufacturers and end-user customers to develop these tools for fiber cables ranging in size from 1.2 millimeters to 12 millimeters.
Legrand's Itellicore Solutions and its LP-Series Power Distribution Units earned Gold level honors in this year's Innovators Awards program. The Intellicore Management Software orchestration system provides the capability to remotely control and configure a Layer 1 switched network system, using software defined networking. It also gives administrators the ability to control, manage and track network changes and the capability to digitally document data and network analytics in real time. Legrand's LP Series Power Distribution Units offer significant versatility. The single-phase PDUs can be mounted vertically or horizontally. The network-metered or network-switched PDUs introduce new installation innovations, particularly including the ability to hand-tighten button mounts. LP-Series PDUs also feature locking outlets on C13 and C19 receptables, which allows the PDU to lock standard IEC cords without requiring the separate purchase of specific locking cords.
The HDX Splice Module from Leviton Network Solutions brings field splicing to ultra-high-density networks, merging the flexibility of that field fusion splicing with the ultra-high-density fiber networks for WANs, campus environments, high-count riser buildings, government installations, data centers and central offices. Continuing the company's drive to make fiber-optic network deployment easier, cleaner, and safer, the HDX Splice Module comes with a prerouted, color-coded pigtail, along with a clear cover and an innovative splice holder to protect splices for safer and easier access from the front of the rack.
OFS's Accutube Plus Rollable Ribbon in Loose Tube Fiber-Optic Cable, its R-Pack Rollable Ribbon Backbone Cable, and its Invisilight system all earned Gold level awards from our judging panel. OFS developed the AccuTube Plus Rollable Ribbon in Loose Tube Fiber-Optic Cable to maximize duct utilization for ultra-high-fiber-count applications, providing the ability to install more fiber in the same or less space. These cables, with up to 3456 fibers, allow data center and network operators to readily maximize the fiber density in existing ducts without undertaking excavation or employing new technology to achieve connections inside and between data center buildings. The R-Pack Rollable Ribbon Backbone Fiber-Optic Cable meets the need that exists deep inside the network for highly compact, fiber-dense building cables in plenum installations. Rather than using the traditional method of using micro-breakout or tight-buffer distribution cables for these applications, operators now can deploy these plenum-rated cables with rollable fiber-optic ribbons, which combine the benefits of flat fiber ribbons and loose fibers in a single cable. The Invisilight Solution leverages a single indoor fiber technology across two solutions—the Invisilight living unit solution and the invisilight multiple dwelling unit solution. The ILU solution allows fast and easy indoor optical fiber installation within an individual lving unit using a process very similar to caulking, which attaches an optical fiber in a building's grooves. The MDU solution uses a virtually invisible multifiber unit that can be surface-mounted in hallways and between floors to connect subscribers to ultra-high-speed services.
Panduit's Atlona brand was instrumental in updating the AV and digital signage systems at Lucas Oil Stadium in Indianapolis. Relying on a combination of repurposed cabling infrastructure and new Category 6A cabling, the AV and digital signage network at the stadium now operates on Atlona's OmniStream AV-over-IP platform. This migration simplified the transition from a decentralized control system to the Atlona Velocity control platform now in place. Panduit infrastructure also is central to the new Cordia NAP data center, located in Tibas near San Jose, Costa Rica. Offering colocation and cloud services, this Cordisa facility not only incorporates Panduit innovations like MaTriX cable and field-terminated plugs as well as high-density fiber enclosures and PanMPO fiber connectivity—it also was constructed with the help of on-site engineering assistance from Panduit to support the customization of this 6000-square-foot data center and 13000-square-foot network operations center and office space.
PRIME ODF is R&M USA's Professional Interconnect Management Equipment Optical Distribution Frame. This highly dense cabling platform provides operators with planning freedom, enabling the use of fiber distribution hub units in more varied and innovative ways than before. With the PRIME ODF portfolio, R&M implements modularity, enabling network operators to plan with manageable investment costs and to order only the specific components needed in a pay-as-you-grow model.
Rosenberger OSI's Identification Patch Cord—IDP—makes the secure identification of patch-cord ends easier and faster than previous technologies and approaches, significantly contributing to data center uptime and availability. The IDP's external light source at each end of the cord allows a technician to easily identify the cord's other end—enabling identification and management by a single individual.
SENKO Advanced Components' EZ-Flip LC Connector is a polarity-reversible duplex LC connector for round cable, which allows the polarity to be switched without having to reterminate the connector or twist the fiber. Its features include a push/pull tab for high-density applications, a uniboot connector that aids cable management, a visual indication for polarity check, and a short boot design for reduced connector length.
Siemon's LC BladePatch uniboot duplex connector solves the long-standing problem of trying to remove a fiber connector from high-density patching environments. Its push-pull boot design enables disconnection from the back of the connector boot, and the boot's low profile optimizes side-stackability. The connector's rotating-latch design allows polarity to be changed on the fly in the field.
The NetXpert XG from Softing is both a passive cable tester and active LAN manager that proves the ability of copper and fiber-optic cabling infrastructure to support Ethernet up to 10 Gbits/sec, using a bit error rate test, signal-to-noise ratio, and delay-skew tests. The tester's active network management functions allow users to test security cameras, PoE devices, VLANs, ping, traceroute, identify switch ports, be a DHCP client, decode CDP and LLDP protocols, and perform network discovery.
The Manta-W-Plus fiber inspection microscope from Sumix substantially simplifies and speeds up multifiber connector inspection, capturing and analyzing up to 6 rows of 12 or 16 fibers on an MPO connector simultaneously—as quickly as 4 seconds for MT12 connectivity. The microscope offers automatic and accurate multifocusing, optimal multi-illumination, pass/fail analysis. It can be used equally effectively in the lab, the manufacturing floor, and the field.
The Sunbird Data Center Infrastructure Management solution is radical in its ability to simplify data center cable management—combining full power distribution management with network connection and structured cabling infrastructure capacities for a connectivity management solution that improves uptime, productivity, and capacity planning and use. Sunbird's second-generation DCIM strategy rests on pillars of zero-configuration analytics, automation via integration, and extreme scalability.
Superior Essex's Category 6+ LSHF CMR cable solution, designed for PoE applications, is an instrumental element of the building infrastructure at architectural firm Arch |Nexus SAC. That facility is the 1st Living certified project in the world that is an adaptive reuse of an existing building; it has gained LEED v4 certification Platinum. Thanks in part to Superior Essex low-smoke halogen-free Category 6+ cable, which connects and powers 40 client computer workstations, 3 private offices, 2 conference rooms, and security systems, the Arch | Nexus building generates more power than it expends.
The LGXtra Patch Module and the Zero-U Patch Panel from Wirewerks are Gold-level innovations. The LGXtra Patch Module takes an innovative approach to the classic LGX-style form factor that brings new features, new capabilities and new opportunities to a new generation of network operators. This robust module provides up to 12/24 SC/LC connectors for fiber patching and crossconnect applications, working in innovations like an integrated, removable fusion-splice tray, a removable faceplate, and the Quick-Lock device. The Zero-U Patch Panel overcomes what Wirewerks calls 'fullrackitis.' Discovering a full telecom rack, with no capacity for even a single additional link can be a game-stopper, fixed only by a costly correction. The Zero-U Patch Panel is a three-port mini patch panel that attaches to the vertical rail of an industry-standard equipment rack. Its design allows technicians to install and terminate any manufacturer's keystone-style connectors in the faceplate, then snap the faceplate into a rail-mounted base.
Congratulations to this year's Gold level Cabling Innovators Award honorees.