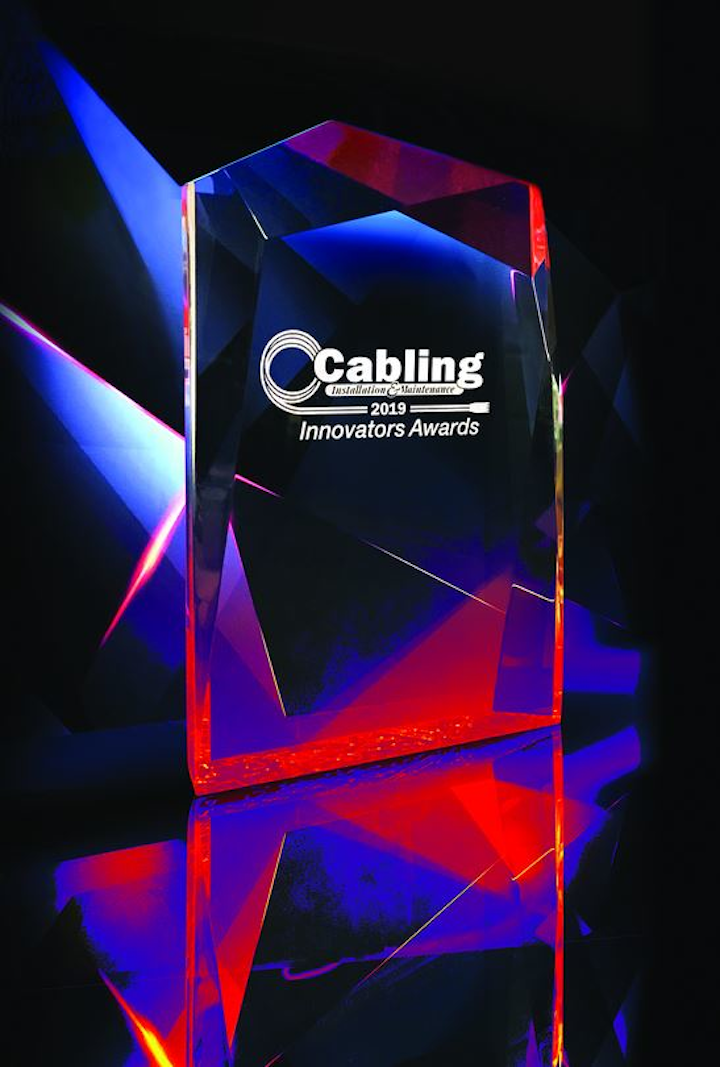 By Patrick McLaughlin
On Tuesday, October 1, Cabling Installation & Maintenance held its fifth Cabling Innovators Awards presentation, at the BICSI Fall Conference and Exhibition at the Mandalay Bay Resort in Las Vegas, NV. The Cabling Innovators Awards program honors the organizations and the people who drive the information and communications technology (ICT) industry forward, and enable better, more-efficient communications for users of information and communications technologies around the world. The program recognizes ingenuity and innovation wherever it is found in the value chain of cabling-system design, installation and administration.
Our judging panel comprises industry professionals with vast experience in the specification, design, installation, and administration of ICT systems. That panel evaluated each entry based on six criteria:
Innovative approach to product, system, program or project design and implementation
Value to the user, which can be measured by qualities including return on investment, loss prevention, or business-efficiency gains
Sustainability, characterized by overall eco-friendliness, long-term value, or lifecycle cost-effectiveness
Meeting a defined need as a well-conceived and well-executed initiative that fully meets specific user requirements
Collaboration, which can include communication and cooperation throughout the value chain through which the entry was developed, produced, procured, or deployed
Impact, recognized as the difference that an innovation makes on the professionals involved, on the productivity of its ultimate users, or on society as a whole
Based on our judges' evaluations, worthy applicants are being recognized as having achieved Silver, Gold, or Platinum status for their innovations.
Silver awards: Marked improvement
A Silver level Cabling Innovator Award is granted to an innovation that has resulted in not just incremental improvement, but in marked improvement over previous methods, approaches, or use of systems and products.
Here are the 2019 Cabling Innovators Silver Award honorees.
AEM's TestPro CV100 Fiber-Optic Adapters offer a unique set of test and measurement capabilities for the purpose of providing more test functions at a user's fingertips, with an ever-increasing need for unique test functions purpose-built for today's smart building.
AFL's Focus Lightning is a handheld and self-contained, fast MPO/MTP connector inspection microscope.
Amprobe's UAT-600 Series Underground Utilities Locator allows users to safely connect its transmitter directly to an energized line—an innovative feature that increases productivity while enabling those users to avoid outages, or worse, by detecting buried utilities.
Three innovations from Belden received Silver awards in 2019. The 10GX REVConnect Wall-Mount System is a Category 6A wall-mount crossconnect that provides installers and end-users with high density, flexibility, ease-of-use and efficiency. Belden's DCX Optical Distribution Frame system is a high-density, high-fiber-count management system for large ODFs providing cable interconnections to integrate fiber splicing, fiber termination, fiber-optic adapters and connectors, and cable connections in a single unit. And the REVConnect Connectivity System brings the characteristics of reliability, ease, and versatility to preterminated assemblies, preloaded patch panels, FlexPlugs, couplers, and a wall-mount system.
Brady's M611 Mobile Printer allows installers to use the tools they're already taking to the jobsite to improve the efficiency of cable identification, reduce costs, and reduce waste.
Enhancements to CommScope's imVision building network management system include PoE management, as well as the incorporation of physical network security functions—the combination of which enables this building administration system to be used as a security and safety platform.
Comtran's VITALink Ethernet Cables are a UL-2196-approved circuit integrity solution for Ethernet applications, meeting TIA channel requirements and combining circuit integrity with the ability to transmit data up to 10 Mbits/sec.
Windwave, an internet service provider, took an innovative approach to connectivity when it used Dura-Line's HDPE conduit to create a large duct bank for a data-center-interconnect project. The project's goal was to create a system that would allow for all 31 conduits, and warning tape, to be placed in a single-step process. The idea of using Dura-Line's rolled conduit was that large spans of duct bank could be installed without seams or couplers, to aid in the installation of the large fiber cables that would be installed.
EXFO's Optical Xplorer defines a new test and measurement category—the optical fiber multimeter, or OFM. This tool upskills frontline field technicians to carry out installation, activation, and repair operations more quickly and more effectively than before.
Fluke Networks' FI-3000 FiberInspector Pro allows technicians to see the endface of an MPO connector—with up to 32 fibers—instantly using the Live View feature. It also offers a gesture-based interface to zoom in on individual fibers, and it performs a pass/fail test in seconds.
Three products from Legrand earned Silver Innovators Awards. The EZ Patch Flat Pack delivers bulk packaged cords in patch-panel quantities, which is a quick and convenient way to introduce new cabling into a network. Legrand's Fiber Splice Cassettes enable fast field termination and provide cable management within the housing. They are designed for singlemode or multimode fiber, with 12 or 24 fibers in LC Duplex, LC Quad, or SC Duplex connector styles. And the Shielded High-Density Jack fits in existing HDJ mounting products as well as the HDJ patch panel, allowing up to 48 ports in 1 RU.
Leviton Network Solutions' Cable Management Clip and Cat 6A Interactive Reference Guide are award-worthy. The Cable Management Clip saves time and provides a simple way to manage individual cables on the rear of patch panels. The individual spring clips add bend-radius control and create a clean layout in dense installations. The Cat 6A Interactive Reference Guide is an easy-to-navigate resource with comprehensive how-to instructions for installing cables, as well as maintaining and organizing a project. On the jobsite, the user needs only their smartphone to access this interactive guide.
Bright by Lynn Electronics is a self-powered traceable fiber jumper that enables traceability at the push of a button—identifying port locations within seconds and without having to unplug the cord.
Milliken's 3-Cell Vis Divide, introduced in 2018, expands the company's portfolio of segmented HDPE rigid conduit that provides dedicated pathways in which to place multiple cables in a single conduit. Its molded-in fabric divider improves efficiency by using all the conduit's available space, while avoiding the risk of cable-over-cable damage.
The Dual Rail Cable Tray and J-Hook Suspension System from Mono Systems earned Silver Innovators Awards. The Dual Rail Cable Tray is founded on the unique qualities of Mono Systems' MonoTray, offering 3 separated pathways in a single NEC-compliant tray design. It is ready for low-voltage PoE+, fire alarm, and power—and is designed to provide separation of PoE+ from standard structured cabling. The J-Hook Suspension System features the H-GRP-10K, which meets the challenges associated with suspending J-hooks within and around I-beams and similar structures. The installer loops the H-GRP-10K's looped cable over an approved structure, threads it through the cylinder, adjusts to length, and cuts off any excess.
Rosenberger's Generation 3 Pyxis Intelligent Infrastructure Management System is a server-free platform that brings monitoring and management capabilities to the data center, the telecom room, or the equipment room. This system can reduce the risk of unintentional network interruption, caused by improper physical-layer management, by 99 percent.
Three panel products from Signamax proved themselves innovative to our judging panel. Signamax's Data Center Fabric Passive Panel, MDX-Series Patch Panel, and Zero-U Identification Panel all demonstrate marked improvement over previous-generation products. The Data Center Fabric Passive Panel merges extreme port densities with hyperscale connectivity into a 1U enclosure, to replicate the A/B fabrics or the Fibre Channel backbone switches in today's modern data center. The MDX-Series Patch Panel adds a new level to the integration of high-performance connecting hardware with cable management solutions. Its diverse cable management options save vertical mounting space and save on auxiliary cable management hardware, as well as saving the time and environmental impacts associated with additional materials and packaging. And the Zero-U Identification Patch Panel is designed for situations in which there is no readily available means of administering or labeling telecommunications equipment. These panels can provide identification and labeling for practically any object intended for mounting in a 19-inch rack.
The Firestop Locator app from Specified Technologies provides a platform for designers, specifiers, installers, and end users to implement and track life-safety services through initial design, implementation, installation, and into final inspection. Its reporting capability enables transparency among team members; reports can be exported to any platform or software program at any time.
HD82, a high-density fiber-optic patching system from Tactical Deployment Systems, includes a rack-mountable chassis that can accommodate up to 12 rear-entry molded cassettes in a single U. The reduced-footprint cassettes are customizable at the front and rear points of entry, and along with an internal strain-relief ring, they include an external snap-on pulling eye cap for ease of installation.
Wirewerks' NextSTEP 3 Series Modules, its NextSTEP Distribution Frame, and its Quick-Lock Device for Cable Attachment and Strain Relief earn Silver Innovators Awards. The NextSTEP 3 Series Modules add Base-8 capability to the company's NextSTEP Solution, enabling customers to map their own best path to tomorrow's high-speed networks. The NextSTEP 3-Series Modules include distribution, patch, and WDM modules. The NextSTEP Distribution Frame saves space in colocation facilities and data centers. This small-footprint optical distribution frame manages to provide high fiber density, enabling data center and colo operators to bring efficiency to their fiber-management operations and bring control to the chaos. And Wirewerks' Quick Lock Attachment solves issues with over- or under-tightened cable ties, while speeding installations and protecting cable performance. The Quick-Lock Device's two simple components combine to accommodate virtually all types and sizes of fiber cable commonly used with splice trays and patch modules.
Gold awards: Excellent innovations
Gold-level awards are earned by organizations whose innovations are judged to be excellent, and whose benefits are clear. Each gold-level innovation makes a substantial improvement over previous methods employed, approaches taken, or products and systems used.
Following are 2019 Cabling Innovators Gold Award recipients.
AFL's FlexScan FS300-325 Quad OTDR simplifies the verification of multimode and singlemode fiber-optic cabling systems. It is a pocket-sized tester that includes an integrated red-laser VFL as well as an optional optical light source, power meter, and Bluetooth/WiFi communications, along with user-configurable print-to-PDF reporting and a high-resolution gesture-recognition touchscreen.
Two innovations from Belden are Gold award recipients—one a product and one a customer use case. Belden cable and connectivity solutions are used throughout the Atlanta Braves' new SunTrust Park—as well as throughout the larger development project, which the Braves call The Battery Atlanta. Within Suntrust Park, Belden infrastructure enables 200-Gbits/sec bandwidth, a 5G cellular network, 10,000 ports and more than 800 hotspots, more than 1250 wireless access points, radar technology, displays, point-of-sale systems, suite-control systems and displays, and connectivity to the Ballpark app.
The Atlanta Braves wanted to deliver the best wireless experience of any North American venue, providing all the bandwidth their fans desired without restrictions or delays. Knowing that fans would constantly want to upload streaming video and photos to social media, bandwidth and reliability were top-of-mind. But with an IT team of 18 people, the ballpark also needed the wireless infrastructure to streamline operations and be simple to manage.
A "one-network" concept was explored. Nearly every third-party vendor and building system, from the sprinklers and HVAC systems to elevators and LED lighting, would be connected to a single network. To pull this off, the ballpark needed a reliable cabling infrastructure that could support tens of thousands of devices.
The ballpark's $12-million investment in technology was expected to generate recurring revenue, not only by supporting mobile purchases from fans on game days, but also by selling sponsorships and ad placements that can be displayed on the venue-wide video system, interactive kiosks and digital signage.
With Belden's infrastructure working behind the scenes, the Atlanta Braves' wireless network enables everything that happens at the ballpark and The Battery Atlanta, from fan-facing services to business transactions. During its April 2017 opener, SunTrust Park was able to connect 10,708 devices that engaged in 23,831 sessions and consumed 3,362 gigabytes of data. The Atlanta Braves reached its goal of delivering the best wireless experience of any North American venue, allowing the tens of thousands of people who walk through the gates for every game to be on the network at the same time without any issues.
The REVConnect Flex Plug also earns a Gold award, as an innovation that answers questions and addresses challenges associated with first-generation field-terminated plugs. The REVConnect Flex Plug eliminates compatibility questions, can be deployed where many other plugs encounter size or routing roadblocks, and introduces a low-profile footprint and bonded-pair cable to accommodate 90- and 180-degree bends.
Chatsworth Products' product set for edge computing, and its corrosion-resistant finish are Gold Award recipients. CPI's edge computing portfolio helped an online food-service company expand its fulfillment and distribution operations, including a manufacturing facility. Working with the project design team, experts from Chatsworth collaborated to develop and deliver a custom solution that included modular enclosures of differing sizes, air-conditioning units, panels and doors, power, and more solutions that were mounted above the floor to preserve the customer's valuable production space. Chatsworth partnered with cable-tray system provider Pemsa to supply the Rejiband Wire Mesh Cable Tray in the United States. The Pemsa Rejiband tray is available in a proprietary black C8 finish that provides high corrosion resistance nearly equivalent to that of stainless steel, making it a cost-effective alternative to hot dip galvanized and stainless steel in nontraditional and harsh environments.
CommScope's Ceiling Connector Assembly provides a high-quality cable interconnection for applications emerging from the convergence of traditional facilities network with IT. With more devices now being deployed in the ceiling, this assembly overcomes the challenges of in-the-ceiling hand termination. It is available as a standalone unit or preterminated to an RJ-45 plug, and allows the use of a factory-terminated patch cord with a standard plug.
Corning Optical Communications implemented Next-Generation LAN Solutions when it relocated its own division headquarters, achieving both a highly collaborative environment for employees and a technological showcase. Working in conjunction with Johnson Controls, Corning cut installation and lifecycle costs while creating an optimized infrastructure, deploying the Metasys building automation system along with security, voice, data, video, WiFi, AV, cellular, and intelligent window glass systems on one digital fiber-optic backbone.
Corning's Next Gen LAN Solution provides a flexible network-topology solution that is based on a fiber-optic transport backbone. Each data location has a direct composite fiber-optic cable to an optical network terminal (ONT) that converts the optical signal to a copper Ethernet channel at the network's edge. Because optical fiber is used in the horizontal, the number of intermediate crossconnects (or intermediate distribution frames, IDFs) is reduced. Associated power and cooling requirements for these spaces also are reduced.
Credo Semiconductor's Active Electrical Cables serve the data center interconnect market, eliminating the hassles of copper cables for 100G and 200G ports while providing the plug-and-play capability and performance of active optical cables for 400G ports. Specific innovations in the Active Electrical Cables include in-cable gearshifting, retiming, and forward error correction.
Esticom's Takeoff and Estimating System is a comprehensive and easy-to-use software-as-a-service tool that incorporates modules for takeoff, estimating, and job management. It taps into the power of machine learning and the cloud, which enable the AutoCount feature that improves the accuracy of counting similar symbols or shapes across an entire plan set.
The OptiFiber Pro High Dynamic Range OTDR from Fluke Networks fulfills the demand for a single solution that deals with applications ranging from FTTx, PON and data centers to category-rated structured cabling. The OTDR's touchscreen works like a smartphone, and even novices can use the AutoOTDR feature that characterizes the cable then automatically sets up parameters including range, pulse width and averaging before running a test.
Drybit Category 6A Indoor/Outdoor Plenum-Rated Cable from Hitachi Cable America is UL-Listed CMP and designed for outdoor or wet environments. The cable incorporates a jacket that is waterproof and resistant to more than 2000 chemicals, and also encompasses a design that ensures it can deliver 10-Gbit Ethernet while fully and continuously submerged. Both Category 6 and Category 6A DryBit cables are UL verified to the TIA-568-C.2 standard.
Jonard Tools' patented Dual-Function Fiber-Optic Midspan Slit & Ring Tools meet the growing need for tools that will help technicians install and maintain fiber-optic cables by allowing for slitting and ringing operations in one tool. Jonard's engineering and sales teams worked closely with cable manufacturers and end-user customers to develop these tools for fiber cables ranging in size from 1.2 millimeters to 12 millimeters.
Legrand's Itellicore Solutions and its LP-Series Power Distribution Units earned Gold level honors in this year's Innovators Awards program. The Intellicore Management Software orchestration system provides the capability to remotely control and configure a Layer 1 switched network system, using software defined networking. It also gives administrators the ability to control, manage and track network changes and the capability to digitally document data and network analytics in real time. Legrand's LP Series Power Distribution Units offer significant versatility. The single-phase PDUs can be mounted vertically or horizontally. The network-metered or network-switched PDUs introduce new installation innovations, particularly including the ability to hand-tighten button mounts. LP-Series PDUs also feature locking outlets on C13 and C19 receptables, which allow the PDU to lock standard IEC cords without requiring the separate purchase of specific locking cords.
The HDX Splice Module from Leviton Network Solutions brings field splicing to ultra-high-density networks, merging the flexibility of that field fusion splicing with the ultra-high-density fiber networks for WANs, campus environments, high-count riser buildings, government installations, data centers and central offices. Continuing the company's drive to make fiber-optic network deployment easier, cleaner, and safer, the HDX Splice Module comes with a prerouted, color-coded pigtail, along with a clear cover and an innovative splice holder to protect splices for safer and easier access from the front of the rack.
OFS's Accutube Plus Rollable Ribbon in Loose Tube Fiber-Optic Cable, its R-Pack Rollable Ribbon Backbone Cable, and its Invisilight system all earned Gold level awards from our judging panel. OFS developed the AccuTube Plus Rollable Ribbon in Loose Tube Fiber-Optic Cable to maximize duct utilization for ultra-high-fiber-count applications, providing the ability to install more fiber in the same or less space. These cables, with up to 3456 fibers, allow data center and network operators to readily maximize the fiber density in existing ducts without undertaking excavation or employing new technology to achieve connections inside and between data center buildings.
 The R-Pack Rollable Ribbon Backbone Fiber-Optic Cable meets the need that exists deep inside the network for highly compact, fiber-dense building cables in plenum installations. Rather than using traditional micro-breakout or tight-buffer distribution cables for these applications, operators now can deploy these plenum-rated cables with rollable fiber-optic ribbons, which combine the benefits of flat fiber ribbons and loose fibers in a single cable.
 The Invisilight Solution leverages a single indoor fiber technology across two solutions—the Invisilight living unit solution and the Invisilight multiple dwelling unit solution. The ILU solution allows fast and easy indoor optical fiber installation within an individual living unit using a process very similar to caulking, which attaches an optical fiber in a building's grooves. The MDU solution uses a virtually invisible multifiber unit that can be surface-mounted in hallways and between floors to connect subscribers to ultra-high-speed services.
Panduit's Atlona brand was instrumental in updating the AV and digital signage systems at Lucas Oil Stadium in Indianapolis. Relying on a combination of repurposed cabling infrastructure and new Category 6A cabling, the AV and digital signage network at the stadium now operates on Atlona's OmniStream AV-over-IP platform. This migration simplified the transition from a decentralized control system to the Atlona Velocity control platform now in place. Panduit infrastructure also is central to the new Cordisa NAP data center, located in Tibas near San Jose, Costa Rica. Offering colocation and cloud services, this Cordisa facility not only incorporates Panduit innovations like MaTriX cable and field-terminated plugs as well as high-density fiber enclosures and PanMPO fiber connectivity—it also was constructed with the help of on-site engineering assistance from Panduit to support the customization of this 6000-square-foot data center and 13000-square-foot network operations center and office space.
One of the primary goals for Cordisa was to develop an environmentally friendly and sustainable building. The key system that makes this possible is a lighting, control, and building-automation platform from Igor. The intelligent lighting solution was installed throughout the network operations center (NOC) and office space of the facility. The Igor solution installed at Cordisa is new; it delivers lighting, control and automation all powered by Power over Ethernet. Control nodes connect to standards-based PoE switches and control the luminaires. Additionally, motion sensors in the spaces turn lighting on and off, which is a key contributor to the facility's energy efficiency. In addition, users have the ability to set illumination levels and lighting color within each office, contributing to improved employee satisfaction and performance. A web interface serves as the access point for the management portal, making it easy to set up and control the lighting.
PRIME ODF is R&M USA's Professional Interconnect Management Equipment Optical Distribution Frame. This highly dense cabling platform provides operators with planning freedom, enabling the use of fiber distribution hub units in more varied and innovative ways than before. With the PRIME ODF portfolio, R&M implements modularity, enabling network operators to plan with manageable investment costs and to order only the specific components needed in a pay-as-you-grow model.
Rosenberger OSI's Identification Patch Cord—IDP—makes the secure identification of patch-cord ends easier and faster than previous technologies and approaches, significantly contributing to data center uptime and availability. The IDP's external light source at each end of the cord allows a technician to easily identify the cord's other end—enabling identification and management by a single individual.
SENKO Advanced Components' EZ-Flip LC Connector is a polarity-reversible duplex LC connector for round cable, which allows the polarity to be switched without having to reterminate the connector or twist the fiber. Its features include a push/pull tab for high-density applications, a uniboot connector that aids cable management, a visual indication for polarity check, and a short boot design for reduced connector length.
Siemon's LC BladePatch uniboot duplex connector solves the long-standing problem of trying to remove a fiber connector from high-density patching environments. Its push-pull boot design enables disconnection from the back of the connector boot, and the boot's low profile optimizes side-stackability. The connector's rotating-latch design allows polarity to be changed on the fly in the field.
The NetXpert XG from Softing is both a passive cable tester and active LAN manager that proves the ability of copper and fiber-optic cabling infrastructure to support Ethernet up to 10 Gbits/sec, using a bit error rate test, signal-to-noise ratio, and delay-skew tests. The tester's active network management functions allow users to test security cameras, PoE devices, VLANs, ping, traceroute, identify switch ports, be a DHCP client, decode CDP and LLDP protocols, and perform network discovery.
The Manta-W-Plus fiber inspection microscope from Sumix substantially simplifies and speeds up multifiber connector inspection, capturing and analyzing up to 6 rows of 12 or 16 fibers on an MPO connector simultaneously—as quickly as 4 seconds for MT12 connectivity. The microscope offers automatic and accurate multifocusing, optimal multi-illumination, and pass/fail analysis. It can be used equally effectively in the lab, the manufacturing floor, and the field.
The Sunbird Data Center Infrastructure Management solution is radical in its ability to simplify data center cable management—combining full power distribution management with network connection and structured cabling infrastructure capacities for a connectivity management solution that improves uptime, productivity, and capacity planning and use. Sunbird's second-generation DCIM strategy rests on pillars of zero-configuration analytics, automation via integration, and extreme scalability.
Superior Essex's Category 6+ LSHF CMR cable solution, designed for PoE applications, is an instrumental element of the building infrastructure at architectural firm Arch |Nexus SAC. That facility is the 1st Living certified project in the world that is an adaptive reuse of an existing building; it has gained LEED v4 certification Platinum. Thanks in part to Superior Essex low-smoke halogen-free Category 6+ cable, which connects and powers 40 client computer workstations, 3 private offices, 2 conference rooms, and security systems, the Arch | Nexus building generates more power than it expends.
To meet the objective of a Living Building Challenge certification, Arch Nexus decided to retrofit an existing warehouse and office space for renewal. The goal became to transform this space into a power-positive and water-independent work space without any harmful Red List chemicals in its materials. The new installation would live at the cutting edge of sustainable building design.
Early in the project it became clear that to achieve the desired sustainability benchmarks, additional and unexpected hours of labor would need to go toward selecting, vetting, and cataloguing myriad potential building materials to screen for harmful substances.
The low-voltage contractor brought in for the project, Valley Communications Inc., knew the project would require robust and reliable solutions capable of powering enterprise-level data and voice arrays. The difficulty then became locating readily available cables with a Red List-free chemical composition. That's when Superior Essex entered the picture. A primary selling point was Superior Essex's environmental product declarations and health product declarations, which the company has made available for all its products. With these documents in hand, the Arch Nexus and Valley Communications team was able simply to scan them against the existing Red List of more than 800 harmful chemicals designated by the International Living Future Institute to make decisions about the building's overall safety. This was a significant boon for productivity.
The LGXtra Patch Module and the Zero-U Patch Panel from Wirewerks are Gold-level innovations. The LGXtra Patch Module takes an innovative approach to the classic LGX-style form factor that brings new features, new capabilities and new opportunities to a new generation of network operators. This robust module provides up to 12/24 SC/LC connectors for fiber patching and crossconnect applications, working in innovations like an integrated, removable fusion-splice tray, a removable faceplate, and the Quick-Lock device. The Zero-U Patch Panel overcomes what Wirewerks calls "fullrackitis." Discovering a full telecom rack, with no capacity for even a single additional link, can be a game-stopper, fixed only by a costly correction. The Zero-U Patch Panel is a three-port mini patch panel that attaches to the vertical rail of an industry-standard equipment rack. Its design allows technicians to install and terminate any manufacturer's keystone-style connectors in the faceplate, then snap the faceplate into a rail-mounted base.
Platinum awards: Breaking new ground
Our final set of awards, the Platinums, have been judged to be superb innovations, characterized by a groundbreaking approach to meeting a need, or establishing a new level of performance, efficiency, ease-of-use, and other beneficial qualities. Here are our 2019 Cabling Innovators Platinum Award honorees.
AFL has built Bluetooth capability into its splicer accessories, driving down the cost and the time required to use four of the company's splicers, as well as a cleaver and a thermal stripper. For example, a Bluetooth-enabled splicer continuously reads the number of cleaves that the Bluetooth-enabled cleaver has conducted, tracking blade wear and overall blade life—and the splicer informs the cleaver to rotate blades when appropriate. These and other communication capabilities among splicer, cleaver, and stripper devices save the customer time and money by reducing operator management, maximizing product life, and reducing damage and repair costs.
Digital Electricity Cables from Belden are an option to safely and reliably transmit power and data, at wattage levels and distances beyond those of standards-based Power over Ethernet. Digital electricity can carry up to 2000 watts for up to 2000 meters. The cable's smart circuit can detect when the flow of electricity escapes, and stops it immediately, thereby protecting against high current levels, ground fault, arc flash and touching hazards. The cables are available in copper or copper/fiber hybrid versions.
Cailabs' AROONA-POL solution leverages the company's AROONA technology to make existing multimode fibers pluggable to new singlemode fibers, thereby enabling existing multimode infrastructure to support passive optical LAN adoption. With singlemode fiber cabling expenses representing 30 to 50 percent of the cost to install a passive optical LAN, AROONA-POL can eliminate those costs and take down barriers to POL adoption.
CommScope's IEC 63171-1 Copper LC-Style Connector concept will be a significant enabler of the Internet of Things. The small, easy-to-use connector delivers more reliable and consistent performance than hard-wired connections, eliminating field issues that interfere with critical functions and require manual remediation. The IEC 63171-1 connector provides a standardized method of connecting controllers, switches, and IoT devices into the network, and could become the universal, ubiquitous single-pair connector enabling single-pair IoT networks worldwide.
The installation of Dura-Line's FuturePath Figure-8 Self-Support Aerial in Estes Park, Colorado allowed the local utility to avoid the strand-and-lash installation approach, yet still use existing poles to get fiber to communities and build pathways for future expansion. With only about 40 percent of the city's poles accessible by truck, the installation of this pathway put seven pathways in place at once, up a seven-mile canyon, and saved the utility an estimated three-and-a-half million dollars in labor.
The Ferret WiFi Wireless Inspection Camera and Cable-Pulling Tool from Cable Ferret Inc. is a combination compact wireless inspection camera and cable-pulling tool. It has a built-in WiFi hotspot and adjusting LEDs, and was purpose-designed to provide fast up-close visual inspections in dark, confined spaces. Its 6 main functions are tailor-made for the cable installer; they are inspecting and locating cable, reaching and retrieving cable, and data capture and reporting.
Fluke Networks' MicroScanner PoE Cable Verifier speeds the installation and troubleshooting of Power over Ethernet devices, including those supporting 802.3bt. It can verify and troubleshoot Ethernet cabling, displays the class of power available, and indicates whether or not sufficient power is available for the device in question. The cost-effective tester equips technicians with a complete toolset for PoE installation, including wiremap, toner, and distance-to-fault capability. When connected to a live switch port, the unit displays speed up to 10 Gbits/sec.
Panduit's Power over Ethernet Extenders bring resolution to vexing challenges associated with PoE, including the estimate that as many as 10 million IP cameras need reach beyond 100 meters. Each extender connects up to 4 devices at a distance of up to 610 meters using standard 4-pair copper cable. Flexible enough to work with PoE and non-PoE switches, the PoE Extenders represent a significant financial benefit to its users who can avoid deploying a fiber-optic run, media converters, and additional power supply for long-reach applications.
Siemon's Digital Lighting Partner Program is designed to help contractors leverage their IP infrastructure expertise to become a go-to expert in Power over Ethernet lighting. The program addresses PoE lighting design best practices, along with cable-media selection and remote power considerations. Participants in the Digtial Lighting Partner Program have access to training and educational resources, as well as Siemon's intelligent-building and technical-services experts.
Over the next year we will continue to highlight honorees in the 2019 Cabling Innovators Awards program.
Patrick McLaughlin is our chief editor and administrator of the Cabling Innovators Awards.