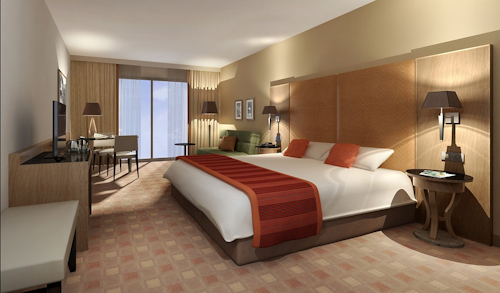 Pixabay
At HITEC 2019 (June 17-20) in Minneapolis, Avaya (NYSE: AVYA) introduced its new Intelligent Hotel Room Experience package for partners and hospitality customers. The Avaya Intelligent Hotel Room Experience – including devices, application, customization and integration – is now orderable as a packaged offer from Avaya. Previously, Avaya partners or customers would have had to work with third party application providers for the development and support of this type of solution. Now they can easily purchase an end-to-end integrated solution they can trust and that is backed up by Avaya's global support team.
The system package includes the company's award-winning Vantage portfolio of Avaya IX Multimedia Devices powering a smartphone application platform designed to transform any hotel room for a unique guest experience. The system's "digital concierge" can provide services at the touch of a screen or even on voice command, including venue information, promos, a city guide, in-room dining, housekeeping, spa reservations, restaurant bookings, thermostat control, door lock, door camera, plus IPTV and set-top-box integration.
Avaya Vantage is described as an "all-glass, Google Play Store certified programmable smart device that can run cloud-based applications and supports wired and wireless connectivity. The Intelligent Hotel Room Experience uses the Avaya Vantage device in conjunction with the Avaya Breeze CSDK tool," continues an Avaya statement, which adds that "this solution has multiple integration points into the hotel, including room controls, point-of-sale systems, property management systems, hotel service providers, hotel communications, social media posting sites, IPTV controls and third-party reservation systems. The Avaya Intelligent Hotel Room Experience is one result of the extensive ecosystem of Avaya Vantage application developer partners and solutions that Avaya is actively expanding," adds the company.
"Every guest desires a first-class experience, and that should begin the moment they step into their hotel room. With the Avaya Intelligent Hotel Room Experience, centered around the Avaya Vantage desktop smartphone, we're enabling leading hotels and resorts to provide the experiences that convert customers into fans," said Chris McGugan, senior vice president, Solutions & Technology, Avaya. McGugan adds, "Avaya understands that fans are brand advocates who not only represent repeat business, but drive the word-of-mouth that is vital to the hospitality industry."
Avaya also announced further portfolio capabilities, including additional devices for the Avaya IX Hospitality portfolio. Avaya IX Hospitality Phones H109 and H129 address hospitality customer demand for analog phone sets that "can deliver an Avaya-quality experience directly to hotel guests without requiring room rewiring to support Ethernet connections," contends that company. Since their introduction last year, Avaya says its IX Hospitality Phones "are being adopted by resorts all over the world, and receiving high marks from their guests."
SEE ALSO - Video: PoE lighting transforms historic hotel
Further, to support the special guest experiences that hotels and resorts provide through their unique brand identities and interior designs, Avaya has also introduced customizable faceplates and a white color option for its Avaya IX IP Phones. Now Avaya's hospitality customers can provide a seamless and unique look for their room phones that supports the personality, desirability and familiarity their brand represents to valued guests.
"Hospitality is the number one vertical opportunity for advanced IP media devices like the Avaya Vantage. We expect the overall market for these devices to grow at 11.2% CAGR in terms of shipments between 2018 and 2025," asserts Alaa Sayed, ICT industry director with technology analyst firm Frost & Sullivan.
Sayed concludes, "This is the highest growth rate of any phone category that we track, and with its focus and investment in providing unique solutions for this market, Avaya is enabling the hospitality industry to create experiences that matter for their guests."