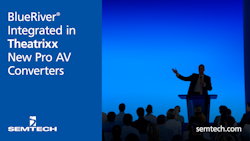 Semtech.com
Analog and mixed-signal semiconductor specialist Semtech Corp. (Nasdaq: SMTC) announced that Theatrixx Technologies, a developer and manufacturer of technology for the professional audiovisual and performing arts industries, has integrated Semtech's BlueRiver Software Defined Video over Ethernet (SDVoE) technology into its new xVision Pro AV converters.
Theatrixx's xVision HDMI to Fiber and Fiber to HDMI converters are a rugged pair of professional 4K60 HDMI extenders with an integrated BlueRiver NT1000 chipset. The products include professional all-locking connectors, a dedicated 1Gbps Ethernet port for control, signal type LED indicators, and zero-configuration functionality. The transmitters and receivers utilize BlueRiver's chip technology for interoperability with other SDVoE-based devices, of which over 150 products are currently available on the market.
RELATED:  Underlying technologies HDBase-T and SDVoE compete for pro AV market share
"The pro video environment can be a confusing one given the wide array of video formats, resolutions, codecs, connection interfaces, and transport methods that reduce equipment compatibility and increase system complexity and the risk of errors," notes Gabriel Duschinsky, Chief Technology Officer at Theatrixx. He adds, "We are strong advocates of standardization and making things simpler for the user, so since we first heard about BlueRiver technology, we knew it would be a perfect match for our vision. We firmly believe SDVoE technology is the only true 'common denominator' to bridge all these standards using a uniform approach, with full 4K60 support and the lowest latency possible."
Theatrixx's BlueRiver-based xVision converters are compatible with SDVoE-based devices and can be integrated in a decentralized routing infrastructure. This interoperability provides customers and system integrators increased flexibility and simplicity in the creation of Pro AV applications.
"Theatrixx's xVision converter line joins a growing list of interoperable BlueRiver-enabled SDVoE products that deliver reliable low latency AV for a wide range of markets," concludes Don Shaver, Vice President of Video Products for Semtech's Signal Integrity Products Group. "Theatrixx's extensive experience in the performing arts and pro AV space, coupled with BlueRiver's emphasis on simplicity and standardization will allow the expansion of BlueRiver technology for use in these important applications."
For more information, visit www.semtech.com/products/professional-av/blueriver.
SEE:  The software-defined-everything age reaches professional AV