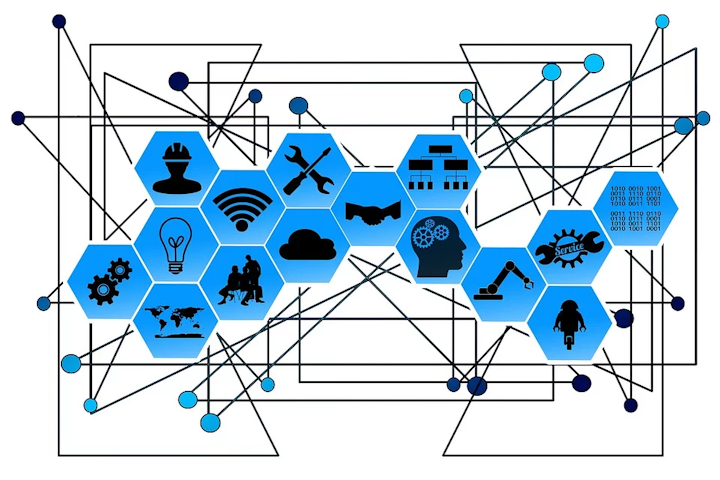 Pixabay/geralt
Technology markets research analyst ElectroniCast Consultants (Aptos, CA) recently released its market forecast and analysis charting the global consumption of fiber-optic sensors. The market forecast data is presented and segmented in two main sections for: Distributed Fiber Optic Sensor (Continuous and Quasi): System Level; and Fiber Optic Point (Local) Sensors: Component-Level.
Electronicast found that in 2018, the worldwide use of distributed fiber-optic sensors systems, which includes both continuous- and quasi-distributed systems, reached $3.78 billion. Distributed fiber-optic sensors are counted in the research as complete systems, which include several components, including optoelectronic transmitter/receivers, connectors, optical fiber, fiber cable jackets, other passive optical components, and enclosures. 
Segmented by major application categories, the analyst finds the market consumption value last year was led by the Petrochemical/Energy/Natural Resources/Utility sector, followed closely by the Military/Aerospace/Security sector. The Biomedical/ Science sector was cited as a relatively minor user, in terms of consumption value, since the length of optical fiber is (very) short versus the other applications; therefore the average selling prices for the distributed continuous fiber-optic sensor systems are low in that segment compared to the larger (longer length of optical fiber) distributed continuous fiber optic sensor systems used in other applications.   

electronicastconsultants.com
As defined by the research, continuous distributed sensing systems provide continuous, real-time measurements along the entire length of a fiber-optic cable. Continuous distributed sensing does not rely upon manufactured sensors but utilizes the optical fiber. Quasi-distributed sensing systems utilize Fiber Bragg gratings (FBGs), which have been employed as sensing elements where dense (i.e. closely-spaced) sensing points are required. FBGs are multiplexed with various methods. The quasi-distributed system also includes the FBG sensor elements. (Electronicast notes that the use of FBGs are not "doubled-counted" in the point sensor market forecast data.)  
According to the study, during the 2018-2028 timeline, the worldwide consumption value of the combined use of continuous- and quasi-distributed fiber optics sensor systems is forecast to increase from $3.78 billion to $8.47 billion.
Electronicast says the Petrochemical/ Energy sector is forecast to hold onto the 1st-place market share position in the distributed fiber-optic sensor segment -- until the year 2022, when the Civil Engineering/Construction segment is seen taking the lead. The Civil Engineering/ Construction sector, which includes continuous- and quasi- distributed fiber sensors used in Structural Health Monitoring (SHM) as well as other concerns in buildings, roadways, railways, bridges, tunnels, towers, and other structures, is also forecast for strong growth.   
Meanwhile, the researcher notes that, as inspection and quality control frequently constitute the largest portion of production costs for many industries, there is a growing need for reducing "false alarms" by improved measurement solutions, which offer higher precision, speed and accuracy and provide better in-process measurement of moving objects. As such, monitoring and data transmission using fiber-optic sensors and optical fiber in cabling is now commonplace in various applications, via Fiber Optic Point (Local) sensor components/ modules.
According to the ElectroniCast, the global consumption value of Point (Local) fiber-optic sensors reached $1.15 billion in 2018.   
The analyst finds that the Military/Aerospace/Security is a strong user of security boundary sensors, and aircraft measurement sensors. The Manufacturing/ Factory segment also tends to favor point sensors instead of distributed fiber systems, says Electronicast. The American region is forecast to maintain its leadership position in the Point fiber optic sensor marketplace through the year 2022, after which the EMEA (Europe, Middle East, Africa) region, led by military/ aerospace applications, as well as biomedical/science and petrochemical/energy applications, is projected to pull ahead in these sales.
The analyst notes that the market forecast data in the study report refers to consumption (use) for a particular calendar year; therefore, the data is not cumulative. For more information visit www.electronicast.com or call 831-708-2381.