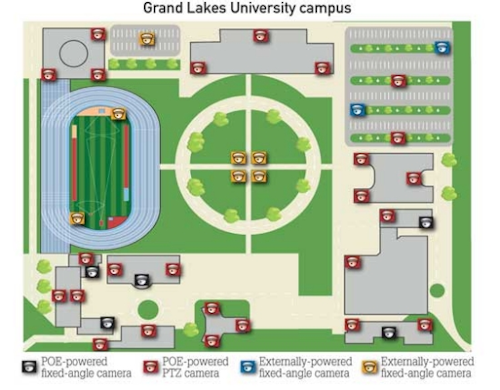 Real-life security scenarios are addressed in a hypothetical campus environment.
by Scott V. Burkhardt, Canon USA
For those who work in the field of campus security, keeping students and faculty safe is of the highest importance. With recent high-profile incidents capturing national headlines, campus security departments are under intense pressure to improve public safety on campus.
The recent proliferation of affordable Internet Protocol (IP)/network security cameras is helping accomplish this goal by providing additional eyes in strategic locations within a campus. These cameras allow security personnel to remotely monitor activity 24/7 and quickly dispatch officers in response to emerging safety and security issues.
A number of factors must be considered when designing a security system for a college or university. To illustrate this, let's build a system for Grand Lakes University, a hypothetical small to mid-size campus with clearly defined boundaries.
Grand Lakes University encompasses numerous buildings, including lecture halls, administration buildings, a student union and dormitories. The campus is patrolled by uniformed campus police backed by local law enforcement, all of whom can quickly respond to issues on campus. Already in place is an email/short message service (SMS) text system that quickly alerts students and faculty via their cell phones and computers to a developing situation providing instructions on what to do and where to go in order to remain safe. What is missing is the ability to see the whole campus at once, so a video surveillance system is desperately needed.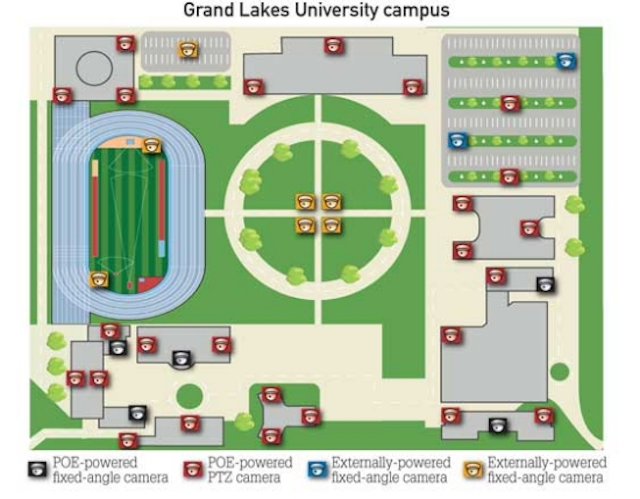 Comprehensive surveillance coverage at the fictional Grand Lakes University requires careful placement of fixed-angle and pan/tilt/zoom cameras, some of which are externally powered and some of which employ Power over Ethernet
Fortunately, like many of the colleges/universities in America, all buildings on the Grand Lakes University campus are wired with high-speed Internet capabilities. This makes IP/network video cameras a logical choice as they can be positioned almost anywhere to throw a surveillance net over all activities on campus.
Selecting models and locations
Obviously, entrances and exits to the campus and high-traffic buildings are of primary concern. Less obvious locations, however, such as dark alleyways, remote parking lots and sensitive infrastructure such as power plants and waste-disposal facilities also should rank high on the priority list for video surveillance. In addition, large open public spaces need coverage, frequently from multiple vantage points to see around and behind obstructions.
When selecting IP/network cameras for these locations you must consider the following: power and cabling options, image quality, output formats, performance during low-light and variable-light conditions, lens properties such as zoom magnification and wide angles, durability and vandalism protection, and pan/tilt ranges to maximize coverage of larger areas. The reputation of the manufacturer and their experience in the field should also be taken into account.
PTZ, vandal resistance
For interior entrances, exits and hallways, fixed-position cameras with a modest zoom lens can provide adequate coverage. However, there are many instances when pan and tilt capabilities are desirable, including large outdoor applications, areas with multiple brightness levels such as dark corners, and areas with obstructions that prevent a clear view of the entire area at once.
Typically these cameras come with a more-powerful zoom lens than their fixed-camera-angle counterparts. With a powerful pan/tilt/zoom (PTZ) camera, campus security can detect suspicious behavior, dispatch officers to the scene and track an individual's movements until officers arrive.
Limiting the impact of vandalism is a major concern for system planners. As we all know, college students can sometimes be—for lack of a better word—mischievous. A camera damaged due to vandalism can place students at risk, and repeated camera repair or replacement can become costly.
Some manufacturers have introduced vandal domes to protect their cameras. While features of these domes vary, a good vandal dome camera will have a mechanism that allows the camera to compensate for sudden shocks, such as a multi-directional spring-mounted base. The dome should also be made of impact-resistant plastic and dark tints should not interfere with the camera's functioning. A good vandal dome is an essential component of most installations and helps protect cameras from damage caused by incidental impacts and the occasional mischievous student.
Cabling considerations
As it is with any cabling job, the location of cameras can create challenges. For Grand Lakes University, the challenge also involves managing costs and minimizing campus disruptions during installation. The ideal camera will be flexible enough to accommodate a variety of power options including Power over Ethernet (PoE), independent direct-current lines, tapping existing power on-site and adaptability for solar power to save energy.
One of the IP/network camera's major benefits is PoE, which is the ability to receive both data and power from a single twisted-pair cable. For runs of less than 100 meters, a single cable with a minimum performance level of Category 5 can do it all; just plug into a PoE power source (either built into the switch in what is known as endspan powering or in the form of a midspan device like a PoE-enabled patch panel) inside an intermediate crossconnect and power up. This helps reduce time and costs by streamlining installations, and also reduces disruptions on campus.
For those camera locations that require longer runs, PoE extenders, also called repeaters, can be employed easily to allow cable runs of several hundred meters. One important consideration to make is the power consumption of all the devices connected to that power source, including IP phones and other PoE devices, to ensure there is enough power to run all of them. Cameras with PTZ abilities have servos that move the camera and refocus the lens, requiring more power than stationary cameras.
Image quality and camera processors
While there are a wide range of IP/network cameras to choose from in the marketplace, you should give preference to cameras that have purpose-built optics, the ability to keep objects in focus during PTZ operation, and superior zoom capabilities to capture small details such as identifying marks on subjects, unique clothing or numbers from license plates. Currently available cameras provide up to 40x optical zoom, which can reproduce much greater detail than cameras with limited optical zoom capabilities. This extra detail can prove valuable to campus security by providing them with actionable information that can be transmitted to officers in the field.
Powerful optical zoom capabilities are extremely useful when incidents occur, but often wide-angle views are preferred as they can cover larger areas. The ideal camera will strike a balance of both of these needs.
The camera's processor should be able to automatically compensate for changing brightness levels and backlit subjects, and operate well in low-light situations. In addition, the camera should be able to maintain color accuracy in low light, as these details can provide useful information in identifying suspects.
Using the new system
A variety of interfaces are available to harness the power of IP/network cameras. Some cameras come with a scaled-down version of their interface included with the packaging, but in most instances of campus security a more-complex system is needed. The interface should be intuitive for officers and supervisors to use, provide all the necessary controls on a single screen, and require minimal staff training to use properly.
With a new surveillance system in place, Grand Lakes University has taken an important step in safeguarding security on campus. IP/network cameras help campus security quickly respond to situations while keeping supervisors informed of what is going on.
Scott V. Burkhardt is marketing programs specialist, VCS marketing, at Canon USA (www.usa.canon.com).
More CIM Articles