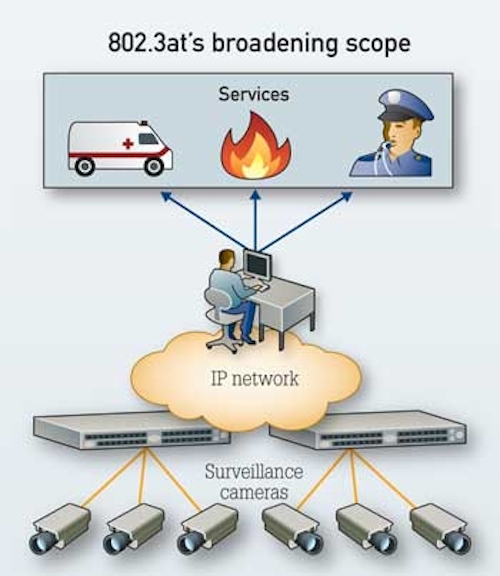 802.11n wireless LANs and IP surveillance systems are requiring more power than ever before.
By Sani Ronen, Microsemi Corporation
Ethernet cable has become the universal backbone for communications networks. Now with the advent of Power over Ethernet (PoE) technology, it also has become the electricity backbone, fueling a growing variety of digital devices from Wi-Fi wireless access points and notebook computers to video surveillance cameras.
The ratification of the IEEE 802.3at standard in September 2009 enabled PoE to deliver 30 watts of safe power over a single Ethernet cable to an even broader range of gear including access control systems, pan/tilt/zoom (PTZ) cameras, outdoor cameras and even full outdoor solutions that include a heater.
The growing use of 802.11n Wi-Fi technology has been one of high-power PoE's drivers. The multiple-input/multiple-output (MIMO) architecture used by 802.11n technology inherently requires more power than previous technologies, like 802.11a and 802.11b/g. And 802.11n brings about bigger operating ranges that transform it into a better candidate for mesh networks for physical security, in which the wireless local area network (LAN) access points are always connected in tandem with a network camera, and is expected to power it. These two trends make IEEE 802.3at-2009 PoE Plus capabilities crucial for the efficient deployment of 802.11n in its full splendor.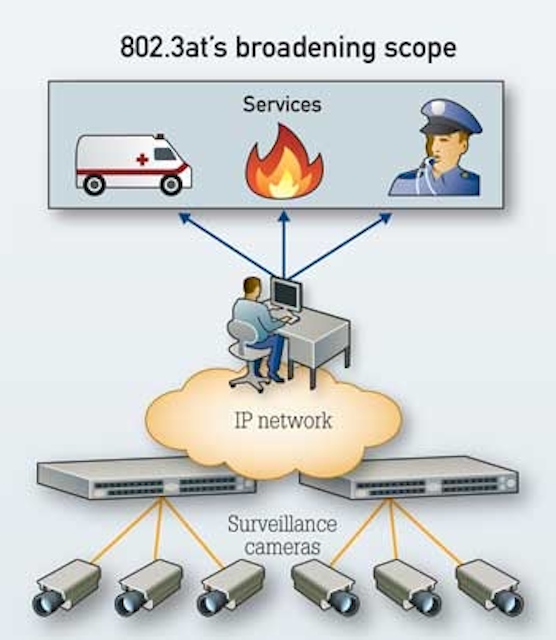 The latest IEEE 802.3at standard enables PoE to power a much broader range of powered devices, from 802.11n wireless access points, 802.16 subscriber stations and 3G/LTE femtocells, to perimeter security equipment, videoconferencing and telephony products and thin clients.
A key way that PoE system developers are addressing these challenges is by employing the option to implement PoE functionality over all four pairs of the Ethernet cable. This option opens the door for safely delivering 60 watts of direct current (DC) power over a single Ethernet cable, using current levels of 600 milliamp (mA) rather than the 1.2 Amp level of two-pair 60W midspans.
With the latest four-pair 802.3at solutions, cabling professionals can go well beyond the 25.5W of two-pair solutions to support powered device (PD) power consumption of 51W, using fully compliant industry-standard 60W PoE technology at the source. And because it is backed by IEEE standards, today's 802.3at-compliant technology incorporates all necessary PD PoE compliance detection features for safe powering as well as safe PD disconnection in overload, short-circuit or under-load conditions.
How four-pair powering works
The original, standard-power 802.3af specified that a PoE switch or midspan will deliver up to 15.4W. It also defined consumption of up to 12.95W by the powered device, which may be installed up to 100 meters from the switch. This power limitation prevented "high power" devices that required up to 30W, such as PTZ cameras and advanced access control solutions, to be supported via the industry-standard PoE solution.
The new high-power 802.3at standard roughly doubled what power sourcing equipment (PSE) can deliver and what PDs can receive—to 30W and 25.5W, respectively. It also increased PSE output voltage to between 50 and 57V, and boosted maximum ongoing current to 600mA.
One of the most important benefits of the IEEE 802.3at standard was that it relied on the field-proven detection and protection concepts of the existing 802.3af standard, thus enabling fast and safe adoption of the new standard. Even more importantly, the IEEE 802.3at-2009 standard changed the definition of a PD, compared to the previous IEEE 802.3-2008 Clause 33. The new standard considers the PD to be the powered interface, as opposed to the entire device being powered. This means that one can have two power interfaces, each taking 25.5W, inside the same box. Nothing precludes these to be connected—one over the two pairs using lines 1, 2, 3 and 6 and the other over the two pairs using lines 4, 5, 7 and 8. This is what makes it possible to double the standard 802.3at-2009 maximum of 25W and go up to 51W while fully complying with the standard. The primary applications for 51W PoE power delivery are full systems that include an IP camera with additional power-consuming accessories such as a heater. In the access control market, a full system that includes a controller, a reader and a few door locks can easily consume 45W of power or more.

Powering over all four pairs of Ethernet cable not only boosts power delivery to PDs but also improves efficiency compared to two-pair solutions. Rather than delivering 51W over twisted-pair cable via a four-pair solution, this same four-pair configuration can be used to power two-pair devices with 30W of power, while dissipating up to half the power and consuming almost 15% less energy than conventional two-pair solutions. This translates into savings of approximately $25 per year per powered device, assuming energy costs of $0.10 per kilowatt hour.
Finally, the four-pair configuration offers the opportunity to extend cabling lengths. Type 1 devices assume the same legacy cabling infrastructure (Category 3) that was the minimum required for 802.3af. So if Type 1 devices are used with worst-case Category 5 cables, the cables could actually be 60% longer. The resistance of the Category 5 cables is equivalent to Category 3 cables, or 480 feet. Of course, this scheme would only work if the physical layer (PHY) device being used to transmit data could also support these long distances.
Switch vs. midspan
Cabling professionals can deploy the latest high-power PoE technology in the cabling infrastructure either by upgrading the switch or by adding midspans to the existing switch infrastructure. Typically the most flexible, scalable, manageable and energy-efficient way to deploy PoE is by using midspans, especially in first-time PoE deployments. They require no changes to the existing switch or cabling, and are generally compatible with any Ethernet switch.
One major advantage of midspans—reliability—is especially apparent with the higher power standards. The mean time between failure (MTBF) of PoE switches is considerably lower, when compared with their non-PoE counterparts. This is due to the concentration of high-power dissipation from the PoE section and the highly sensitive data section into a single box. For example, Cisco's 3750X-48T (non-PoE) product has 171,846 hours of MTBF, while the 3750X-48P (its PoE counterpart) product has an MBTF of 139,913 hours—an almost 20% smaller lifetime. Even worse, once there is an issue, one pays for both data and power again, instead of dealing only with the section where the issue exists.
Another advantage of midspans is that they are more flexible and scalable than switches. They enable PoE ports to be added, incrementally, only as needed rather than having to invest in advance for future growth at the time of installation. The inclusion of an interlocking feature enables the power infrastructure to be expanded in one-port midspan increments as the new PDs are added. Flexibility is further enhanced with midspans through the inclusion of a gigabit interface so they can more easily support high-power PTZ cameras and thin clients. Other options that enhance flexibility include the ability to use DC inputs with external power supplies for incremental power capacity or redundancy, and flexible powering from alternating current (AC), DC or another midspan. Interconnected midspans can also back each other up.
Once deployed, a midspan-based PoE infrastructure is also easier to manage and maintain than one driven by a PoE-capable switch. Midspans deliver remote power-management capabilities that support both IPv4 and IPv6/addressing, which allows simple and efficient monitoring and control of powered devices. This increases in importance with network size and complexity. Remote power management also enables unit scheduling uninterruptible power supply (UPS) power monitoring and Web-based monitoring. Malfunctioning remote devices can be reset, eliminating an expensive service call. Midspans also enable centralized control of multi-site or multi-building installations, with support for immediate alert (e.g. E911) and response if IP phone status changes. When the midspan is integrated with a UPS system, the remote power-off/power-on capability also enables low-priority ports to be disconnected during power failures. Remote power management must be performed in a secure fashion, so SNMPv3 management is recommended to prevent malefic agents from interfering with network operations.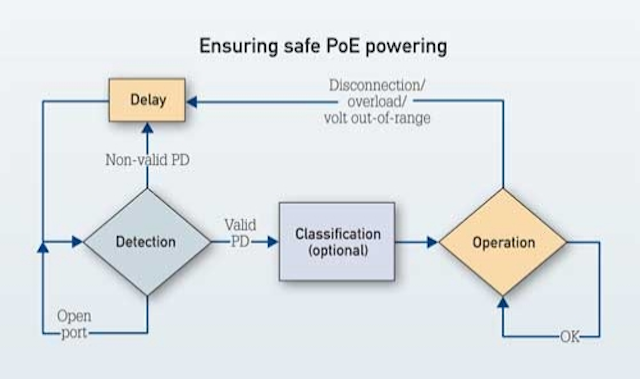 Safe PoE powering is ensured by first performing PD detection, followed by PD classification to determine a PD's consume power level prior to its ignition. Gradual startup avoids high-frequency data interference; real-time protection and power management during operation ensure system safety. Any PD disconnection is followed by a fast power shutdown.
Finally, midspan-based PoE solutions also significantly improve energy efficiency. The remote-management features alone provide an easy way to power selected ports up or down during the day, which can reduce power consumption by 70%. Each device's power consumption can be measured and its average power consumption can be actively reduced. A typical 1U 24-port midspan that has 24 x 15.4W, or 370W of total power to manage, may only have real-time power needs of just over half that amount for the various PDs on the network. Additionally, today's enterprise-grade PoE midspans use a distributed power architecture, augmenting smaller, more-economical internal default power supplies with external power supplies either for incremental additional power or for redundancy. This further improves midspans' already excellent system efficiency, and reduces cooling costs because smaller supplies require smaller and/or lower-speed fans. As mentioned earlier, this approach also enables midspans to back each other up, with additional power supply serving the highest-priority system ports.
Protecting outdoor gear
Another key consideration for cabling professionals is whether their powering solution can support the environmental requirements of outdoor PDs such as IP cameras. Until recently PoE could only be deployed safely if it were paired with a surge-protection unit to prevent direct or nearby lightning strikes from damaging or destroying both the PDs and their network switch. Without lightning protection, surges also can move quickly along the Ethernet cable to damage expensive indoor network switches.
Because surge- and lightning-protection units can cost anywhere from $250 to $400, many cabling professionals consider them to be a discretionary item. Unfortunately, nearby lightning strikes are much more common than most people think, and even at a mile away can induce a voltage level capable of damaging outdoor devices. A midspan with integrated surge protection reduces lightning-protection costs by as much as 80% compared to using standalone surge-protection equipment.
Today's latest midspans provide higher power delivery and improved energy efficiency, while offering a significantly more flexible and scalable alternative to PoE-enabled switches. Cabling professionals can optimize their PoE deployment by choosing midspans that are capable of industry-standard powering on spare pairs in compliance with IEEE 802.3at standards, and that also feature such capabilities as lightning protection that are critical for network gear deployed outdoors.
Sani Ronen is product marketing manager in Microsemi Corporation's (www.microsemi.com) analog mixed signal group.
More CIM Articles