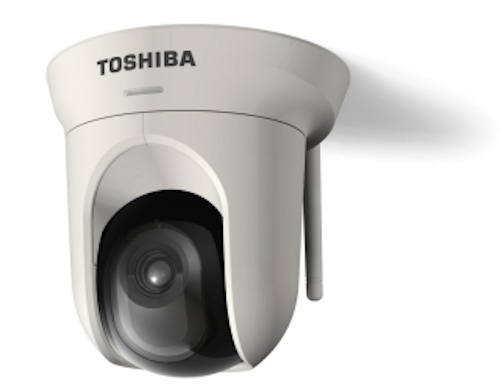 Advancements in the capabilities of surveillance cameras can put structured cabling systems to the test.
BY PATRICK MCLAUGHLIN
If the recent projections of an analyst studying the network-camera market are accurate, in just a few years the majority of network cameras sold will have megapixel capability. In a report entitled "The World Market for CCTV and Video Surveillance Equipment," Gary Wong of IMS Research (www.imsresearch.com) concludes that 2014 will be the crossover year when megapixel network cameras will account for more than half of all network cameras shipped.
New cameras with megapixel and other capabilities are coming onto the market rapidly. Over the summer Toshiba Surveillance and IP Video (www.toshibasecurity.com) introduced the IK-WB16A-W IP camera, a 2-megapixel pan/tilt/zoom camera that is equipped with 802.11n wireless connectivity. The non-wireless version of the camera is equipped with Power over Ethernet functionality.
When the camera was introduced, Toshiba's director of sales and marketing Sergio Collazo explained that the camera's megapixel resolution "enables a single IK-WB16-A-W to wirelessly capture overviews of very large indoor areas, such as shopping malls or casinos, as well as high detail situations including close-ups on individual faces or items being checked out by a cashier."
These high-resolution capabilities are among the chief contributors to the need for local area network (LAN) cabling systems to have enough throughput capacity to handle surveillance video. In a recent webcast seminar hosted by Cabling Installation & Maintenance, Aaron Saks, a senior product trainer with Panasonic Systems Networks Company of America (www.panasonic.com/security) and Carol Oliver, RCDD/ESS, marketing analyst with Berk-Tek, a Nexans company (www.berktek.com), discussed the emerging capabilities being built into network cameras and the impact the situation is having on structured cabling systems.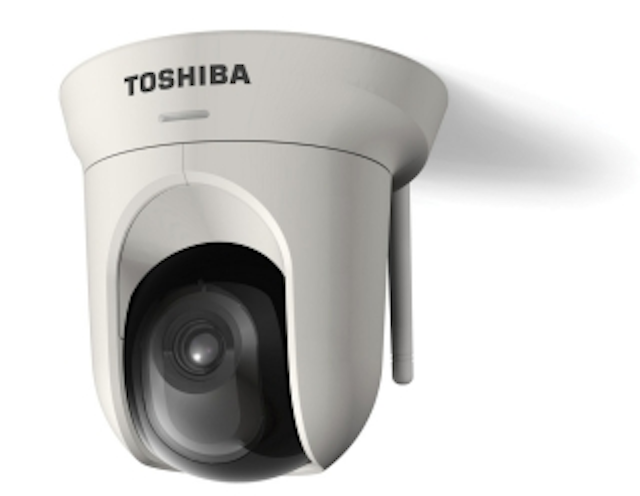 Toshiba's IK-WB16-A-W IP camera might be the Frankenstein's monster of IP convergence. It is a 2-megapixel pan/tilt/zoom camera that is equipped with 802.11n wireless connectivity, while the wired version has Power over Ethernet functionality.
H.264 compression
Saks described in some detail the hottest video-compression standard, H.264. Also known as MPEG-4 or Advanced Video Coding (AVC), "H.264 allows us to lower the bandwidth needed for a camera," Saks explained. "Less video-recording storage is needed per camera, and it allows users to go to higher resolution per camera," he explained. Previous compression technologies used for high-resolution images, particularly JPG, consumed a lot of bandwidth. By lowering the bandwidth required for high-resolution images, H.264 is allowing high-resolution image quality on surveillance systems run over a LAN, without those high-resolution images choking the network's throughput capacity.
H.264 compression technology is built into a camera, and that gave Saks reason to provide several notes of caution during his presentation. He said it is important for users to continue choosing cameras based on the criteria they have always used, including low-light performance, lens type and power requirements. While H.264 allows higher frame rate and higher resolution, ultimately producing a better final output, it does not solve pre-existing issues with a camera, Saks stated. "A poorly performing camera using H.264 will still yield a poor image," he added. "Many low-cost systems incorporate H.264," he said, noting that the simple incorporation of this compression technology into a camera does not necessarily elevate that camera to a better level of image performance.
Adding to the complexity is that there are multiple H.264 profiles, not all of which perform the same. "There are four main profiles," Saks explained. "They are: baseline, main, extended and high." He commented that lower-end devices without much processing power, such as webcams, may incorporate baseline profiling. The lower profiles, he added, do not measure up to the higher profiles in terms of picture quality, noise reduction and other performance characteristics. Following is an overview of the applications for which the profiles are typically used and some qualitative information about each mode. The information is taken from the presentation Saks delivered.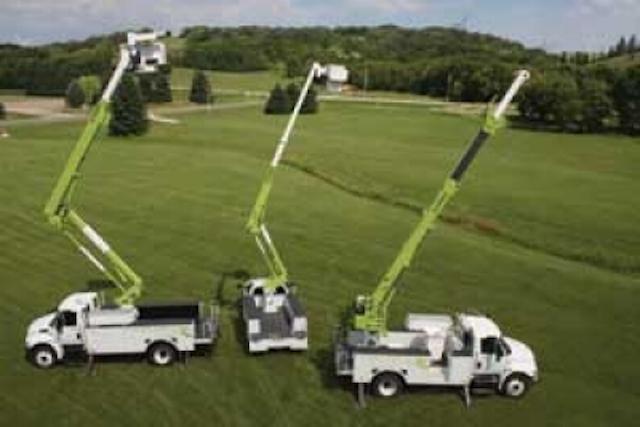 Baseline profile: Low-cost applications such as videoconferencing, mobile applications and some security cameras. Few tools are used and CPU requirements are low.
Main profile: Broadcast and storage applications, though rarely used.
Extended profile: Streaming video; high compression capability. It offers additional robustness compared to lower-level profiles for reduced data losses and quicker server-stream switching.
High profile: Broadcast and disc storage applications, typically used in HDTV applications such as Blu-ray. Used by some manufacturers of video surveillance cameras.
Saks also addressed high-definition (HD) camera capabilities and potentially sought to clear up some misconceptions about HD and megapixel cameras. HD, he explained, multiplies the amount of storage and bandwidth required because each individual HD image has more pixels than lower-size images. HD is actually a picture format–a combination of aspect ratio and pixels. He then warned, "Just because a camera says it is HD, does not necessarily mean it provides a better picture. Just a bigger picture."
Megapixel and HD
Looking at HD and megapixel, he pointed out that a 3-megapixel camera produces higher-resolution images than what is frequently referred to as "full-HD"–HD1080P. Likewise, a 1.3-megapixel camera produces higher-resolution images than an HD720P camera. Saks suggested it is important for users to understand the differences between megapixel and HD characteristics, as well as their impact on bandwidth consumption, because these users are receiving a number of messages about megapixel and IP–some of them mixed.
Saks summarized by saying there is no single "best" compression system and that the most appropriate system for a given environment is application-specific. For example, scenes with many flashing lights or changing colors are not well-suited for H.264. Still, H.264 compression technology has the ability to dramatically decrease file size and corresponding bandwidth as well as storage capacity. He gave the example of the data stream coming from a 1.3-megapixel video surveillance camera running at 10 images per second. Using JPG compression, the data stream from that camera would consume 13 Mbits/sec of throughput. Storing 30 days worth of 24-hour-per-day video from the camera would require 4.5 terabytes of capacity.
Using H.264 compression, the same stream from that camera would consume 1.5 Mbits/sec of throughput and 0.5 terabytes of storage capacity for 30 days worth of 24-hour video footage.
During his presentation, Saks also discussed some other new capabilities being built into IP cameras that may not greatly affect the amount of bandwidth the cameras consume. Regardless of their direct impact on bandwidth, these features are making cameras more attractive and more popular. He noted in particular that progressive-scan capabilities eliminate blur in images with motion, whereas interlace-scan technology can yield blurry images.
Cabling's role
Finally, he teed up a discussion of high-performance cabling systems by explaining that bad cabling, or poorly installed cabling, can have a real effect on systems that use H.264 or MPEG-4 compression. That is because the technology uses previously delivered frames as references. "If a certain packet gets lost, those changes will continue to propagate until you get to the next reference frame," he explains. "Having better-quality cabling to ensure there are no dropped packets is important in the H.264 world."
In her presentation during the webcast seminar, Berk-Tek's Oliver covered several topics, including the benefits of installing better-performing cable such as Category 6 over Category 5e. "Category 6 has better electrical characteristics," she explained, adding that it is wise for a user to install a better cabling system if that cabling system will be used well into the future, and if it is possible that other devices will be added to the network and supported by that cable. She pointed out that compared to Category 5e, Category 6 has "twice the bandwidth and it performs better in conditions such as heat or noise."
Oliver presented results from several tests performed in-house. One such test compared performance of three cables at elevated temperatures. The cables under test were Category 5e, Category 6, and "enhanced" Category 6–a cable that is not at the performance level of Category 6A but performs with headroom over the Category 6 specifications. Not surprisingly, the better-rated the cable, the fewer errors it produced at elevated temperatures.
Other tests pitted a premium Category 6 cable against a minimally compliant Category 6 cable, both supporting baseband video, and a standard-compliant Category 6 against a non-standard-based twisted-pair cable, both supporting video with electrical interference nearby. Neither test yielded any surprises, with the better-performing cable performing fine and the minimally compliant and non-compliant cables failing to deliver the video stream consistently.
As manufacturers of network cameras add capabilities to their devices, LAN managers will have more bandwidth-consuming devices to handle.
---
Patrick McLaughlin is chief editor of Cabling Installation & Maintenance.