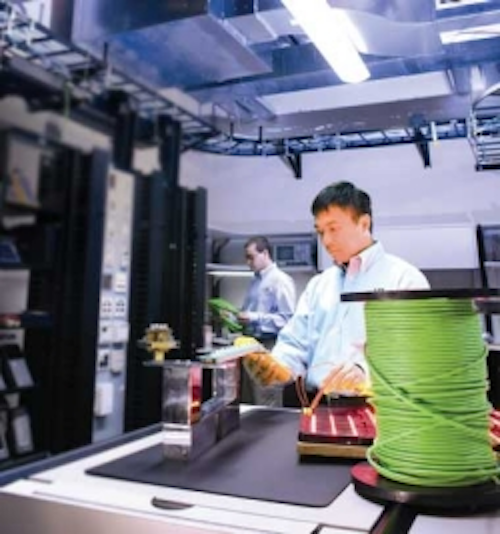 Anixter's ipAssured program aims to match cabling infrastructure with applications' anticipated lifespans.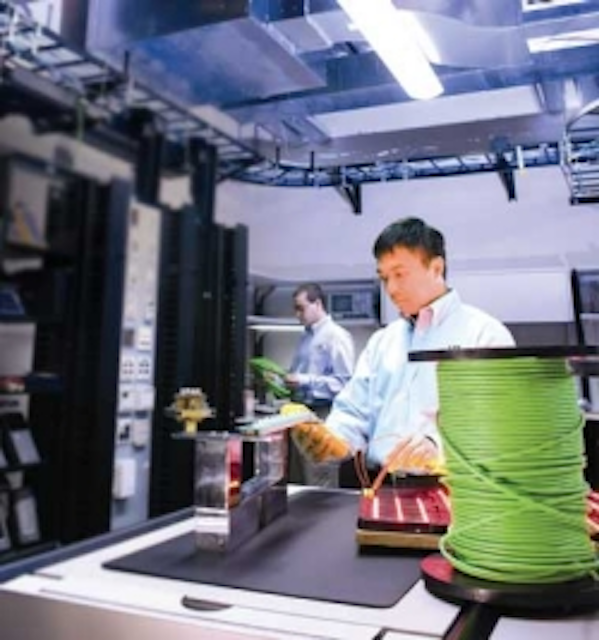 By Patrick McLaughlin
Unveiled to customers last fall, Anixter's (www.anixter.com) ipAssured program aims to help users of Internet Protocol (IP)-based security applications match their cabling infrastructures to the anticipated lifespans of the applications they require to secure and support their businesses.
Andy Jimenez, Anixter's vice president of technology for enterprise solutions, described three trends that prompted the development of Anixter ipAssured. "First is Moore's Law," he said. "Transistor density doubles every 18 months while prices drop." With respect to security and surveillance systems in particular, he said, Moore's Law has paved the way for analytics, storage capacity, and other bandwidth-consuming technologies. "Second is that network capacity has increased dramatically," and alongside that fact is the third trend, "Cabling bandwidth increases have been just as dramatic."
Cabling technology has kept pace with the increased demand of new applications, Jimenez added. He commented, "Think of network cabling as a utility. Bandwidth and headroom are like the capacity of a pipeline."
Many user organizations are now looking to their structured cabling systems as the utility or pipeline through which security applications will travel. Whether or not those systems have the capacity to support these applications is what gave rise to this new program.
Steeped in the history of the Anixter Levels program, Anixter ipAssured establishes three classes into which cabling systems are grouped according to the performance they achieved during testing conducted in the company's Infrastructure Solutions Lab.
IP-Class 1+ systems support security applications with a lifecycle between 1 and 5 years. Cabling systems in this class have 155 MHz of usable bandwidth, can support Gigabit Ethernet, and exceed the performance specifications of Category 5e.
IP-Class 5+ systems support applications with lifespans between 5 and 10 years. These cabling systems are characterized by 250 MHz of usable bandwidth, can support Gigabit Ethernet, and exceed the performance specifications of Category 6.
IP-Class 10+ systems support applications that are anticipated to have lifecycles longer than 10 years. The systems are characterized by 500 MHz of usable bandwidth, can support 10-Gigabit Ethernet, and exceed the performance specifications of Category 6A.
Cabling systems meeting the requirements of a particular class will be able to support commonly used video-surveillance, access-control, and storage-and-recording equipment. Additionally, Anixter recommends that certain other infrastructure products and systems be used so each class of cabling can perform optimally. (See Table on page 28.)
As it did when it introduced the Levels program more than two decades ago, Anixter put the cable and connectivity products involved in this newest program through the rigors of significant testing. In a technical brief posted on its Web site the company described that testing.
Thorough lab testing
"Anixter assessed the ability of twisted-pair cabling systems to support error-free transmission at less than ideal conditions," the brief said. "The tests examined the ability of these cabling systems to support the higher levels of power delivery needed with recent Power over Ethernet advancements. Anixter uncovered some potential limitations in cabling channels running security-oriented applications."
Starting at the industry-standard 68 deg. Fahrenheit baseline, Anixter ratcheted up the external ambient temperature in its test lab incrementally, 5 degrees at a time. The company reported that when the ambient temperature reached 113 degrees, a minimally compliant Category 5e system exhibited intermittent link status and could not support 100% error-free transmission on an IP camera.
Overall, test results showed higher grades of cabling perform better at increased temperatures. Anixter's technical brief cautions that even though failure was shown to happen at 113 degrees, errors may start to occur earlier than that failure point.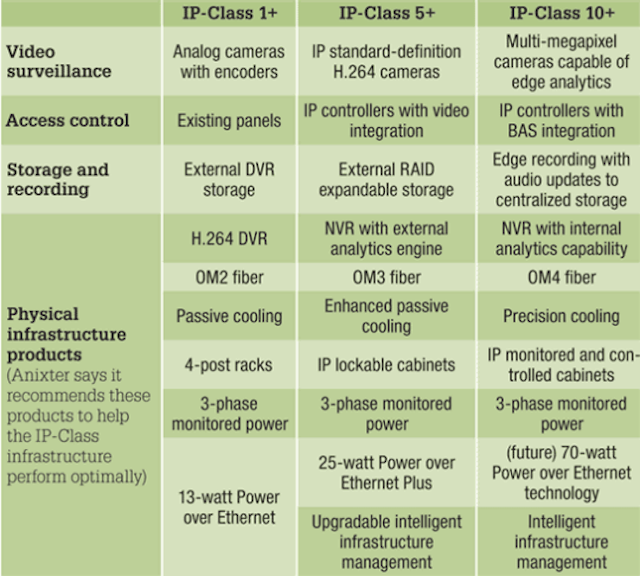 Anixter's Jimenez reported that while a minimally compliant Category 5e system began losing data frames at 113 degrees, systems that meet IP-Class1+ support error-free transmission up to 188 degrees; IP-Class5+ systems are error-free up to 248 degrees; and IP-Class10+ systems are error-free up to 263 degrees.
PoE implications
One of the touted benefits of IP devices such as cameras and access-control systems is they can be Power over Ethernet-enabled, saving end-user organizations the cost of running separate power cables to these devices. For some time, questions have been raised about the possible cabling-system performance degradation that may result from running direct-current power over the cables' twisted pairs. Anixter took on that issue in its laboratory tests when developing the ipAssured program.
Lab technicians created two test bundles, each with 37 cables in a 36-around-1 setup. One bundle included exclusively Category 5e cables; the other included exclusively Category 6 cables. Jimenez explained, "The FCC [Federal Communications Commission] allows 750 milliamps on a conductor. We put 750 milliamps through each conductor pair for 24 hours." Technicians then measured the conductors' temperature rise in the center cable of each bundle. While Anixter did not release specific loss-measurement numbers, Jimenez explained, "The result was a 25% increase in signal loss with Category 5e versus Category 6 cable." He added that the Category 6 cable's gauge size—23 AWG rather than 24—helped mitigate the effects of increased power on the conductors.
Jimenez said five conclusions can be drawn from the testing conducted in Anixter's Infrastructure Solutions Lab.
Industry standards assume cabling systems operate at room temperature.
Category 5e fails at 113 deg. Fahrenheit.
A 1-degree rise in ambient temperature equals a 0.6% increase in insertion loss.
Power over Ethernet and Power over Ethernet Plus internal temperatures are additive to loss created by ambient-temperature increases.
Bundling cables adds stress to them.
Five cabling systems are part of the Anixter ipAssured program: ADC's TrueNet; Belden's IBDN; Berk-Tek/Ortronics' NetClear; CommScope's Systimax and Uniprise; and Panduit's TX systems.
Patrick McLaughlin is chief editor of Cabling Installation & Maintenance.
More CIM Articles