Surveillance and network protection: Who will run the show?
Devices in schools push management questions to the forefront.
Nov 1st, 2003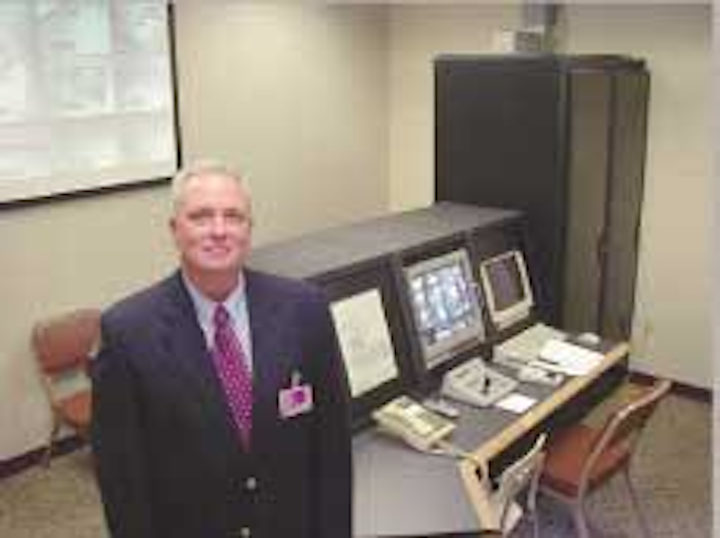 Security is becoming a hot-button topic for schools, which are seeking intrusion detection devices, locking enclosures and intelligent video surveillance systems.
Schools are taking steps to protect their wiring closets, or view any potential damage or vandalism in them. In the post-Columbine High School era, they are seeking security systems that will detect weapons a student may bring to school, and systems with key cards that will allow students entrance to buildings, and IP-based cameras that will survey parking lots.
Public and higher education institutions are no longer content with filming an act of vandalism or a crime. Many are seeking technology that will help them move from reactive to preventative security measures. All in all, schools are trying to reduce their vulnerability, lower their risk of disruptions, and take on general industry practices that provide better security.
But as security technology becomes more sophisticated, schools are being confronted by an intriguing question: Who is responsible for running a security department today—traditional security people, or the information technology (IT) workers who maintain and run the technology?
It's a question that schools are debating, even as they consider installing new cabling networks that will provide the bandwidth needed for IP-based cameras and other equipment.
"If you invest in the infrastructure, you need to also invest in who will oversee the technology," says Jesse Bradshaw, technology coordinator for the 95th Street Elementary School in Los Angeles. "Otherwise, it will not be utilized to its maximum potential."
Some say the complex demands placed on cabling infrastructure mean that IT should oversee school security systems. But others, who are calling for a new form of cooperation between IT and security departments, say that schools must help build a bridge between both departments.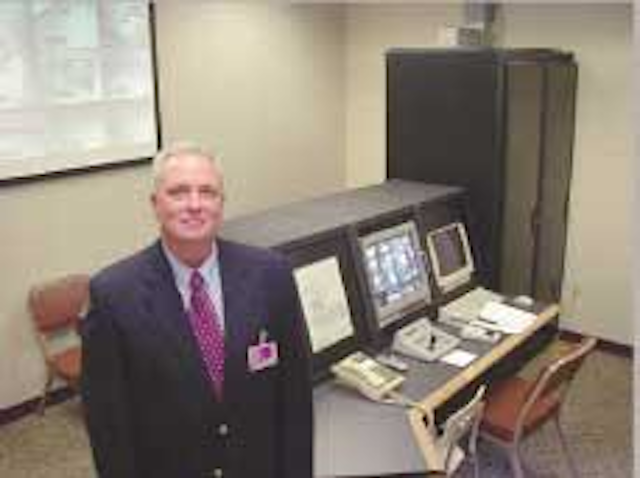 Chuck Hibbert, coordinator of safety and transportation services at Indiana's Ben Davis High School, oversees a security system that accommodates both computer and Internet use.
Click here to enlarge image
"People who adopt these [systems] are driving for a convergence between the two," says Frank LaPlante, vice president of marketing for Anixter Inc. (www.anixter.com), based in Glenview, Ill.
Anticipating problems
Colleges and universities have long invested in security technology, using analog surveillance cameras for remote parking areas and garages or even computer labs. But security investments have slowly started to amp up during the past two years. "Certainly, we are now seeing an increase over what has been used in the past," says Geoffrey Tritsch, president of Compass Consulting International Inc. (www.compassconsulting.com), based in Medfield, MA. The company is an affiliate with the Association for Technology Professionals in Higher Education (www.acuta.org), based in Lexington, KY.
"We are seeing a lot of heightened security; on campuses, this is becoming the hot button," says Ron Walczak, president of Walczak Technology Consultants Inc. (www.walczakconsultants.com), based in Prospect, PA. The company conducts voice/data network consulting for higher education.
In the post Sept. 11 environment, colleges are driven to protect students from unsafe situations or physical threats. They are seeking systems that will provide dormitories with access control that allow students entrance but keep everyone else out. They need video systems that will monitor their facilities and the public spaces adjacent to them.
"A college has to protect against problems and anticipate them," says John Pryma, vice president and general manager for Genesis Cable Systems (www.genesiscable.com), based in Pleasant Prairie, WI. "They need to be totally responsible and prevent these things from happening, or else they could be sued."
And college campuses aren't alone, Tritsch says. Interestingly, security concerns and their accompanying technology drives have been spilling over from urban colleges to public schools in rural towns. School administrators believe that since the number of incidences of attack are increasing in society, public schools everywhere are now more vulnerable. The integration of networks to other systems is increasing the vulnerability, and increasing the potential impact of a threat.
"Schools have always had a great deal of these concerns, especially urban schools," says Tritsch. "But now, more rural schools that were never concerned about video surveillance or locking dorms and the like are becoming increasingly concerned with it because of what is happening in the world today," he continues. "These problems are no longer strictly urban concerns."
But some IT managers for public schools say the security issue can be overblown. Public elementary schools, it is argued, are more menaced by computer viruses than by student vandals. "Kids are not sophisticated enough to do anything until they get to junior high or to high school," says Bradshaw. "Overall, our network just needs virus protection."
But still, Bradshaw notes that his school district has installed locking enclosures that protect networks from tampering. And he also believes his school district is falling short when it comes to safely monitoring its parking lots.
Potential parking lot attacks are not the only threat. Too often, the threat can come from inside the school's halls. Rick McNees, vice president of marketing for iTRACS Corp. (www.itracs.com), based in Westchester, IL, refers to a recent incident at a university in the United Kingdom, where students broke into a telecom room closet and stole switches from the network.
"Students are not checked, and they get through metal detectors, and then they are unencumbered and not challenged as they walk through the building," says McNees.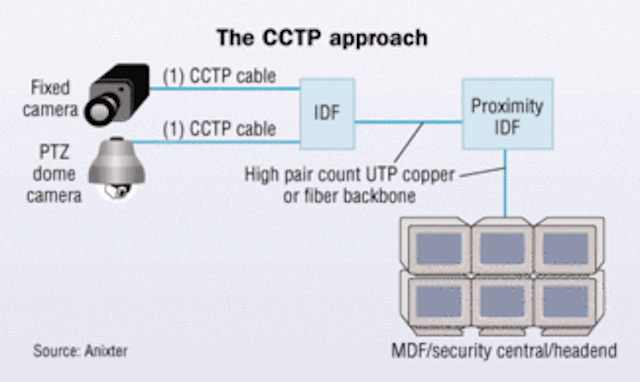 Anixter's CCTP solution runs traditional CCTV cameras and other devices over unshielded twisted-pair cable.
Click here to enlarge image
LaPlante noted a similar incident at the University of Kentucky. "Someone broke in drunk, stole a router, and the entire dorm [was] out of power," says LaPlante. "You need to physically protect that part of the network."
Technology at a price
Many schools are now buying into savvy, high-tech security devices. But such technology comes with a price. In many cases, it calls for upgrades in the campus or school cabling infrastructure.
"There is a lot of older cabling still installed in campuses—Category 3 and older—that does cause some concerns," says Tritsch. "You can handle 10 megabits on a Category 3 cable, but not much more than that. These schools will have to upgrade their cabling."
Until recently, surveillance cameras tended to be analog, black and white, "fixed" devices aimed at a certain area, such as a parking lot. These cameras are usually reactive in nature, letting security professionals go back and view a suspicious or criminal event after it has taken place.
Security equipment today, however, is moving from analog to digital, and manufacturers are striving to create "intelligent" security technology—devices that raise alerts at the earliest sign of trouble. NetBotz (www.netbotz.com), manufactures monitors that view remote, distributed sites where organization's house critical assets and spaces. Anixter's CCTP system is a solution that allows for the running of CCTV cameras and other devices over unshielded twisted pair cable.
"Intelligence is necessary to make this possible, and it can only be effective if it is digitally-based and in some kind of network," says LaPlante.
Some schools are installing digital systems to protect their networks from damage, intentional or otherwise. Chris Clasen, a sales representative for LanJam (www.lanjam.com), based in Santa Cruz, CA, reports that public schools are buying locked racks and enclosures to protect their networks from vandals. LanJam is a sales organization for a group of cabling component manufacturers.
Clasen says schools are increasingly veering away from open architecture, and buying the locking cable boxes that can provide network security. "There's just more awareness of security," says Clasen. "They don't want kids breaking into the stuff and stealing it."
In another example, Ben Davis High School in Wayne Township, IN, recently installed two VRK-44-31H video rack enclosures and a four-bay Quiet-Cool Series surveillance and monitoring console from Middle Atlantic Products (www.middleatlantic.com), which serves as the nerve center of the control room. The system monitors more than 200 cameras covering an estimated 1 million square feet. The sensitive monitors and digital recorders are operational at all times.
"We needed a top of the line console that would accommodate the computer/Internet-based system," says Chuck Hibbert, the director of safety and transportation for the Metropolitan School District of Wayne Township.
Ron Walczak's company, which designs cable distribution systems for schools, recently designed a digital video surveillance network for a school district's main telecom equipment room. The cameras recorded an electrician who accidentally broke a wire, shutting off a mail server for the district. The electrician initially denied cutting the wire.
"A fter that person was shown what happened (on the camera), he lost his job," says Walczak. "Why are schools going for these? Because of the cost of vandalism and the cost of downtime."
So, who's in control here?
Schools are learning that winds of change are coming with each network security and IP-based camera installation. They are asking questions like: Where does security's domain now fall? Is it the responsibility of an organization's IT department, or does it answer to itself?
Schools, like other end users, often have security officers or departments. And if a secure network is the goal, schools must form a management plan that makes the best use of their resources. Some manufacturers argue that IT is destined to play a greater role in this collaboration. In the end, LaPlante says, IT departments will most likely be responsible for choosing the security technology that will be used in academic environments. He says the complexity of these systems—their installation, maintenance and use—will naturally put IT workers in a leadership role.
"The people making the decisions on the new technology come from an IT background, where the budget comes from," says LaPlante. "So, they are going after technology that they are comfortable with."
Tritsch agrees that both campus security and IT will have to work together more—and that may not be easy. Tritsch says, traditionally, schools have no common management structure for security, facilities and IT. "It varies from campus to campus. Some work very well together, and on some campuses they have nothing to do with each other," says Tritsch. "There's long been a trend where IT said, 'I don't want my stuff riding on your (security) network. I'll put my own copper or fiber in so security can deal with its own network.' But that is slowly going away."
LaPlante says the trend's departure will force IT into the school security limelight. He points out that since security guards typically come from law enforcement or military backgrounds, a chief security officer typically does not have the background needed to choose, install or run the technology.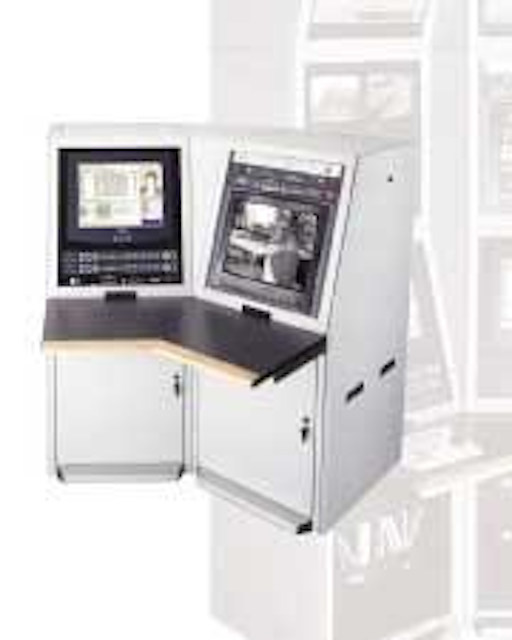 Middle Atlantic Products' Quiet-Cool Series surveillance and monitoring consoles are designed to address challenges associated with housing modern security equipment.
Click here to enlarge image
"It comes down to who makes the decisions and who holds the purse strings," says LaPlante. "There's a lot of intelligence for this in the IT department. It takes up a lot of their bandwidth, and it's all happening under their radar."
Since this trend has yet to catch fire in the business world, it will also likely be a slow transition for academia. LaPlante says only about half of the security departments in Fortune 1000 companies report to IT departments. "This is not happening as rapidly as we thought it would," says LaPlante.
Mark Tracy, director of marketing for Middle Atlantic Products Inc. , based in Riverdale, NJ—maker of the Quiet-Cool surveillance and monitoring systems—says that even as the two sides work together, there needs to be a clear division of duties.
"It is increasingly heading in this direction," says Tracy. "But is there still a security director? Yes. They will be responsible for the layout of the way physical security is done. But managing the technical side should be their (IT's) idea.
LaPlante notes, however, "We have to be careful not to say that this responsibility will be completely wrenched away from security. People will still need help from a traditional security person. It's very much a collaborative effort."
Bradshaw says public schools are slow to approach the issue, and notes that in many school districts, most of the security funding is being diverted to the actual network infrastructure, while not enough forethought is going into who is responsible for running and supporting it.
"They are technologically savvy, but too many schools just don't have that support," Bradshaw says. "There needs to be a combined effort between physical security and the technology department."
Brian Milligan is senior associate editor for Cabling Installation & Maintenance.