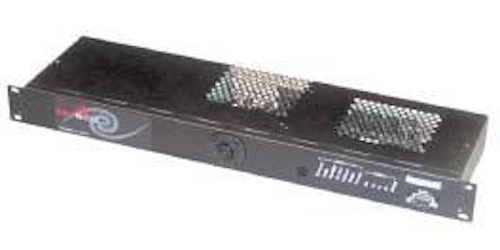 Our government's heightened focus on security has been a wake-up call for both private and public organizations across the nation to pay more attention to the protection of their digital and physical infrastructures, people, and information. This broader, converged approach to security, combined with technological product advancements, is causing physical security to shift into the domain of the IT professional. As a result, many in the cabling industry are plunging into the untapped security market with new challenges, products, and ideas.
Facing facts and challenges
In the past, an IT professional's security responsibilities focused on preventing outside users from hacking into the network. But network downtime is often caused by intruders physically entering IT spaces and causing damage to the network cabling or equipment. "Even when security personnel is delegated to protect physical spaces, many IT professionals find themselves being held accountable for downtime associated with intrusion into data centers and telecom closets," says Tom Goldman, CEO for NetBotz, Inc. (www.netbotz.com). "Today, about 80% of IT managers are held accountable for the physical security of their critical IT spaces, and many are becoming responsible for entire building security and access control."
As the need for more sophisticated surveillance and monitoring systems grows, old analog technology is being replaced with new, digital video recording equipment. Digital equipment allows for increased flexibility and manipulation of information, requiring security systems to run over LANs and WANs. "Today's users want to view video surveillance over the Web, send clips via e-mail, and digitally store information," says Robert Smulders, sales and marketing vice president with Philips CSI (www.philipscsi.com), now part of Bosch Security Systems. "By nature, IT professionals must face the fact that security is moving into their area of expertise—and this opens the door for many in the cabling industry."
With recent focus on converged networks where voice, data, audio, and video all run over the same infrastructure, many IT professionals who are responsible for physical security are inquiring how to also converge security. Most IT professionals know that physical security cannot continue to run over traditional systems with analog technology. But they are faced with a lack of standards, technical direction, and recommendations.
"Many IT professionals have nothing to go on because security has advanced so quickly in the past 18 months," says Frank LaPlante, vice president of marketing and advertising for Anixter (www.anixter.com). "While this situation gives manufacturers and installers the opportunity to step up and offer security solutions geared towards the IT environment, it also illustrates a true need for standards."
According to Scott Fordham, CEO of NetVersant (www.netversant.com), the lack of standards in the security industry has created a huge dilemma for the IT professional. "For a structured cabling system, a request-for-proposal can be sent out with specific standards. But when it comes to security, there are no standards, no performance values, and no interoperability or third-party testing," says Fordham. "This creates a situation where the IT professional can't make heads or tails of the multiple options, and there is no method for comparing apples to apples."
The introduction of standards and testing brought order and value to the cabling industry, and many are hoping for the same to transpire with security. "Standards are essential and, hopefully, when the bigger manufacturers get involved, we'll start to see them introduced," says Fordham.
Developing security solutions
In response to the shift of security to IT, many in the cabling industry have stepped up research and development efforts to offer innovative security products. Closed Circuit Twisted Pair, or CCTP, which is engineered by Anixter with components from other recognizable cabling-industry vendors, received the 2003 award for best new technology at the Federal Office Systems Expo in April. CCTP is the first video surveillance system to run video, power, and control signals over UTP cable. "CCTP is easy for the IT professional to accept because it's configured just like typical horizontal copper cabling with the RJ-45 interface that so many are familiar with," says Anixter's LaPlante.
According to NetBotz's Goldman, the success of the NetBotz Intelligent Monitoring System is due to heightened interest in protecting physical IT spaces. "The NetBotz system stemmed from the idea of thermal monitoring in the racks. It evolved quickly when IT professionals started wanting to know exactly what happened, who was in the IT space, and what were they doing," says Goldman.
Each programmable NetBotz unit has an IP address, and is equipped with a camera and sensors that measure humidity, temperature, and airflow, and listen for audible alarms from surrounding equipment, such as uninterruptible power supplies. "The unit sends multiple alerts during an event, including pages and photos or video via e-mail," says Goldman. "Users can also log on to the Web and see what the unit sees in real time."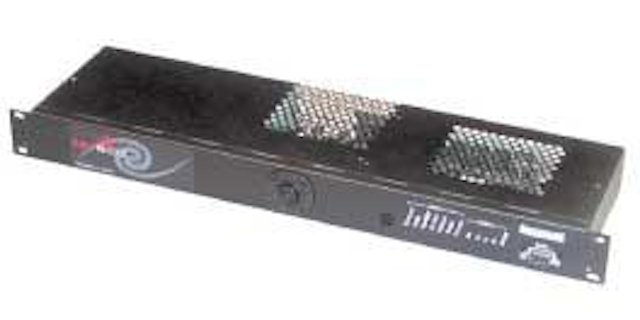 The RackBotz unit of the NetBotz Intelligent Monitoring System occupies 1U of space, and is equipped with a camera and sensors that measure humidity, temperature, and airflow, as well as listen for audible alarms.
Click here to enlarge image
The RackBotz unit occupies 1U of space in a standard 19-inch rack, and a wireless version is also available. According to Goldman, the NetBotz is especially designed for campus environments and spaces such as pharmacies, laboratories, agricultural environments, and homes for the aged.
In March, Fiber Instrument Sales (www.fiberinstrumentsales. com) launched a new 50-page security product catalog, which includes their new patent-pending Fiber Fence Security System for perimeter monitoring. "The day after the September 11 attacks, our president came up with the idea of using fiber cable to help monitor fence lines at a very low cost," says Valerie Sitler, senior vice president. "The Fiber Fence was designed and ready for sale within six months, and due to heightened interest in security, we then began offering a complete line of security systems and products."
The Fiber Fence is capable of monitoring approximately 50 miles of perimeter, using what the company terms "highly accurate and cost-effective" Optical Time Domain Reflectometer (OTDR) technology. "When someone tries to climb or break the fence, the fiber is bent or broken, creating a light loss that is then measured to report exactly where the intruder is located," explains Sitler. The Fiber Fence System utilizes FIS Fiber Optic Cameras, which transmit video signal long distances over optical-fiber cable, and are powered via a hybrid cable to avoid the use of external power supplies. "Fiber Fence is gaining interest for outdoor perimeter applications like water treatment facilities, nuclear power plants, prisons, oil refineries, and even airports," says Sitler. The Fiber Fence System 2000 graphically displays area maps to identify tripped locations. Paging is one of the many ways the system can alert of an intrusion.
Middle Atlantic Products, Inc. (www.middleatlantic.com), manufacturer of mounting solutions for low-voltage equipment, recently introduced a new series of surveillance and monitoring consoles to accommodate the changing trends in security. "With security moving into IT and equipment becoming digital, we needed to consider attributes like structured cabling standards for bend radiuses and thermal management for proper equipment cooling," says Mark Tracy, director of marketing for Middle Atlantic Products.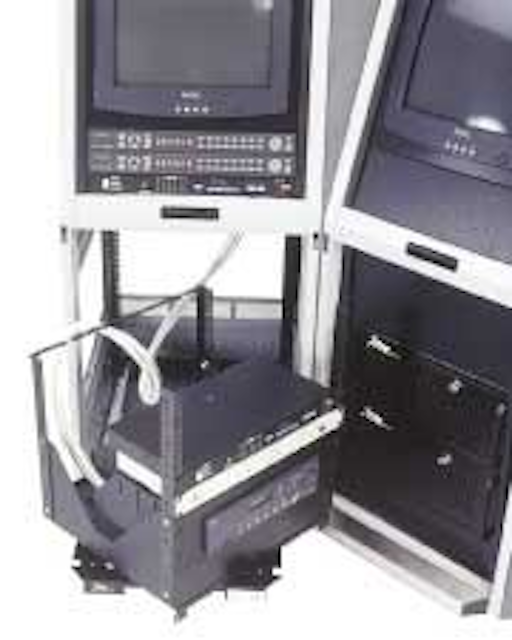 The Quiet-Cool surveillance and monitoring console from Middle Atlantic Products is designed for easy cable management. Its 8.5-inch raised rear door and a slide-out rotating rack (SRSR) provides access to the back of the equipment.
Click here to enlarge image
Each console includes removable plates to facilitate cable entry and an 8.5-inch raised rear door for use with cable trough or raised-floor systems. The Quiet-Cool Series console actively cools and acoustically isolates equipment from the operator. A slide-out rotating rack that provides access to the back of the equipment is designed for easier connections and saving space.
Traditional security product manufacturers are also feeling the affects of the shift of security to IT. "The security industry is old fashioned in general, and smaller manufacturers may have trouble making the switch," says Smulders. "Our engineering department today has a lot more IT professionals than it did a few years ago."
Getting into the ballgame
According to Smulders, because IT budgets in general are higher than that of traditional facilities management, the security's movement into IT provides new opportunities for manufacturers that jump on board. "Our challenge is to ensure that IT professionals don't undervalue security, and we need to come up with new technologies that appeal to their expertise," says Smulders.
Increasingly, many cabling designers and installers are also being approached by clients to provide security solutions. "In today's economy, security is a definite growth area for the cabling industry, which was flat before the recession and now in tough shape," says Smulders. "Datacom installers are already technology-savvy, and training them on security is less of a hurdle than training traditional analog thinkers on network infrastructure and IT."
According to Smulders, if traditional analog security system installers don't get training in IT, they may be left out of the ballgame.
NetVersant with multiple locations across the nation, focuses 50% of its business on structured cabling for data communications systems, another 20% on security and access control, and the rest on telephony and wireless systems. "We saw security as being complementary to the other services we offered, especially with our IT customers beginning to assume security decision-making and budget responsibilities," says Fordham. "Many analog security system contractors don't have the credibility they need with the IT manager—they don't always talk the IT lingo or understand the issues."
Setting the stage for technology
As parents demand reliable surveillance systems in our schools, and government agencies work to combat terrorism, public and private organizations are jumping on board to protect their people, spaces, and information, setting the stage for the development of new security technologies. "As tragic as the events of our world have been, it made evident our lack of attention to security," says Tracy of Middle Atlantic Products. "As a general public, our awareness is much greater now. Moving forward, security will be given higher budgets and the technology will continue to thrive."
According to LaPlante, because the non-standardized, untapped security market is there for the taking, many new technologies will be developed. "It won't just be surveillance. Everything from fire alarm systems to HVAC control will end up being converged," says LaPlante.
"We're going to start seeing networks where the door opens with an access card at the same time a camera checks the database to make sure you are who you say you are—and it's all going to be LAN-based," LaPlante adds.
Biometric technology, such as retinal scans and fingerprinting, is gaining attention, but is not yet tested and proven. "We're eventually going to have to move beyond traditional IDs, like social security cards and different state licensees, and move towards a national ID that focuses on biometric technology like fingerprinting," says Fordham.
"The future will see very few guards sitting in front of monitors," adds Fordham. "We've got to let technology do what it's intended to do."
Betsy Ziobron is a freelance writer covering the cabling industry.