Industry Spotlight
Anixter unveils surveillance-over-twisted-pair system; Entry-level cabling techs will be "ready for the recovery"; Eleven vendors pass Graybar's VIP Fiber qualifications; MORE...
Mar 1st, 2003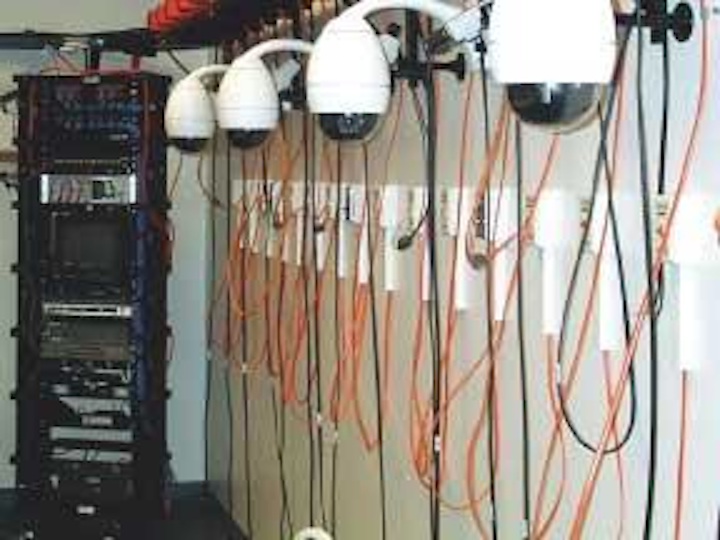 Anixter (www.anixter.com) has introduced a video-surveillance system that runs video, power, and control signals over a single unshielded twisted-pair (UTP) cable. Anixter says the new system, called Closed Circuit Twisted Pair, or CCTP, addresses the escalating movement in corporate America to converge physical security into the information-technology (IT) domain.
CCTP was introduced during a luncheon at the BICSI Winter Conference in mid-January. According to vice president of marketing and advertising Frank LaPlante, Anixter is showcasing and marketing the security system in the traditionally voice-and-data-oriented marketplace because it sees security as increasingly falling within the domain of an organization's information-technology department. He states that 40% of Fortune 1000 security departments report to the IT department.
Further, many organizations are choosing to meet their surveillance needs with IP-based cameras with compression capabilities. Troubles arise, however, because these devices severely limit a cabling system's bandwidth. Additionally, there are several compression methods, with no single, standardized compression method in use. Also, current video surveillance systems with pan-tilt-zoom cameras include home-run coaxial, power, and control cabling, thereby requiring a three-cable home-run for each additional camera. Anixter says CCTP addresses these technological concerns with an open-architecture system that cost-effectively uses a plant's existing backbone and will offer significant savings on system moves, adds, and changes when compared to traditional surveillance-camera systems.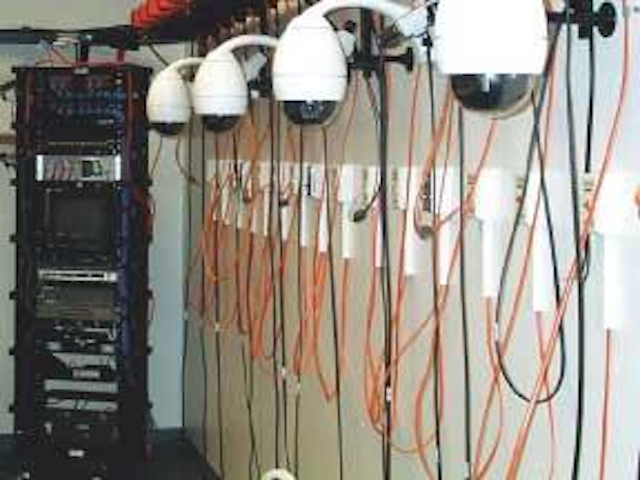 Shown here is the CCTP system, with four Philips cameras on the wall and UTP cabling home-run to rack-mounted control equipment in the background.
Click here to enlarge image
null
Components are from recognizable cabling-industry vendors.. The "better-than-Cat-6" cable used for CCTP is from Belden (www.belden.com); and the consoles housing the monitoring and multiplexing equipment come from Middle Atlantic Products (www.middleatlantic.com). The system employs midspan power devices to power the cameras via the Belden cable.
Robert Smul-ders, vice president of sales and marketing for Philips CSI, the maker of the cameras in the CCTP system, says, "We started working with Anixter about one-and-a-half years ago and decided to take a closer look at this security initiative. We believe the system lowers the threshold for people who are not traditionally involved in CCTV systems," referring to the many IT managers who now have security systems among their list of responsibilities.
"In the past, security and IT were separate, but more and more, security is part of IT," Smulders continues. "There is a perception among IT managers that a surveillance system is going to kill their bandwidth. We saw this CCTP system from Anixter as the link that could open up markets for us in IT. CCTP allows IT managers to look at security on their own terms."
Anixter has trained installation contractors on the technical aspects of the system, as well as providing marketing techniques to help sell the system. "Several individuals from my office took Anixter's CCTP training," says Todd McNamara, president of NetVersant's Minneapolis-St. Paul, MN operation. "This wasn't a two-hour vendor seminar; it was a couple of days of product line and installation training.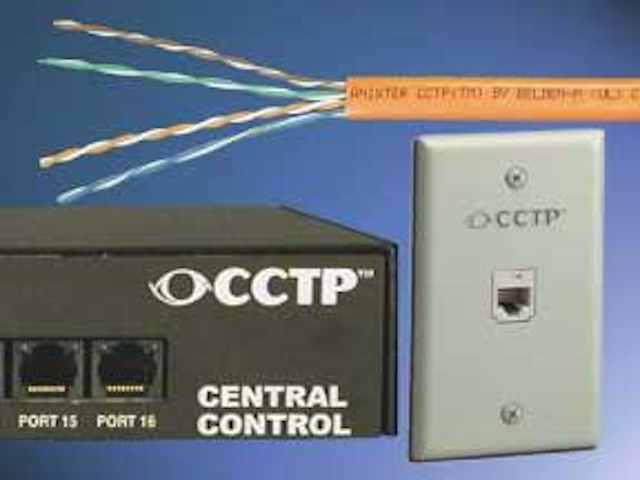 The UTP cable and standard RJ-45 ports in faceplates and control equipment epitomize the CCTP system's familiarity to traditional voice-and-data system installers.
Click here to enlarge image
null
"The training turned out to be timely," he adds. "On the day they returned to the office, we started working on an opportunity to deploy the system at the Minneapolis Community & Technical College." McNamara explains that one of the most significant challenges on the campus of 10,000 students was the distances between some of the connection points. "We also dealt with limited access and pathway issues," he recalls.
The CCTP system worked for the school, and McNamara says he believes it can work for other clients as well. CCTP "has a fit," he says, "especially for users who want to place 10 or 12 cameras, spread out over a building or campus. There are economies to using it."
McNamara says he is now educating potential customers on those economies, and also emphasizing the three-year warranty. "You just don't get that for surveillance systems," he says. "The CCTP system also gives us an opportunity to talk to clients, letting them know that the drops can be used for access points, IP cameras, or other devices."
Deployed in the field
The Illinois Railway Museum is one of the first adopters. According to Walter J. Ostopowicz, head of the museum's communications department, the system suits the museum's sprawling campus.
"We have at least 200 acres and 18 buildings, including several shops," he says. "We had a two-camera system using twisted-pair wiring and baluns that covered a couple cash points. But we wanted surveillance on every cash point. When the system is complete, we will have 14 cameras on cash points. We are a million-dollar organization, and all the money we get is from the people who come through the gate. Having surveillance on our cash points is critical."
Ostopowicz is also pushing for surveillance of other parts of the property. "We recently had a graffiti incident, where a one-of-a-kind railroad car was defaced. We're looking at the reality of barbed-wire fencing for all 200 acres; I believe that surveillance of the property is important as well."
He says that the museum will make these improvements as finances allow, and credits the CCTP system's easy-upgrade capability. "Using the system is easy," says Ostopowicz. "I'm a former telephone installer, with the Bell System, AT&T, and Lucent. The wiring is a snap."