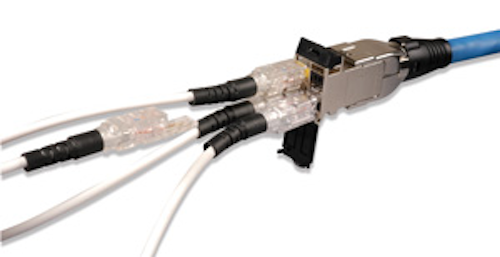 From the June, 2013 Issue of Cabling Installation & Maintenance Magazine
Sometimes derided as a "no-action, talk-only" concept, the intelligent building is creeping ever-closer to fulfilling its long-time promise.
by Patrick McLaughlin
One of the running jokes that has been told in the structured cabling industry, and others, for a long time is that the "intelligent building" concept has been 18 months away from becoming reality for the past 18 years. And here we remain, with a very slim likelihood that anybody reading this article has ever received a remote alert from their refrigerator that they were running low on mayonnaise. As such, some have derided intelligent buildings as a NATO technology—no action, talk only.
While the "refrigerator-alert" level of building automation or intelligence is still closer to the realm of science fiction than to everyday life, the automated or intelligent building concept has made significant enough progress that it should not be labeled NATO. Action has been taken. In a sense, the intelligent building concept is closely tied to another buzz phrase that also has some legitimate technical standing—Internet Protocol (IP) convergence. In many ways the convergence of multiple building systems over an IP network is what will enable, and perhaps what will define, an intelligent building. The ability of IP-enabled systems to communicate with each other and for the activity of one system to prompt the activity of another is the essence of automation. After many years, the ability for systems to communicate in such ways is taking shape.
Standard activity
The publication of a standard addressing a given cabling-related technology gives that technology some form of legitimacy in the minds of many, especially including potential adopters. In that regard, the automated or intelligent building is coming up on its third generation of legitimacy. A task group within the Telecommunications Industry Association's (TIA; www.tiaonline.org) TR-42.1 Subcommittee on Commercial Building Telecommunication Cabling is in the early stages of a third version of the TIA-862 standard, which addresses cabling for building automation systems. The original TIA-862 Building Automation Systems Cabling standard was revised to an "A" version, TIA-862-A, several years ago. Now a task group is working on a revision that ultimately should be published as TIA-862-B. While the task group's work is in its initial stages, reports from TR-42.1 indicate the B revision probably will use the term "intelligent" rather than "automated" in its title.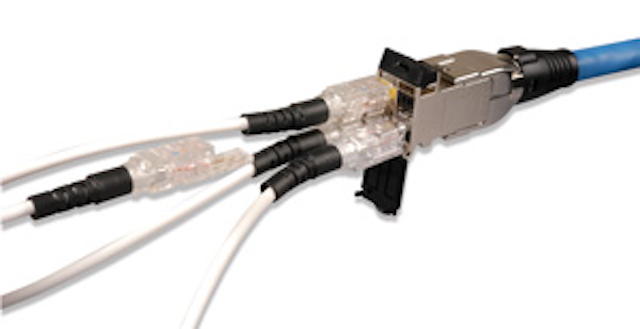 Siemon has long advocated cable sharing, and points out it is an approach that can be implemented as applications converge over an IP network. Shown here is Siemon's TERA connector, which enables each pair of a four-pair cable to be used separately if necessary to serve different applications.
The current standard, TIA-862-A, permits the use of what is commonly called "direct attach cabling," a setup in which horizontal cable is terminated to a modular plug that is inserted directly into the network device. Looking at the setup a little more closely, if the cabling layout uses a horizontal connection point, it is not necessary to have an equipment outlet in the link. That equipment outlet becomes optional. The horizontal connection point, which makes the direct-attach an option, is a fundamental part of a zone cabling architecture. This architecture, says The Siemon Company (www.siemon.com), is key to a cabling system truly becoming an enabling technology for IP convergence and building intelligence. Siemon devotes significant space on its corporate website to the topic of IP convergence, including the downloadable document "ConvergeIT Technical Solutions Guide." ConvergeIT is a trademarked term for Siemon products and technology used to serve applications of these types.
In the guide, the company explains, "A zoned structured ConvergeIT cabling design consists of horizontal cables run from the horizontal crossconnect in the telecommunications room (TR) to zone boxes serving as consolidation points…Cables are then patched from the zone box to the equipment and work area outlets. As with traditional topologies, multipoint bus and ring cabling configurations are supported if required by the application. Maximum link lengths and design requirements are also consistent with traditional cabling topologies." The guide includes a schematic example of a zone topology, "where horizontal cables are run from the TR to zone boxes and then patched to equipment/work area outlets supporting LAN, HVAC, control, access control, fire alarm, security cameras, and lighting control devices." In a situation in which the TIA-862-A direct-attach methodology is applied, the equipment outlet becomes optional, allowing the direct attachment from the zone box to the device.
Security applications
The concept of direct-attach cabling most frequently has been associated with IP security or surveillance cameras, but the ability to direct-attach is not limited to those devices. Bob Allan, intelligent building market manager with Siemon, explains that other security-related devices are also poised to join surveillance devices as IP-enabled equipment. "A next logical application would be card-access systems," he comments. "There are similarities in layout and other characteristics between card-access and camera systems. They can be integrated." In explaining how multiple systems can work together, Allan describes this scenario: "When a user swipes in or uses a proximity reader to gain access, a camera zooms in on them. This integration of access-control and surveillance can also be used to detect and take action on unauthorized access."
He adds that power is another motivator for the convergence of systems like these onto IP. Specifically, the ability to power devices over the network makes it easier for user organizations to implement many of these systems. Allan also states that integration such as that described here is not limited to greenfield environments. "It is important to be aware that just because a user is in an existing building, with an existing network, it does not preclude you from starting on the path to integration. Some have the ability to integrate to some degree," without a rip-and-replace cabling approach. The ability to do so is enhanced when a zone cabling system has been implemented. As Siemon's vice president of global marketing Robert Carlson points out, "It's a matter of breaking down silos—getting facilities and network staffs to work together early on in the process and to put in place a more-efficient cabling infrastructure." Siemon has long advanced the idea of cable sharing, in which a single twisted-pair communications cable can support multiple applications, particularly including applications that require just two wires. Such an implementation "avoids multiple cables, two-wire cables, multiple contractors and multiple pathways," Carlson notes.
Lighting, signage and more
Security applications such as surveillance and access control are current examples of IP-based building systems, and are joined by other applications that are increasingly being brought into the IP fold and inching today's reality closer to the long-promised "intelligent" state. As we have reported in the past, Redwood Systems (www.redwoodsystems.com) has developed an LED-based lighting system that operates over communications cabling. Among the system's characteristics is the ability to collect usage and environmental data, and put that information to use in order to increase the efficiency of the energy spent lighting a space. One recent advancement developed by Redwood is its Room Tracker, which, the company says, "leverages granular sensor data provided by the company's smart building platform to provide real-time insights into conference room availability and usage patterns." Redwood further explains that its Room Tracker "uses sensors embedded in each meeting room to constantly collect actual occupancy data. It integrates with popular calendaring systems to automatically free up unoccupied rooms that had been previously scheduled for meetings."
So it is not exactly sending you a message to tell you you're running out of condiments, but it is letting you know that even though a certain room in a building is booked for use, it is currently unoccupied and available for the taking.
Another application within the funnel of IP convergence is digital signage, or dynamic signage as it sometimes is called. In a report published in late 2012 recapping that year and looking ahead to 2013, dynamic-signage pundit Lyle Bunn (www.lylebunn.com) summarized, "At an estimated $7 billion in annual revenues, growing on all accounts at a continued, double-digit compound annual growth rate, employing an estimated 50,000 professionals, as messages are presented on more than 2 million networked out-of-home displays, the dynamic place-based media sector is moving beyond its early adolescence as it quietly moves forward in providing competitive advantage to end users and their capable suppliers."
Bunn's 2013 outlook bemoaned the "quietly moves forward" aspect of the industry: "The most important industry news items of 2012 were generally not published or profiled, as non-disclosure agreements and project privacy shrouded initiatives and kept them from public—and competitor—view."
While the beneficiaries of digital/dynamic signage or place-based media may be less than willing to provide detail about their specific experiences, that does not change the reality that these systems are networked and rely on a communications infrastructure.
CABA on specs
The Continental Automated Buildings Association (CABA; www.caba.org) dedicates its efforts to the advancement of home and building automation. One of its recent projects was a study of intelligent building bid specification. In early 2013 CABA publicized some initial findings from that study, which indicate there is much work to be done to perfect the specification process. It said the study "found that the bid specification process has thrived due to demand for technology and service solutions prompted by unique end-user needs and the perception of the cost-efficiency it provides building owners and operators."
However, CABA said, the distinct influence of various trades in the contracting and subcontracting processes involved in the end stages of a bid specification project results in cost becoming the sole determinant for procurement, no matter what the original schematic design recommended. Plus, the results showed, the methods followed for vendor procurement, "have been significantly affected by the evolution in buildings, brought about by the influence of information technology on physical systems. As a result, owners of intelligent buildings consider technology integration to be important, however, investment and perceived value derived are not well aligned. Lack of product knowledge is a common issue among most owners and operators.
"Demand potential for intelligent buildings solutions is further impacted by the perceived price-performance ratio of these products," the study also found, according to CABA. "Building owners do not have a clear idea of the actual benefits of buying these new products and solutions."
CABA concluded: "The immediate need is for industry participants to organize initiatives to work together and create structural frameworks for joint collaboration in developing building technology and spec development practices."
The ideal concept of intelligent buildings enabled in part by IP convergence must make its way through the economic and logistical realities of today's world. Are we 18 months away from intelligent buildings, as we have been for the past 18 years? We'll be able to answer that question in about a year and a half. ::
Patrick McLaughlin is our chief editor.
More CIM Articles

View Archived CIM Issues