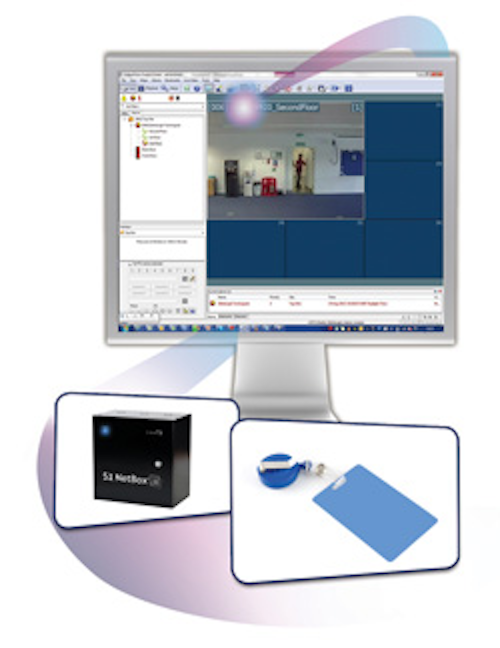 From the January, 2014 Issue of Cabling Installation & Maintenance Magazine
Compiled by Matt Vincent
IndigoVision integrates with S2 access control products
IndigoVision has released its twenty-third integration module, enabling data from S2 access control systems to be seamlessly managed within IndigoVision's open-platform IP video security solution. IndigoVision says its new S2 Integration Module was developed as a result of government, retail and transport projects, where the two companies have strong experience together.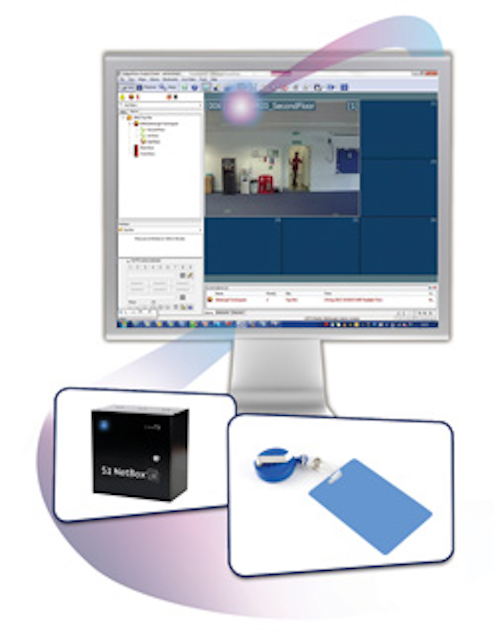 "There is a growing trend among video security manufacturers to acquire access control companies," comments John Semple, IndigoVision's head of product management. "Having a single manufacturer for both access control and video security may sound ideal, but there are major issues with that approach." The principal issue is that of limited choice, adds Semple--i.e. different access control companies have strengths in different market verticals or geographies, due to specific product features or support infrastructure. IndigoVision says its open approach to systems integration gives greater freedom of choice, allowing customers to use the best access control system for their individual requirements.
Another issue with a single manufacturer providing both access control and video is limited scalability, contends IndigoVison. When multiple sites need to be connected in a single security system, those sites often have existing access control systems installed. IndigoVision notes that its open platform strategy means existing access control systems, from multiple manufacturers, can be seamlessly integrated into video. "By providing both better system scalability and greater freedom of choice, IndigoVision's open approach and strategy for security systems integration clearly delivers exceptional future-proofing of security installations," concludes IndigoVision's Semple.
The company's full series of integration modules covers a range of access control systems, including those from Lenel, Gallagher, Honeywell and Software House.
---
High density data distribution module for mission-critical facilities
Cable management and power/data distribution specialist Snake Tray recently launched its high density data distribution reception module. This 36-port access floor enclosure can contain any category receptacle from any manufacturer, says the company. The module delivers a multiple redundant channel system for command and control centers, trading desks and other mission-critical facilities.
---
Spatial diversity antennas resolve areas of wireless multi-path interference
L-com has introduced its HyperLink brand 2.4-GHz spatial diversity/cross polarized sectorial panel antennas. These outdoor, all-weather antennas are designed with two identical and independent internal cross polarized antennas fed via four connectors. The spatial diversity feature of the antennas is useful for operating in areas susceptible to the effects of multi-path interference, notes the company.
By providing spatial diversity, the radio's internal circuitry can select between the two receive antennas for better wireless reception. In the case of 802.11n or MIMO, two or more spatially or polarization diverse antennas are required for the radio to operate at its highest data rate. Additionally, inside each sector antenna enclosure are two independent cross polarized antennas. These cross polarized antennas double the wireless capacity over the same channels. Each of the two internal cross polarized antennas is fed via two N-Female ports, one for +45 deg. polarized and one for -45 deg. polarized signals. This feature makes this antenna ideal for polarization diversity systems, says L-com.
"Our new spatial diversity, cross-polarized antennas are perfect for use in areas plagued with multi-path interference," comments Ken Burgner, wireless product manager at L-com. "Their unique design makes them ideal for service providers operating in the 2.4-GHz ISM band."
---
Vicon unveils HD network video recorder plus management
Network video systems specialist Vicon Industries has launched its HDExpress network video recorder (NVR), an IP video platform designed to provide simple viewing and recording of HD video. According to Vicon, the HDExpress records up to 16 channels of 1080P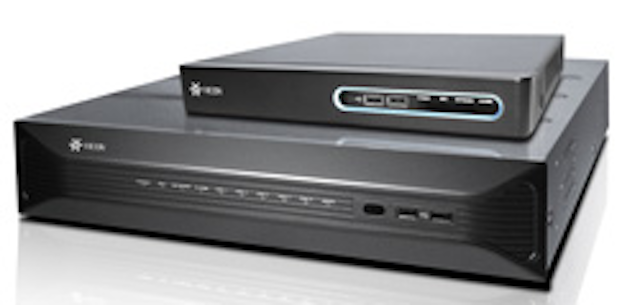 network video and delivers advanced features while requiring no networking knowledge or additional hardware for installation. Users simply connect network cameras to the device's camera ports and HDExpress detects and configures them while delivering PoE power.
Live and recorded video may be viewed and controlled locally using an HDMI monitor and USB mouse connected to the HDExpress unit, remotely using a web browser, or on smart phones and tablets with a free mobile app available for Apple and Android devices. Advanced features include thumbnail search, alarm logs and motion detection. An administrator dashboard provides easy diagnostics. Free, multi-site software allows users to view and control multiple HDExpress devices from a single interface, supporting up to 64 simultaneous video streams. Varying administrative access levels may be created for multiple users.
The HDExpress is optimized to work with a wide range of 1080P cameras, including many models from Vicon. The NVR is offered in 4-, 8- and 16-channel models with a range of storage options, including the ability to use eSATA external storage. "With HDExpress, system cost and complexity are no longer barriers for any customer to benefit from the advantages of a true HD, IP video security solution," comments Bret McGowan, Vicon's senior VP of sales and marketing.
---
Pre-installed steel wire pulling grips
Cerro Wire LLC, a manufacturer of copper electrical building wire and cable, has introduced a complete range of wire equipped with its RectorSeal single-use steel pulling grips, a durable single-use wire pulling tool that reduces setup time and allows installers to pull up to 4x more wire per day, according to the company. Ideal for the healthcare construction and building markets, the pulling grips may eliminate waste, saving time and money, especially on larger commercial jobs, notes Cerro Wire. Rated for use on THHN and XHHN wire, the new steel pulling grips reduce total setup time for a 4-wire pull to less than five minutes, the company claims. Eighteen sizes are available, ranging from 1 AWG to 750 MCM.
The contractor can receive the wire with all three or four wire lengths on a paralleled reel, ready to pull. At the end of each wire is a steel lanyard, used to pull the wire through the conduit; lanyards are of staggered lengths to stagger the heads, making entry into the conduit and through nineties easier. To complete the pull, a contractor simply attaches a rope to the lanyard. After the pull is complete, the grips are simply cut and are disposable. Made with an extremely durable steel body, the pulling grips are far less likely to fail during an installation than a pulling grip made of aluminum, contends the company. They also have a shorter body length, which allows them to corner better, further reducing failure risk compared to other pulling grips.
"No more taking hours of expensive labor just to prepare to pull wire by preparing pulling ends," comments Rick McDonald, president of Cerrowire Electrical Distribution. "Contractors using our pre-installed steel pulling grips will add significantly to their bottom line."
---
Berk-Tek Leviton alliance boosts data center cabling, connectivity services
The Berk-Tek Leviton Technologies alliance recently announced improved support to meet its data center customers' demands for product customization and faster turnaround times. The alliance now offers expanded customization options for preterminated fiber and copper assemblies, and the capabilities of two U.S. facilities dedicated to manufacturing preterminated solutions.
All Berk-Tek Leviton Technologies preterminated cable assemblies can now be custom-configured at Leviton.com/configurator and ordered through Leviton. The assemblies include options for preterminated fiber trunks to be configured with Berk-Tek Micro Data Center Plenum (MDP) cable and extended reach GIGAliteTM-10XB Om4+ optical fiber.
"Berk-Tek MDP cable, when combined with MTP connectors, provides the highest-density, flexible backbone connectivity available for data centers and SAN installations," contends Mike Connaughton, RCDD, data center market segment manager at Berk-Tek. "The patented MDP cable has the smallest outside diameter in the industry, reducing pathway fill and improving airflow in the data center."
"Using Leviton online configurators, customers can quickly and easily customize a variety of data center solutions to meet their specific network needs," adds Gary Bernstein, senior director, fiber and data center product management for Leviton. "The configurators also provide users with product graphics and specification sheets linked directly to their configured solution."
With East Coast and Midwest facilities dedicated to manufacturing customer-specific preterminated assemblies, Berk-Tek Leviton Technologies says it is able to build and ship products to customers with some of the fastest turnaround times in the industry. All products manufactured in Leviton's Illinois facility and Berk-Tek's North Carolina facility deliver guaranteed quality and performance, the companies assert.
---
OFS tightens 50-micron multimode fiber specs for improved data center performance
OFS recently announced that it has improved several important optical and geometry specifications for its line of 50 µm multimode fibers, including the company's LaserWave Flex bend-optimized fiber.
For its line of 50 µm multimode fibers meeting the Om4, Om3 and Om2 standards, OFS has lowered its 850-nm attenuation specification from ≤ 2.3 dB/km to ≤ 2.2 dB/km, the lowest such spec in the industry, the company claims. This improvement will help fiber-optic cablers minimize attenuation in their cable and provide end users with low-loss links.

More CIM Articles

Archived CIM Issues