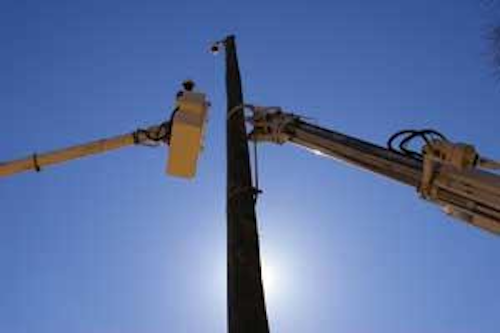 by Fredrik Nilsson
How a South Carolina public utility leverages its IT backbone to improve multi-facility surveillance.
Post 9/11, regulations regarding the safety and security of key contributors to the nation's energy grid have grown ever more stringent. To stay ahead of the curve, SCANA (www.scana.com), a Columbia, SC-based Fortune 500 energy-based holding company, has been gradually migrating from older analog coax-based technology to a more flexible, leading edge IP-based video system.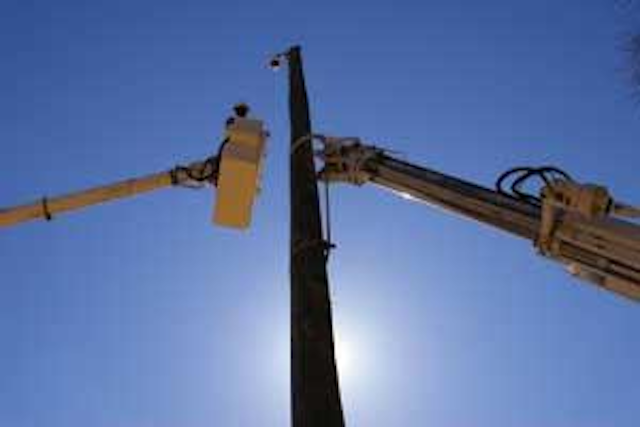 SCANA workers pole-mounted an Axis network PTZ camera so that employees could monitor trouble while new construction was in progress at the South Carolina energy holding company. (SCANA photo by Eric Caldwell)
Click here to enlarge image
The new technology enables SCANA to integrate its video surveillance solution with its other information technologyactivity through a common IT backbone shared across all its facilities. In addition to simplifying the deployment of network security cameras in new facilities, the technology allows SCANA to retrofit existing analog investments to more cost-effectively stream video over the company's wide area network (WAN).
While the push from Homeland Security to enhance production plant security was certainly a major impetus in the decision to migrate from analog to IP-based surveillance, SCANA also felt the convergent tech-nology would strengthen the company's business continuity efforts, making it easier to manage the protection of its corporate facilities as well as its storage sites andindustrial plants. Because the cameras are networked,security staff can monitor locations remotely, which will help reduce overhead without compromising coverage at high-risk locations.
And with no need to run expensive coax cables, the network cameras can be deployed quickly to provideassistance in deterring industrial theft of equipment, such as valuable copper wire from lay-down yards.
Bringing analog into IP
Working with Honeywell Building Solutions (www.buildingsolutions.honeywell.com), SCANA selected a variety of pan/tilt/zoom, fixed dome, and fixed IP-based network cameras and video encoders from Axis Communications to meet its surveillance needs. While SCANA is committed to deploying network cameras for its new installations, it already possesses a vast array of analog cameras that monitor facilities across North and South Carolina.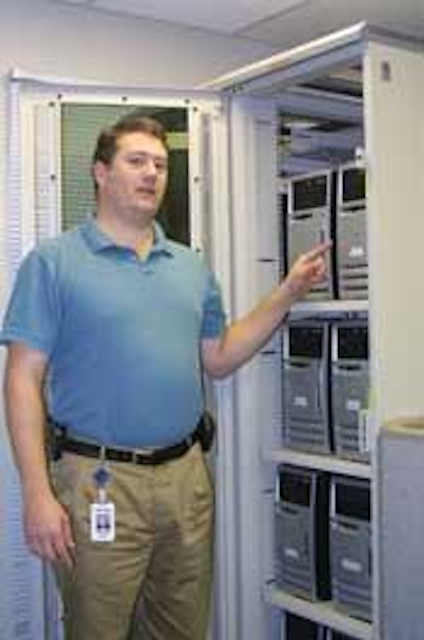 Brennen Cully, a corporate security IT supervisor for public utility SCANA, oversees server racks used for testing Axis network cameras.
Click here to enlarge image
Rather than discarding those existing analog cameras, SCANA and Honeywell extended their life by linking the technology to Axis video encoders, which digitize and compress the video from the analogcameras so it can be routed over the IP network and stored on the PC servers for viewing by authorized personnel. This hybrid strategy has proven to be asimple, cost-efficient way to integrate the company's current analog assetsinto the network video system untilsuch time that the company can justify their replacement.
According to Luca Mazzei, vice president of global marketing for Honeywell Building Solutions, "The Honeywell/Axis solution allows companies like SCANA to extract the maximum value from their IT infrastructures by providing a bridge between legacy systems and emerging network surveillance technology."
With the introduction of network cameras, dependence shifts from proprietary digital video recording (DVR) technology to standard PC server hardware, which delivers a more reliable degree of business continuity. If a server fails, the video streaming can be switched out or moved to another server.
By tying the analog and network cameras into a single surveillance system, SCANA is able to manage and oversee day-to-day operations without additional manpower. The electric utility deployed Honeywell's Digital Video Manager, a digital CCTV surveillance system, to make it easy for authorized staff to manage and monitor video from any camera in the system, from any secure location.
Optimizing network bandwidth
Because the surveillance system shares the network with other IT activity, SCANA needed to factor in a number of criteria when designing its network video solution to avoid degrading LAN performance. With new facilities, this is a matter of calculating the bandwidth requirements for specific frame rates and image size, and then installing the appropriate Category 5 and 6 cable and switches.
In retrofitting existing facilities, SCANA also calculates the capacity of switches and routers to accommodate a greater concentration of network cameras in specific locations. The IT security and network technicians work closely together to help business units strike the right balance between image quality, frame rates, and number of cameras deployed to the site. And sometimes, the solution is to invest in more storage space to house the video needing to be recorded.
While SCANA has high connectivity across most of its service terri-tory, Brennen Cully, an IT supervisorfor SCANA's corporate security and claims department, feels that IP video is economically feasible even for companies using leased lines. For remote facilities, he recommends recording and storing the video locally and then streaming a few frames a second over the WAN when an alarm triggers.
"You don't need to stream video back to a central monitoring station 24 hours a day," says Cully. "You can design the system to only send frames back during an alarm to verify whether it was triggered by an intruder or just a mouse running across the floor."
Though digital technology supports ever-increasing frame rates and higher resolution, Cully cautions thatintegrators should make a distinction between business need and capabilities that are nice to have. "Just because you candeliver 30 frames a second doesn't make it necessarily better," he observes. "After a point, you can't humanly distinguish the difference between frames unless maybe you're zooming in and reading the individual serial numbers as someone rifles through a stack of dollar bills."
Choosing the right frame rate and image quality isn't a cookie cutter decision at SCANA, especially with its diverse environments ranging from rooms primar-ily housing stationary equipment to offices teaming with activity. "We've designed a number of deployment scenarios," Cully states. "But until you put the surveillance technology in production and play with it in the actual environment, you're never able to account for every variable you need to put into the mix. So, there arealways some adjustments to be made."
An eye on access control
As an electric utility, SCANA is subject to strict regulations regarding the safety and security of its various facilities. To assist in complying with those safeguards, SCANA installed network cameras to ensure that personnel gaining access to restricted areas are recorded and an audit log is generated. Cameras capture individuals as they enter an area and present their employee badge to the access control system. This surveillance video provides a second layer of verification should SCANA need to launch an investigation.
Because the network cameras generate minimal heat, they have had vir-tually no impact on the facility thermals and power requirements. So, no additional cooling requirements were necessary to accommodate the installation.
Since the network cameras are connected through Ethernet cables, SCANA can move and reinstall them in the same way they would a printer or other computer peripheral device. In fact, there have been a number of occasions when this flexibility has enabled SCANA to deploy a quick solution to a temporary surveillance need.
Cully recalls, "We had a business unit that, for security reasons, wanted to monitor the process of packing up personal belongings prior to moving employees to a new facility. Since the building already had a network infrastructure in place, we didn't need much planning to be able to quickly install a network camera to meet that need."
Cully cites another facility where SCANA has one of its largest deployments of analog cameras and where the majority of cameras are actively monitored with an analog matrix switch.
"Another business unit wanted to be able to monitor the X-raying of pack-ages coming into the building," ex-plains Cully. "But there was no coax cablegoing to that particular area of the facility. There was, however, a network switch next door. So, deploying an IP-based network camera to the site was a logical way to address the challenge and providevideo recording over the network."
Lessons learned
Cully suggests that any company looking to migrate its surveillance technology needs to stay abreast of emerging technologies: "Whether you're building a new facility or retrofitting an old one, you need to consider what's coming down the pike, whether the technologywill be sufficiently mature and robust enough to meet your surveillance needs over the long haul. Laying down a Cat-5 or Cat-6 infrastructure and takingadvantage of network cameras that support Power over Ethernet can translate into big cost savings and determine the kind of technology solutions you can deliver."
Cully also mentions the importance of understanding the limitations of the technology and cabling associated with it: "Make sure your design specifications include cabling closets strategically placed throughout the building to support the cable length limits of yournetwork cameras."
FREDRIK NILSSON is general manager of Axis Communications (www.axis.com).