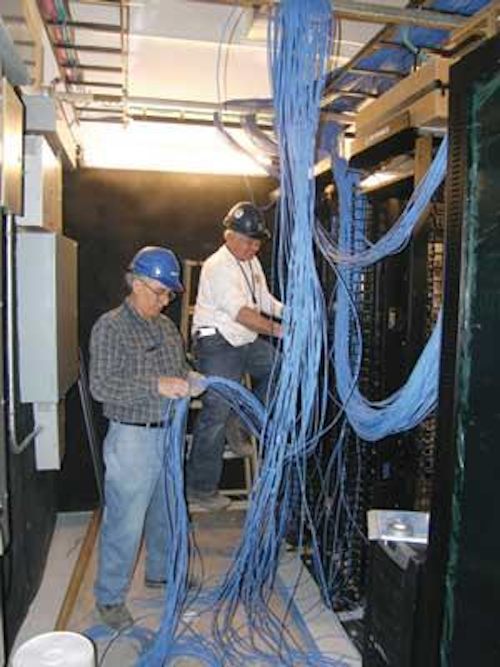 JetBlue Airways' new terminal at JFK Airport is a study in cost-conscious cabling for Internet Protocol-based applications.
In September, JetBlue will open a new terminal at JFK International Airport in Jamaica, Long Island, N.Y. From 2005 operating levels (when groundbreaking commenced), the terminal will almost double the number of flights the airline is able to operate at JFK.
"JFK is our origin, not a hub, and with this new terminal, we are trying to eliminate connecting flights by creating direct flights," states Debbie Usvaltas, JetBlue's project manager, corporate real estate. "In fact, one out of every four cars that come into JFK will be for a JetBlue flight," she adds.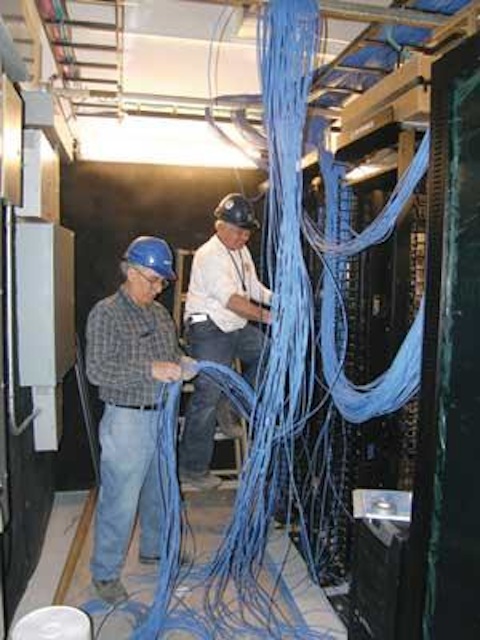 Saverio Dloria (front) and Steve Daresta of Unity International sort LANmark-350 cable. (Photo by Arlene Franchini.)
Click here to enlarge image
"JetBlue takes its customers across the country for as little as $99, and does it in style," says David Epstein of Gensler (www.gensler.com), a global architecture, design, planning, and consulting firm. Epstein was Gensler's design principal for the JetBlue JFK project. "So, for its new terminal, JetBlue wanted a building that re-flected its commitment to service and efficiency."
Located next to the iconic TWA building, a historic structure that is incorporated into the new building design, the new terminal will encompass 640,000 square feet with 26 contact gates (twice the current number in JetBlue's existing Terminal 6) with dual taxiways.
Minimalist approach
Even with a price tag of $875 million, cost considerations brought a discipline to the design that resulted in sensible budget planning, from reducing the number of different light fixtures to selecting the most sensible and cost-effective cable infrastructure. "We took our cue fromJetBlue and were constantly considering costs," statesBill Hooper, managing principal for Gensler. "We'veused a minimalist approach, and the budget has been a constant sounding board, against which many of thedecisions were made."
Ulvatas explains, "To be successful with the coordination of all the flights and on-time performance, as well as smooth transitioning of people through the terminal, from check-in to takeoff, we need to rely on an efficient networking system. To make this happen, one of the critical components was the implementation of a totallyredundant, efficient data, voice, and video network."
"We may be a small percentage of the overall cost of the project, but we could be the show stopper," states Rene Rieder, Jr., senior security engineer for Arup (www.arup.com), which was selected for the planning of the terminal as well as the design consultant for all information technology (IT) systems, security, audio/video (A/V), acoustics, mechanical, electrical, and plumbing systems. In addition to being the lead design engineer, Arup also provides terminal planning, project management, mechanical, electrical, plumbing, and systems commissioning engineering services.
In search of a consistent solution
Designing the data, voice, and video network for a major airport terminal is certainly not a "cookie-cutter" task. The combination of unique applications includes passenger check-in kiosks, flight information display systems (FIDS), public address systems, terminal operational database, analog phones and Voice over IP, closed-circuit television (CCTV) security systems, ticketing transactions, and point-of-sale. Arup worked with JetBlue to design two integrated parallel networks (one for voice/data and one for analog CCTV). Both are interconnected on the same redundant fiber backbone with a horizontal Category 5e structured cabling system.
NetClear structured cabling solutions from Berk-Tek (www.berktek.com), and Ortronics/Legrand (www.ortronics.com) have been the JetBlue corporate standard for the past five years. "It was a grueling selection process to decide upon a corporate standard in the first place," states Matt Mega, IT programmanager for JetBlue. "We compared specifications of all the systems available to us, but within all the factors, the decision came down to price, contractor performance and warranty."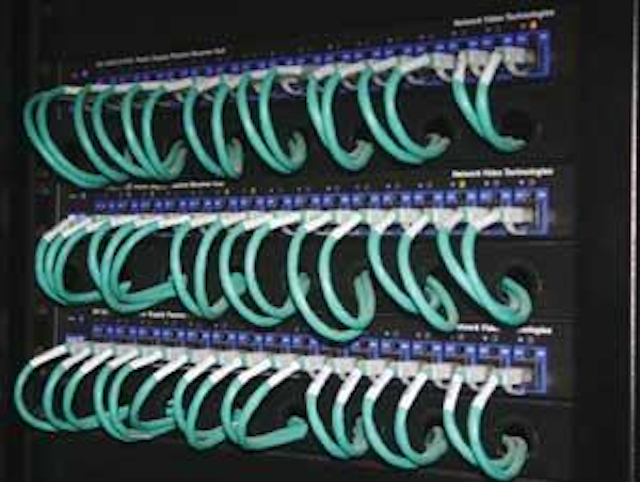 The power-video-data system from NVT allows video and data signal transmission, and powers each camera through a 4-pair UTP cable.
Click here to enlarge image
Mega adds, "The reason that it is important to keep thesolution consistent is because we don't have time for mis-takes. If the network doesn't come up, or the phones don't work from day one, it is not acceptable. With certified NetClearinstallers on the job site, we know we have a reliable level of quality and don't have those worries."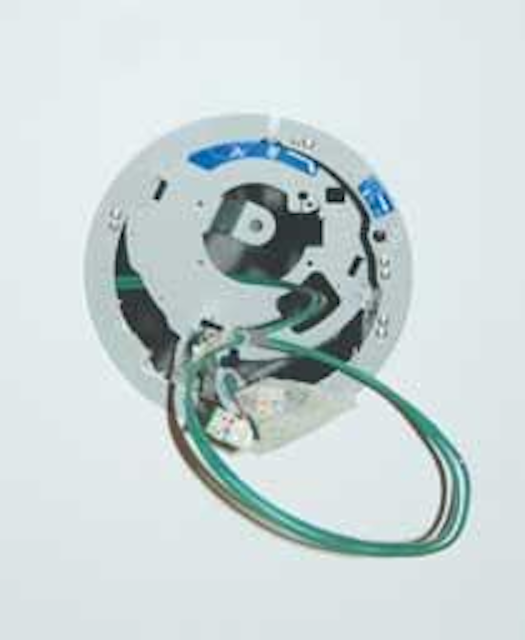 Two Category 5e cables, including one for a future application, were pulled to each CCTV camera location.
Click here to enlarge image
To keep consistent with their corporate networking standards, JetBlue selected the NetClear MM10, 50-µm fiber-optic cabling solution for the backbone; and the NetClear GT Category 5e for the horizontal for data, voice, and for the CCTV cameras. "There is a magnitude of savings for running the same UTP cable asdata and voice and then bridging to the same backbone when compared to running a dedicated camera cable plant of coaxial and twisted-pair cables," says Arup's Rieder. "In addition, it provides JetBlue with a migration path to IP cameras in the future without an overhaul of their existing cable plant."
Network blueprint
Prior to planning the layout, Scott Mollin with C&C Sales (www.cc-sales.com), manufacturer's rep, worked withArup and Mega's IT team at JetBlue for the specification of thecable and connectivity components. Arup came to the table with previous experience from designing the Pearson International Airport in Toronto, Ontario, three other terminals at JFK, and more than 20 current airport projects around the globe; consequently, the firm was able to provide insight into the special considerations for the network needed at an airport. These included optimizing the location and size of the telecommunications rooms (TR), cable distances, cable selection (for indoor as well as outdoor harsh environment), number of cameras, active equipment, and patching fields.
"The active equipment of the network is the bottleneck, not the cable, so we had to make sure that there were sufficient TRs to house the active components to easily and quickly store and retrieve data as well as video," notes Rieder.
TR placement was selected to account for cable distances and areas served. Therefore, nine TRs were designated for the terminal, kept separate from the three Transportation Safety Administration (TSA; www.tsa.gov) security TRs and equipment. TSA is mandated to have its own separate and dedicated closets for itssecurity system. The agency employs a combination of fiber and shielded copper for the radio-frequency identification (RFID) access control system, explosive-detection equipment, and for approximately 20 luggage scanner and x-ray stations for flight crew, airportemployees, and passengers.
Graybar (www.graybar.com), the stocking distributor, set up an on-site trailer to ensure all thestructured cabling components for data, voice, and CCTV would be available for installation on an as-needed basis, and kept the installation ahead of schedule. The on-site trailer housed all the cable for the backbone and horizontal, the pathway products, all termination products in the TRs and at the workstation outlets, as well as the CCTV equipment including transceivers, digital-video recorders, and cameras.
Each of JetBlue's TRs is designed to house at least threeOrtronics Mighty Mo 6 racks to organize the active and passive components. One is for the network backbone and data termination, another for voice termination, and a separate rack is for the security equipment. As part of the NetClear MM10 fiber-optic solution, Graybar supplied 30,000 feet of Berk-Tek's armor-jacketed GIGAlite-10, with OM3 50-µm fiber, which includes a primary 24 strands of multimode and secondary 12 strands of multimode, was run to connect each TR. The fiber-optic cable is terminated intoOrtronics' FC Series fiber cabinets in the racks. From there, patch cords connect to a network switch and then to the horizontal network through the Clarity5E patch panels.
More than 125,000 feet of 25-pair Category 5e was used for the voice backbone. "We have a combination of bothanalog phones and Voice over IP (VoIP)," notes Terry Cooper,telecom engineer for JetBlue. "VoIP phones wereinstalled at all the counters and desks as they could providean internal Internet where messages could be instantlyflashed; however, there were locations, such as at the end ofjetway bridges, where VoIP didn't make sense, so we placed analog phones in those spots."
Unity International Group (www.unityig.com) was theinstallation contractor for data and voice, and Diebold(www.diebold.com) handled the security cable and products. More than 1.2 million feet of Berk-Tek's LAN-mark-350 enhanced Category 5e cable was pulled to 4,000Ortronics' TracJack workstation ports for phones, data,and analog CCTV cameras.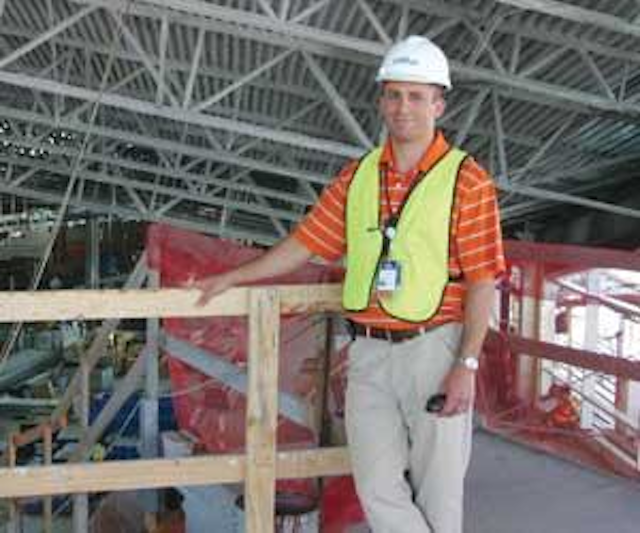 Matt Mega, IT program manager for JetBlue, stands above the check-in area of the under-construction Terminal 5.
Click here to enlarge image
"The workstation outlets were mapped with three different port configurations, depending on the applications needed per location," explains Marta Nam, ICT engineer with Arup, who designed the data and voice network. "There are 1-port outlets for voice only, such as at the jetway bridge; 2-port outlets fordata and phone at the kiosks and counter locations and2-ports for the camera locations; and 3-port outlets in the administration offices and at some counters that require one voice and two data."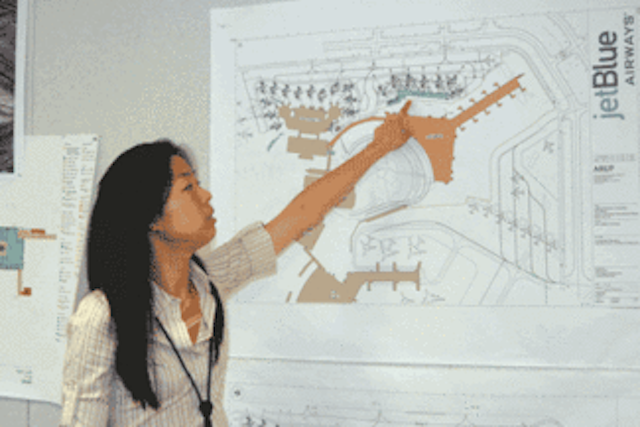 Marta Tam, ICT engineer with Arup and designer of the voice and data network, points out the location of the new JetBlue terminal.
Click here to enlarge image
All the LANmark-350 Category 5e horizontal cable was terminated to either the Ortronics' Clarity5E angled patch panels designated for voice and data on the data rack, or to the angled patch panels designated for the security cameras on the second rack.
Category 5e vs. 6
"Our decision to select Category 5e was mainly based on previous JetBlue installations where Category 5e is the de facto standard; however, we did review the possibility of selecting Category 6," says JetBlue's Mega. "We felt that the applications that were truly being delivered to the desktop did not require Category 6 since they were not graphical. Even 100Base-T is more than we need. Most of the PCs at the airport are shared, so people do not personalize them or addapplications. Too many IT problems are spent resolving issues that stem from people uploading applications that aren'tsupported by administration."
According to Steve Shataka, network engineer for JetBlue, "Most of the applications are traditional client-server applications, except for the FIDS and the kiosks, which are web-based; therefore, our main concern is data reliability, not bandwidth. I can't have a kiosk out because of bad cable. I need 100% uptime and Category 5e has been a solid solution for our needs."
Another deciding factor was the burgeoning price of copper. Because of the thicker copper core (gauge) and higher materials costs associated with Category 6 over Category 5e, JetBlue opted to save the additional 50% in cable materials.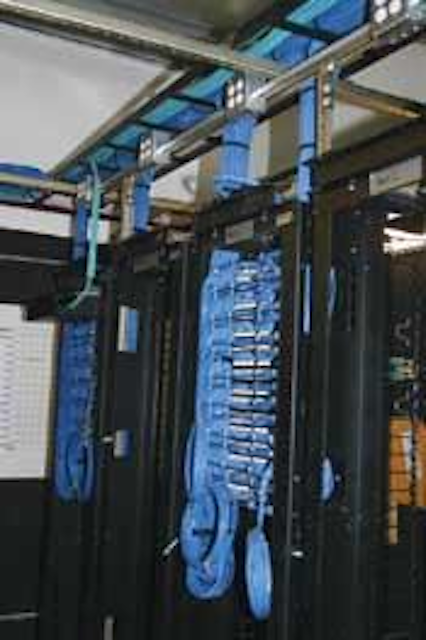 Each of JetBlue's TRs includes Ortronics/Legrand termination equipment and Berk-Tek fiber and copper cables.
Click here to enlarge image
"The design of this terminal is driven by a sensible use of budget, and that stems not only to the architecture, but also the products selected," says Usvaltas. "When we see the price differentiations, we have to ask ourselves, 'Is it a nice-to-have or a need?'" she adds. "We look at the future and we make the best educated decision, based on our needs at the time as well as our needs in the future."
CCTV system
To provide interoperability among all Ethernet applications (voice, data and video) and to save material costs, installation time and money through common media, connectors andtopology, Arup selected to install a parallel NetClear GT Category 5e structured cabling solution for the more than 250JetBlue analog security camera locations.
"Basically, we reviewed the many scenarios and camera options, from analog to IP," says Rieder. "The most critical element was the cabling solution as the infrastructure could last 20 years, whereas the cameras will be replaced after six to eight, with the outdoor cameras lasting less time due to the harshenvironmental conditions at the airport."
IP-based video is accomplished by two methods: digitization/encoding of video by a discrete device from an analog device (camera), or deploying IP-based cameras. Since85% of CCTV installations still support analog cameras, the convergence to IP-based video uses hybrid alternatives, which is a mix of analog and IP over a UTP-based structured cabling system.
Arup selected analog cameras because they are tried and true and are still the majority in the marketplace. But to make sure the infrastructure is IP-enabled, Arup implemented an analog CCTV-over-UTP system from Network Video Technologies (NVT; www.nvt.com). NVT products allow legacy analog cameras to use UTP via structured cabling networks.
Running video over the structured cabling system required the addition of analog-to-UTP conversion devices along with some re-wiring at the patch panels to connect the structured cabling to the Ethernet cables carrying network data. JetBlue used NVT's PVD (power-video-data) integration system, which allows video and data signals and powers the camera through asingle 4-pair UTP cable.
When the video signal comes out of an analog camera, it requires electrical manipulation from a 75-¿ unbalanced cable to a balanced 100-¿ UTP. At the camera side, the coaxial cable goes through the NVT video transceiver to match the signal impedance to run through twisted-pair cabling. Back in the TR, the UTP cable is terminated onto the Ortronics' Clarity 5e patch panels. From there, it connects, via a patch cord, to the NVT integrated power supply and video receiver. Off the output of the NVT receiver, a Category 5e patch cable and a converted coaxial video cable connect to a Verint DVR/encoder, which allows the video to be stored and then viewed on a network monitor through the network switch. With this layout, each camera is given a camera number, through the licensed software, it is easy to retrieve video from any camera via an IP address.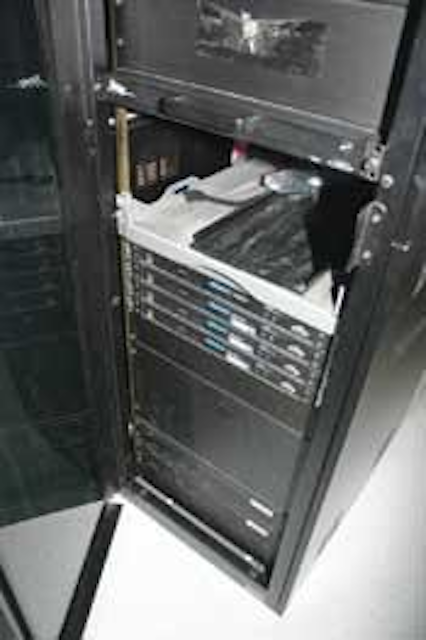 Video file storage and access from JVC cameras are on Verint DVRs in the TR, alleviating bandwidth collision on the data network.
Click here to enlarge image
To further assure scalability and flexibility in the CCTVsystem, Arup recommended that two Category 5ecables be pulled to each camera location. "When we were in early design, we always promoted the concept of forward thinking," explains Rieder. "The options are numerous for the second UTP cable as it could be used for a future camera needed as a result of an additional field-of-view requirement, or could even be used as a wireless access point or an access-control device. This becomes a dynamic design because there is a spare data drop near each CCTV camera for whatever JetBlue wants or could need in the future."
Into the black
Since its formation in 2000, JetBlue continues to be a blue-chip company because of its motivation by the bottom line. "There are different trade-offs; a balance between customer convenience and revenue, passenger amenities, and operational effi-ciency," admits Hooper. The decisions, which involved a higher initial cost, yet had a long-term cost advantage, were implemented. And the decisions to implement cost-effective solutions without compromising service were incorporated. "We are working with champagne taste but have learned to be smart and lean and have had to streamline our process and decisions," states Usvaltas.
By using an IP-addressable networking system through an efficient and warrantedcabling infrastructure, remote computer monitoring and communication of convergedapplications bring centralized control of these applications to IT. The NetClear cabling solutions installed today will provide long-term return on investment tomorrow as it will be able to handle the scalable speed, bandwidth, and power requirements of the emerging applications as well as provide 24/7 reliability to assure consistent uptime in all communications.
CAROL EVERETT OLIVER, RCDD, is marketing analyst with Berk-Tek, a Nexans Company (www.berktek.com). She has authored numerous technical and case-study articles covering the cabling industry.