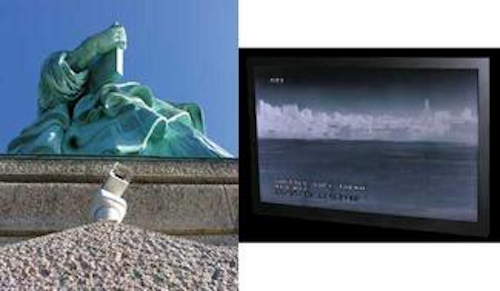 In an era of heightened security awareness, thermal imaging is becoming valued as a perimeter deterrent at sensitive installations and public facilities.
Thermal imaging, the science of detecting "heat" energy from objects and converting it into an electrical signal, has had numerous industry uses in recent years, ranging from food processing and manufacturing to building diagnostics and home inspection. Thermal imaging is also impacting select security installations, and while not practical for every situation, the heightened vigilance of the post-9/11 era is making the technology a serious consideration for sensitive industrial, governmental, and civic facilities.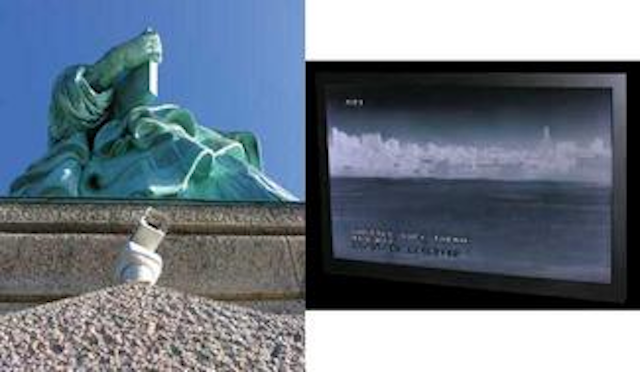 A thermal imaging security system at the Statue of Liberty quickly alerts safety personnel to intruders on the island as well as in the harbor leading to New York City, regardless of lighting or weather conditions. (Photos courtesy of Pelco)
Click here to enlarge image
Among its unique advantages, a thermal imaging system can help locate intruders in all lighting conditions (including total darkness) as well as most weather and environmental conditions (including fog and smoke). With such features, however, comes a price—the cost for cameras alone can be greater than $12,000. While pricesare moderating in hopes of makingthe technology more appealing to a broader market, there remains the additional cost in time spent on learning/training that can be required for accurate interpretation of images.
A thermal imaging security installation is clearly a niche among niches for installers and contractors looking to broaden their service expertise. But the good news is that installation practices and communicationsmedia are comparable to other more mainstreamsecurity solutions, making the biggest challengebecoming "smart" about the technology so that you'll know what will work best and why.
Fact and fiction
Temperature differentiations are key to thermal imaging, and while the cameras don't actually "see" temperature, they do take a snapshot of the infrared energy that's transferred from a person or object in relationship to its environment. In the resulting color palette of the image, the warmer the object, the brighter the color—and, accordingly, the cooler the object, the darker the color. A rainbow palette typically best displays the differ-ences in temperature while a black and white palette is best used for identifying details in an image.
While thermal imaging security systems can work effectively in most lighting or weather conditions, they cannot see through glass, and they cannot see through walls. But they do offer extremely rapid and non-intrusive scanning of alocation, allowing for equally rapid detection of suspiciouspeople on a property.
"Thermal imaging technology can provide benefits in several types of applications; however, the primary application in commercial security is perimeter protection," says Dan Scroggins, product marketing manager/positioning systems for thermal imaging camera manufacturer Pelco (www.pelco.com).
A classic example is a recent installation at the Statue of Liberty, just offshore from New York City, where Pelco'sEsprit Ti thermal imaging cameras are positioned on thenorth and south sides of "Lady Liberty" for 24/7 perimetervideo security. The Esprit Ti combines a military-qualitythermal imaging technology with a proprietary positioning system that Pelco says provides clear views of the NationalPark property at night and under adverse weather conditions.
The cameras "give us complete situational awareness of the island and harbor areas," says Lt. Charles Guddemi of the U.S. Park Police at Liberty Island. "Because of the thermal imaging technology, contrasts in objects are much easier to see, and at far greater distances."
'Seeing' in the dark
According to camera maker EMC Inc. (www.emx-inc.com), in simplest terms, thermal imaging cameras "sense infraredenergy to 'see in the dark'." All objects emit infrared energy at ordinary temperatures that are beyond the capability of thehuman eye—the hotter the object, the more "energy" it emits.
With a thermal imaging security system, human images become easy to detect against cooler backgrounds, such as the outdoor environment, day or night. This approach is known as passive thermography, contrasting with active thermography used in such applications as industrial/manufacturing inspection where the object of interest is intention-ally heated, chilled or stressed to produce a thermal contrast against its environment.
For security applications, such as the Statue of Liberty, thermal imaging cameras "function in zero light applicationsand can detect camouflaged objects against a similar background," explains Scroggins. "Ports are an excellent example of an application where a security platform could be augmented by the deployment of thermal imaging cameras," he adds, because "it is difficult to illuminate over water, and it's easy for subjects to camouflage themselves in water."
An infrared detector within the camera passes information to sensor electronics where an image is processed and translated into a thermal image that can then be viewed on a computer monitor.
The camera saves the captured thermal image to its internal memory or a memory card. Images can then be viewed and edited on the camera, or downloaded to a computer for manipulation through a wide variety of available viewing, editing, and archiving software.
A thermal imaging solution, however, doesn't have to be used exclusively in larger security installations. At LibertyIsland, for example, the U.S. Park Police use more traditionalsecurity camera systems for surveillance of visitor centers,refreshment pavilions, and even in the inner passages of the Statue of Liberty herself. Pelco says its Esprit Ti system isdesigned for such a diverse installation so that thermalimaging benefits can become integrated into both existingand newly-designed networks.
As for what media to use for a thermal imaging security installation, Scroggins explains that the video "can be transmitted via the same vehicles used in general CCTVapplications—such as coax, Category 5 UTP, fiber, or wireless. Most high-quality thermal imaging products for securityapplications will be relatively immune to EMI and otherforms of interference. [But] if they are not at least Class B, therecould be potential problems." Limits on conducted andradiated emissions, as regulated by the FCC, are designatedas Class B for residential applications and Class A for commercial, industrial and business applications.
Camera hot buttons
The most critical issue, as with other more mainstream security installations, is knowing what camera is best for a particular environment. Cameras can be fixed or remotely controlled, or they can be handheld for use by roving security personnel. An entirely isolated facility, for example, would benefit from a total remotely-controlled system while an installation such as at Liberty Park that has on-site security personnel would benefit from a mixed-use scenario of fixed and handheld cameras.
Depending on price, cameras let you simply read the temperature of the fixed center crosshairs seen in the display, or allow for viewing of multiple crosshairs to compare temperature across the range of the scene. Manual and automatic viewing options are also available; while manual mode is con-sidered best for determining "heat" differences in a specific subject or object being viewed, automatic mode adjusts the temperature scale according to what is being viewed, with the display changing colors as the camera scans an area of interest.
Some camera makers are working to make this technology more affordable to a broader market. L-3 (www.thermal-eye.com), for example, recently introduced its $6,980 handheld Thermal-Eye X-150 that can provide up to six hours of battery operating life and can detect activity from more than 1,000 feet away. According to Richard Darlow, president of L-3 Infrared Products, "the launch of the Thermal-Eye X-150 addresses the demands of the emerging middle market," including such security applications as fugitive pursuit, routine patrols, and "disturbed surface" assessment.
L-3 says the Thermal-Eye X-150 is designed to provide improved image clarity and picture definition because it captures more heat sensitivity, giving users a more detailed processed image, with enhanced gradations of black and white.
Pelco's Scroggins adds that thermal imaging cameras can function at different ranges in the IR (infrared) spectrum, giving them different functionality, plus "each of the different types of thermal imaging cameras perform differently in specific climates. It is important to select the right technology for any specific application."
STEVE SMITH is executive editor for Cabling Installation & Maintenance.
---

How thermal imaging works
Unlike other infrared technologies, thermal imaging (or, thermal IR) infrared is emitted by an object instead of reflected off of it.
A thermal imaging camera lens focuses the infrared light emitted by the objects in view.
Focused light is scanned by a phased array of infrared-detector elements; these create a thermogram—a detailed temperature pattern—in about 1/30th of a second.
Information is obtained from several thousand points in the field of view.
The thermogram is translated into electrical impulses, which are sent to a signal-processing unit, a circuit board, and dedicated chip within the camera that translates the information into data for the display.
The signal-processing unit sends the information to the display, or to a computer via coax, Category 5 UTP or wireless, where image intensity appears as black/white or in various colors.
A combination of all the impulses from all the elements creates the image.
Click here to enlarge image
In the thermal image at left, a color is assigned to the different heat intensities. In the "white hot" image at right, the hottest areas are displayed as white; conversely, the coldest areas are displayed as black. (Photos courtesy of Pelco)
---

The heat is on

While numerous thermal imaging system providers target industrial and manufacturing applications—and even highway asphalt analysis—only a handful of manufacturers, like Pelco, offer thermal systems specifically targeting security installations. Here's a sampler: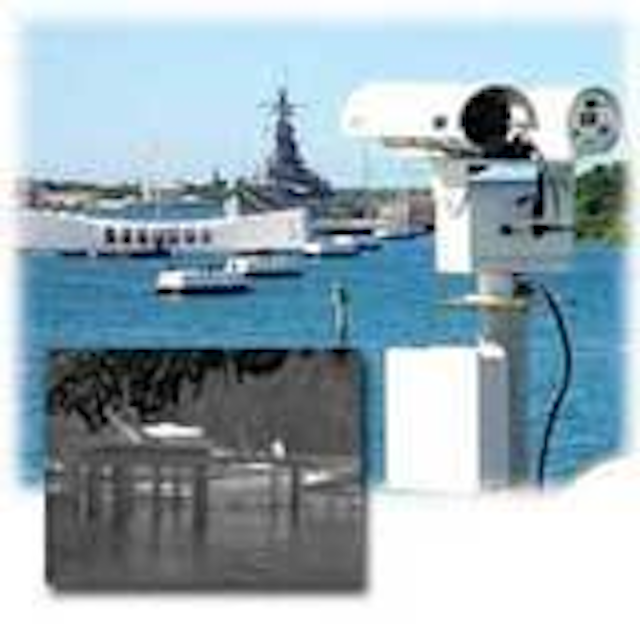 Click here to enlarge image
•EMX Inc. also targets perimeter security covering a large area with its EMX 8000 2X-100EF system. This long-range day/night solution features a 270x zoom auto-focus color lens. IP67-rated, the system includes a window heater and is mounted on a 360° continuous rotation pan/tilt assembly.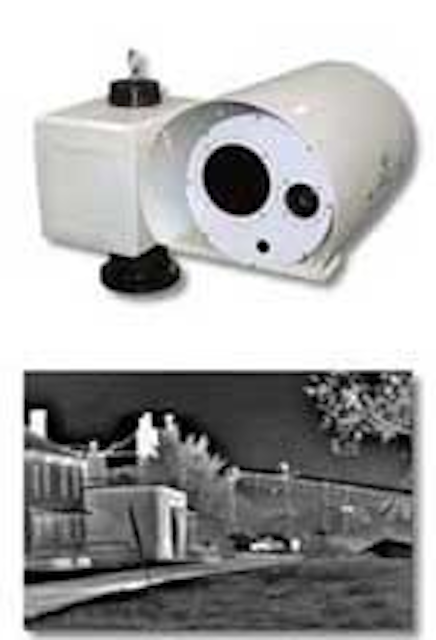 Click here to enlarge image
• In addition to its Thermal-Eye X-150, L3 Communications' Thermal-Eye 2400xp Advanced offers a proprietarysolar immunity technology—the camera position can face the sun directlywithout damaging images, lens, or camera components. It features a shutterless system that's designed to ensure uninterrupted video.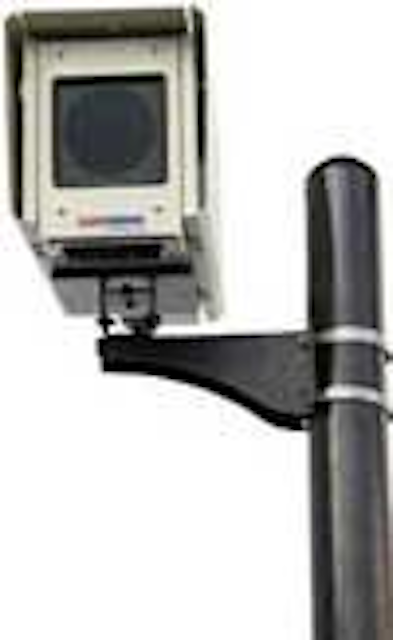 Click here to enlarge image
• The TR2000 Series from Cantronic Systems (www.cantronic.com) is designed for ultra long-range surveillance—up to 5,300 feet for humans—in complete darkness. A handheld controller or RS-232 remote control device can be used for such tasks as controlling contrast, brightness, frame freeze, and lens focus.