by Patrick McLaughlin
While analytics have not yet lived up to their promise, strides are being made to standardize communication among devices and in situation management.
For the past few years in the network-video arena, the technology of analytics has held promise as the next evolutionary step. The Web site videoanalytics.net defines the technology by saying it "consists of algorithms that detect movement or changes in live or recorded video to see whether the movement or changes mean a possible threat is about to occur or occurring. These algorithms work by examining each pixel of the video and putting together all the pixel changes. If many pixels are changing in one area and that area is moving in a direction, the software considers this to be motion. Depending on the policies and alerts you have set up, you will be notified of this motion or other actions can be automatically taken by the software such as motion tracking, which follows the motion until it is no longer detected."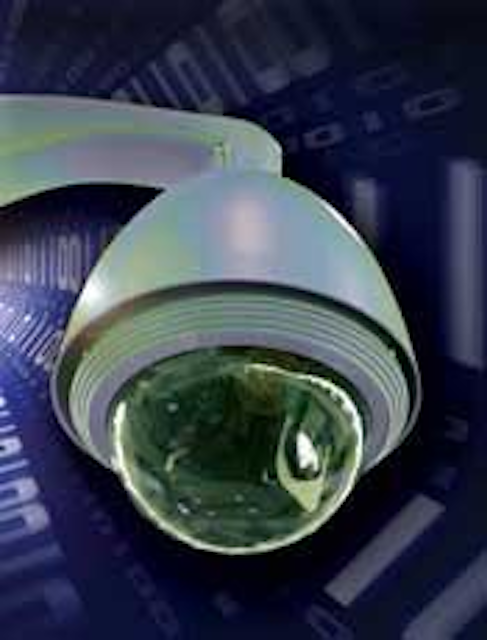 Click here to enlarge image
The technological development and ultimate deployment of analytics, however, have fallen far short of the promise applied to it over the past couple of years. In a recent report, the Australian Customs Service (www.customs.gov.au) noted several benefits of analytics, including cost-efficiency for hardware as well as the cost of monitoring staff. That same report also considered analytics' limitations, stating, "Video analytics is still very much a pioneering field and there could be a few decades of research and development before intelligent cameras can perform human-like analysis. Recognition of subtle suspicious movements by a person in a crowd or discrimination between terrorists and other people from a kilometre away, are some common current misconceptions regarding video analytics abilities. Also, facial recognition is an ongoing research field and is difficult to carry out with confidence, especially when it is easy to fool with disguises."
The report adds, "While motion detection is the most common application of video analytics, few of the intelligent video products achieve low false alarm rates (a maximum of 20 false alarms per night). A false alarm rate beyond this can lead to security staff ignoring the alarm or having video analytics switched off all to-gether. It is also possible to defeat motion detection by very slow movement through the detection zone."
The report concluded, in part,"Security consultants, clients, and end users should understand that the technical functionalities are highly dependent on environmental variables and that the analytical algorithms do not contain artificial-intelligence program structures. Therefore, there should be no expectation that a CCTV system incorporating video analytics will replicate human perception or learn from previous detection events to reduce false alarm rates."
Technology forges ahead
While analytics still has some strides to make before it provides the practical functionality many had antici-pated or hoped for, the overall capabilities of Internet Protocol (IP)-based video cameras andsurveillance systems have continued to evolveand develop. IMS Research (www.imsresearch.com) recently downgraded its 2008 forecast for the U.S. network-video surveillance market. But in an overall positive-toned release, the researcher stated that network-video surveillance is one of the fastest growing markets in the security industry, with the overall market for cameras, video servers, and network-video recorders having grown by 45% last year. After a slow start this year, though, it is unlikely the market will repeat that growth rate, IMS stated.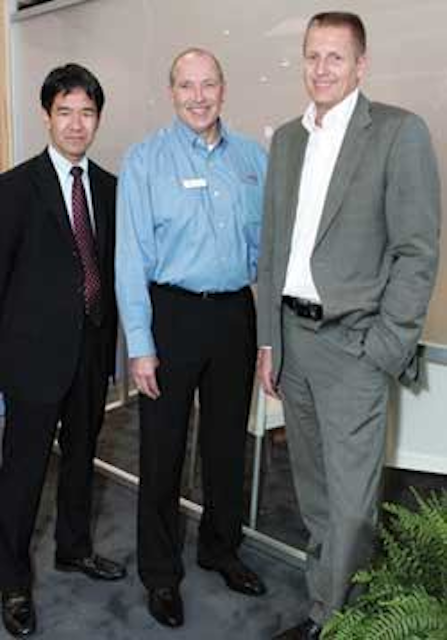 Left to right are Yoshinori Onoue, Sony Corp.; Gert van Iperen, Bosch Security Systems; and Ray Mauritsson, Axis Communications, whose companies recently announced the formation of a cooperative effort to establish a standardized interface for network video products.
Click here to enlarge image
"In spite of the stagnant economy, the U.S. market for network-video surveillance products is still growing strongly, albeit at a reduced rate from 2007," says IMS senior research director Simon Harris. "We anticipate that the market will grow well above 30% in 2008 and may even top 40%, particularly if the economy picks up in the second half of the year."
Ray Mauritsson, president of IP-camera market leaderAxis Communications (www.axis.com), commented, "We have seen signals from the market, from the retail trade in Europe but particularly in the U.S., wheremajor retail chains have chosen not to expand as planned. As approximately 25% of all video installations areperformed within that segment, we have drawn the conclusion that the pace of the technology shift from analog to digital network video has slowed down."
A growth rate of 30% is a boon by just about any standards, and activity in the IP-security industry is steady. Axis' Mauritsson reference to the "shift from analog to digital network video" is particularly relevant, as many users who deploy this burgeoning-while-fledgling technology find themselves without a true plug-and-play, end-to-end system. As a result,several partnerships and collaborations have developed, while merger-and-acquisition activity has emerged as well.
Partnerships aplenty
For example, Vicon Industries (www.vicon-cctv.com) and Verint Systems (www.verint.com) recently announced a partnership under which Vicon's camera dome will incorporate Verint's encoding technology in the Nextiva S2800e IP pan/tilt/zoom (PTZ) camera.
"We have witnessed the preference for SurveyorVFT domes in demanding, high-profile installations for many years, both in cases where our own ViconNet software is used, as well as in situations where other manufacturers' software is controlling the system," states Bret McGown, Vicon's vice president of sales and marketing. "Our new partnership with Verint will make our domes available to the growing sector of the marketplace that is requiring direct IP connectivity from their cameras and, as in this case, working in an open platform environment."
This past spring, ioimage (www.ioimage.com) and Orsus (www.orsus.com) announced a partnership to jointly bring analytics and situation-management solutions to the market. Through the partnership, Orsus' Situator product supportsintelligent video encoders and IP cameras from ioimage.(See "Analytics and situation management.")
"The physical security information management systems market has been experiencing significant growth and, as a result, we recognize the importance of providing open solutions to systems integrators and end users," says Dvir Doron, vice president of marketing with ioimage. "In working with Orsus, we leveraged our open architecture and rapid integration approach to offer the market an integrated video analytics platform designed for simplicity in installation and use."
Earlier this year, Pelco (www.pelco.com) partnered with DSX Access Systems (www.dsxinc.com) to provide integration of Pelco's digital video recording systems and IP video management software with DSX access-control systems. The technology collaboration yields a system that records, stores, and retrieves video-based intrusion and access-control events.
Also, Bosch Security Systems (www.boschsecurity.us) has partnered with NetApp (www.netapp.com) in a co-branding campaign that pairs Bosch's CCTV portfolio of products with NetApp's storage devices. "The market is continuing to mature in its understanding of IP video system architectures,resulting in a substantial uptick in the adoption of Bosch'sapproach for recording video—streaming video direct to a RAID array or storage area network and eliminatingnetwork video recorders," explains Johan Jubbega, vicepresident of global video systems and products with Bosch. "The partnership with NetApp will increase the options weoffer our customers by adding proven technology."
Earlier in the year, Bosch acquired Extreme CCTV Inc., a Canadian manufacturer and supplier of active infrared illuminators, integrated day/night cameras with active illumination, and hardened imaging products for use in extreme environments. Extreme CCTV also had a hand in analytics, developing license-plate capture and recognition technology.
Open architecture and interoperability
These collaborations hint at what is an ever-present reality for network-video professionals: lack of interopera-bility among devices. But efforts are underway to address this issue, including Panasonic's (www.panasonic.com) launching of the Panasonic Solution Developer Network (PSDN). Itallows program members to obtain open-interface protocols, software and development tools, and technical information so they can efficiently integrate Panasonic surveillance cameras, video recorders, and system components—digital and analog. Panasonic recently added more than 20 participants to the program in a six-month period.
"As the security industry increasingly demands interoperability, we've been able to establish relationships with an expanding number of partners to deliver the integrated solutions that today's customers are demanding," says Mike Maddox, system sales engineer and program manager for PSDN. "The 'Open Infrastructure' initiative is an integral component of our business plan to provide comprehensive systems solutions employing core Panasonic video-surveillance technologies and products."
In May, Axis, Bosch, and Sony (www.sony.net) announced they will cooperate to create an open forum aimed at developing a standard for the interface of network video products. A joint release issued by the three companies stated, "Currently, there is no global standard defining how network video products such as cameras, video encoders, and video management systems should communicate with each other. The new standard is expected to comprise interfaces for specifications such as video streaming, device discovery, and intelligence metadata. The framework of the standard, incorporating the key elements of network video product interoperability, will be released in October 2008 at the Security show in Essen, Germany."
Said Axis' Mauritsson, "An open standard will make it even easier for integrators and end users to benefit from the many possibilities offered by IP-based video surveillance technology." Bosch executive vice president Gert van Iperen stated, "This cooperation represents a great leap forward in establishing an international open forum focusing on network video surveillance. For manufacturers of network video hardware and software, the forum and its standard will be an efficient way to ensure product interoperability."
Yoshinori Onoue, senior vice president for Sony,commented, "We entered this discussion based on our common belief that an open standard will provide great benefitsfor users and everyone involved in the security industry."
PATRICK McLAUGHLIN is chief editor of Cabling Installation & Maintenance.
---

Analytics and situation management
When ioimage and Orsus teamed up earlier this year, they combined analytics and situation-management capabilities. But what exactly is situation management? Rafi Bhonker, vice president of marketing with Orsus, explains:
"Situation management glues together functions,logic, and the application layer that these functions provide. To use an analogy, a situation-management system joins these functions the way that cabling connects devices together."
In a typical example of situation management, someone forces open a door, which creates an alert. Says Bhonker, "If you have one system, which notifies you of a forced-door alert, someone can investigate. Personnel sitting remotely will see an alarm, which could be false; however, if you are able to connect this access-control alert to a volume detector, or perhaps some other video-motion detector or analytics system that knows a door was forced, you can apply some logic. If it was simply a door force, which happens 10 or 20 times a day in many places, but nothing else was alerted, it can be logged. If two or three alerts go together, you have a completely different situation that requires a higher-level response."
A situation management system, then, is an overlay to the existing security systems in place, including those with analytics. SMS software packages may provide their highest degree of value when users program certain responses to certain triggers. Bhonker explains such a setup can provide "not just an awareness of what happened, but also what needs to be done. Users can program the system so in the case of a certain event, the system takes any number of actions—messages, notifications, camera popups, providing a checklist of things the operator needs to do in the control room, automatically sending a checklist to the first responder's handheld. Most users are not thinking in these terms today. They are thinking about cameras, and analytics perhaps, but not necessarily about automating them." —PM