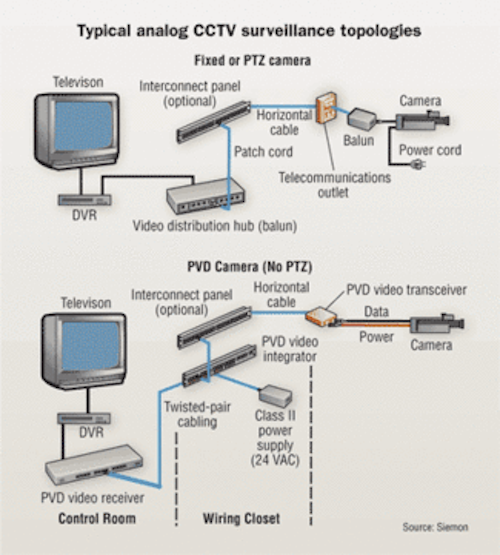 Smart applications require smart infrastructure. Is yours up to the task?
Today's surveillance and broadband video applications are downright smart. Consider the following:
Surveillance equipment boasting Internet Protocol (IP)-addressable interfaces and remote-control features offer significantly more security and flexibility than fixedanalog devices;
IP-based systems record images in digital format onto servers or hard drives, rendering the use of cumbersome tapes and cassettes for video storage obsolete;
Community antenna television (CATV) will migrate to virtually interference-free, 100% digital broadcasting in February;
Emerging Internet Protocol Television (IPTV) technology promises on-demand, interactive, high-definition viewing experience.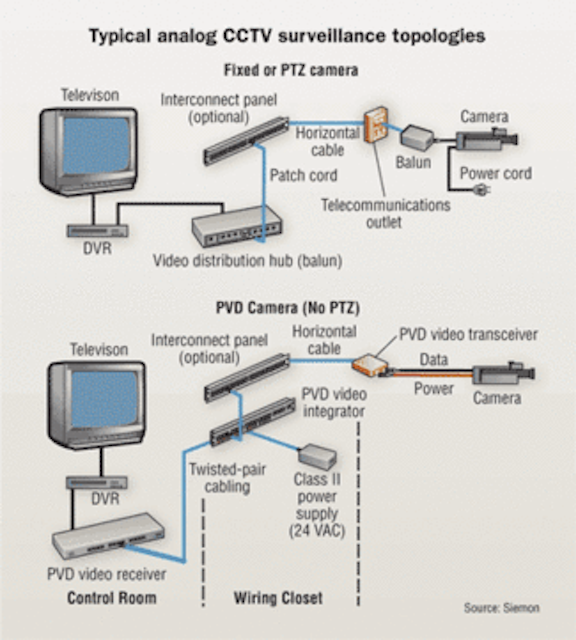 In a typical analog CCTV surveillance-system topology, the video-distribution hub or PVD integrator is located in the TR, and the system has a coaxial backbone. The interconnect patch panel is recommended for system flexibility.
Click here to enlarge image
These applications are no longer suitably supported by generic coaxial cabling; they require smart cabling, too.
Growing smarter
The number of design professionals and building owners choosing to support surveillance, broadcast, and other video applications with their telecommunications cabling infrastructure is climbing rapidly. For example, according to a report from Multimedia Intelligence (www.multimediaintelligence.com) entitled "Internet Protocol/Networked Video Surveillance Market: Equipment, Technology, and Semiconductors," the market for IP/networked video surveillance cameras grew nearly 50% in 2007 to approach $500 million worldwide. The market segment is growing at more than four times the rate of the overall surveillance market.
In addition to replacing coaxial cables with slimmer and more-flexible balanced twisted-pair cables, the benefits provided by using a structured telecommunications cabling network to support video applications are numerous, including:
Digital image quality;
Ability to support high-definition (480i/p SDTV and 720p and 1080 i/p HDTV) applications;
Active surveillance area motion, audio, andtamper detection with advanced security alerts;
Pan/tilt/zoom and remote-powered devices, eliminating the need for separate power and control cables;
End-user ability to communicate and interact with "smart" video devices;
Compact and highly efficient storage and retrieval capabilities;
Convergence of voice, data, and video applications over a single common infrastructure;
Full support of standards-based cabling distances and topologies;
More-effective infrastructure management, service, and scalability;
Simplified troubleshooting;
Improved asset management via IP-addressability;
Neater pathways and improved pathway fill-ratios;
Ability to upgrade to future applications;
Lower total cost of ownership for many IP-based versusanalog-camera implementations.
Planning for video
If you are not sure you need to support video now, the recommendation is to include in your cabling plans additional twisted-pair channels specifically targeted for video applications to accommodate future system needs. While you may not currently anticipate the need to support surveillance applications with your infrastructure, you cannot ignore that, with increasing safety and security requirements worldwide, the surveillance industry is growing rapidly. According to the RNCOS Industry Research Solutions study, "Global CCTV Market Analysis" (www.rncos.com), the global CCTV market—including analog and IP-based CCTV—grew at a compound annual growth rate (CAGR) of 24.28% in 2007 over 2006. The same study forecasts the market to grow at a CAGR of approximately 23% between 2008 and 2012.
Planning now for video-applications support makes good business sense as well. According to a total cost of ownership analysis recently published by Axis Communications (www.axis.com), IP-based video systems always have lower implementation costs than analog-based systems if the cabling infrastructure is already present.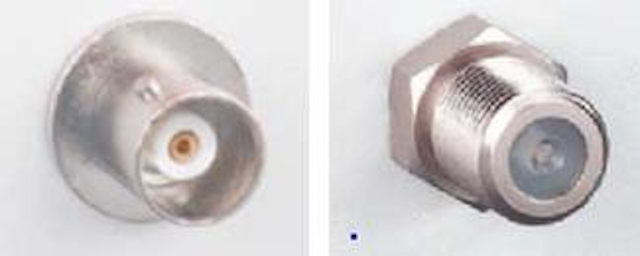 The BNC (l) and Type F are common analog-video connector interfaces
Click here to enlarge image
All surveillance and broadband video applications, when appropriate amplification is used to boost CATV signal levels at higher-frequency channels, are capable of operating over lengths of twisted-pair cabling greater than 100 meters. But maintaining the TIA/EIA- and ISO/IEC-specified generic maximum 100-meter, 4-connector horizontal channel topology has numerous benefits and is strongly recommended for video-applications support. In particular, adhering to the generic topology ensures that upgrades to future video applications will occur seamlessly, while also providing the flexibility that channels originally designed for high-speed data support can be used for video if necessary, and vice versa.
Pretty simple, actually
Video-deployment planning is simple: bring video-ready twisted-pair cabling, in addition to data cabling, to each work area or multi-user telecommunications outlet assembly (MUTOA). For support of surveillance applications in areaswhere wireless coverage is provided, it may be convenient to juxtapose video access points with wireless access points in the coverage area. (See sidebar, "Juxtaposing surveillance-equipment and wireless access-point coverage.") The advantage to this approach is that the telecommunications outlet is conveniently located in the ceiling space where cameras reside, and video-equipment positioning is more flexible.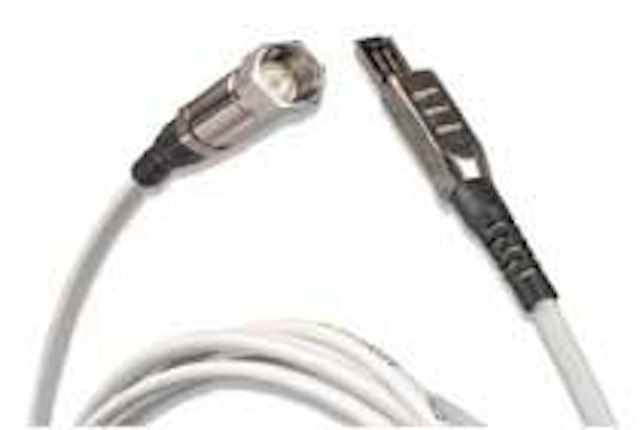 This one-pair Category 7/7A TERA-to-Type F cord integrates a balun.
Click here to enlarge image
IP-enabled video devices are preconfigured to accept the 8-position modular plug interface and offer plug-and-play capability with structured telecommunications cabling. Generic analog devices, such as CCTV cameras, monitors, and television sets, are typically configured with coaxial BNC or Type F connectors and require the use of video baluns toenable transmission over twisted-pair cabling.
Video baluns are used in pairs to convert a 75-Ω unbalanced (i.e., coaxial) signal at the video-equipment interface to a 100-Ω balanced (i.e., twisted-pair) signal and then back to a 75-Ω unbalanced signal at the telecommunications room (TR) or floor distributor (FD). Video baluns are application-specific, such as for CATV or CCTV, and may be configured as single-port converters for use at the device interface, as single-port converters located in breakout boxes for use at the work area, or in 8- and 16-port video-distribution hubs for use in the TR. Video baluns may also be integrated into high-performance Category 7/7A patch cords.
CCTV surveillance applications
Video security can be an effective defense in detecting threats as well as a deterrent against future threats. CCTV solutions are simple to deploy; consisting of fixed or remote-controlled cameras, cabling, a recoding device, and a monitoring device. While mandatory for highly secure environments, such as government buildings, prisons, and casinos, surveillance systems are now also commonplace in education, healthcare, industrial, and financial facilities.
Historically, CCTV systems were static and deployed as analog systems supported by coaxial cabling. Enhancements, such as the availability of cost-effective baluns and IP-addressable devices, now make surveillance solutions the perfect application for operation over twisted-paircabling. IP-based surveillance systems have the added advantage that they are significantly more flexible and "intelligent" than traditional analog CCTV systems. A wide range of structured cabling solutions supports video surveillance applications.
The simplest analog video CCTV configuration is a static system consisting of a fixed camera, twisted-pair cable, a pair of video baluns, and a recording device such as a digital video recorder (DVR). The video baluns are BNC/RJ-45 connectorized devices that transmit black-and-white or color images over one pair (the pair terminated on pins 7-8) of the twisted-paircable. Optional PTZ capability supports the remote-controlled operation of the camera and offers more flexibility than fixed camera systems.
PTZ in focus
Adjusting the focus, angle, and field of view without being present at the camera site are all benefits of a PTZ-enabled system. Structured cabling that includes PTZ-enabled baluns, which use only the 7-8 pair to transmit video and PTZ commands, easily supports this functionality. Because these solutions operate over only one pair of a 4-pair cable, they represent an excellentopportunity to take advantage of the cable sharing capability of Category7/7A fully-shielded solutions. (For more information on cable sharing, seewww.cablinginstall.com: "In commercial buildings, cable sharing makes cents," June 2006; that article is based on the white paper, "Cable Sharing in Commercial Building Environments: Reducing Cost, Simplifying Cable Management and Converging Applications Onto Twisted-pair Media.")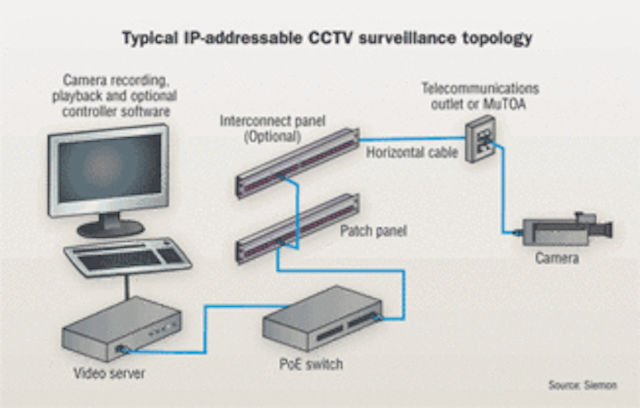 In a cabling infrastructure supporting IP-based video surveillance, it is best to install a full crossconnect in the TR for flexibility with moves, adds, and changes.
Click here to enlarge image
Note that power must be providedlocally to each camera in both tradi-tional coaxial and balun-based twisted-pair CCTV camera deployments. Depending upon the camera location, providing separate power can range from inconvenient to practically impossible, and this need cannot be avoided in coaxial implementations. Emerging PVD (power-video-data) technology uses a pair of powered video transceivers to fully support CCTV applications and eliminate the need for external power cords by transmitting video (one pair), power (two pairs), and data (one pair) over one 4-pairtelecommunications cable.
PVD devices are not IP-enabled and data is still collected on a traditional external recording device, such as a DVR. At this time, PVD transceiver solutions easily accommodate the operation of fixed position cameras, which typically consume less than 300 mA of power,over 100-meter structured cablingtopologies. Be advised that the maximum distance supported by PTZ cameras, which typically consume at least 600mA of power, is manufacturer-dependent and may be less than 100 meters, causing these implementations to fall outside the scope of structured cabling. The good news is thatpower delivery technology "borrowed" from the emerging related IEEE 802.3at PoE (Power over Ethernet) Plus application Standard may result in an improvement in the operating distances associated with PVD support of PTZ cameras in the future.
In typical structured cabling implementation topologies for analog balun-based and PVD video transceiver CCTV surveillance systems, the video distribution hub or PVD video integrator is located in the TR and a coaxial cabling backbone is provided. For maximum infrastructure flexibility and to facilitate adds, moves, and changes, it is recommended to use an interconnect patch panel in the TR.
CCTV over structured cabling offers a distinct advantage over traditional coaxial cabling implementations in that scalability and flexibility are introduced into the surveillance infrastructure. With structured solutions, cameras can easily be added or moved as the system grows and needs change; however, this technology is not intelligent, meaning that while substantial data is recorded, it is unlikely that the video is being actively monitored. Events can be missed and suspicious behavior can go unnoticed when monitoring personnel are distracted or otherwise occupied.
It is also important to remember that images collected over analog surveillance camera systems are recorded on bulky cassettes or tapes that must be periodically changed and will wear out over time. Image quality can also be impacted by the limitations of the recording device. IP-addressable surveillance solutions overcome these hurdles.
IP-based surveillance systems
IP-cameras and IP-based systems represent the future of video surveillance. These solutions deliver superior image quality, intelligent monitoring capability, remote accessibility, and infrastructure scalability. Today's fixed IP-cameras are all re-motely powered, and the use of an IEEE 802.3af-enabled PoE switch is required. IP-cameras may be fixed or PTZ-enabled. Further enhancements, such as more powerful PTZ capability, will become possible when the IEEE 802.3at standard is ratified.
The advantage of an IP-based surveillance system is that the camera acts like any other device on the IT LAN. Images are transmitted via Ethernet or wireless networks and can even be accessed through the Internet. This means that video feeds from multiple areas at multiple locations can be monitored from one supervisory site. Furthermore, because transmission is digital, the picture quality of an IP-camera is superior to that of an analog camera. Audio transmission is also supported. These capabilities result in IP-based surveillance solutions being increasingly integrated into the structured cabling network by companies with geographically dispersed locations, building access control systems, and point-of-sale applications.

Click here to enlarge image
Network intelligence can also be built into the IP-based surveillance system. Events can be monitored and alerts can be delivered to report suspicious behavior that would otherwise go unnoticed. For example, the activation of a motion detector, audio sensor, or anti-tampering mechanism could automatically result in a short message service (SMS) text or e-mailbeing sent to the security operator.
Instead of relying on external recording devices, IP-camera images are recorded in digital format directly onto servers or hard drives. Video data can be stored indefinitely locally or transported to a remote location via the LAN or the Internet. Real-time video transmission is highly compressed andseveral compression options are available to maximize the trade-off involving image quality, bandwidth, and storage capacity.Commonly used compression techniques include MJPEG, MPEG-4, and the emerging H.264 format.
Interoperability efforts
In what will be another advance for the IP-based surveillance market, three leading manufacturers of IP devices(Axis Communications, Bosch Security Systems, and Sony) have created the framework for a forum whose purpose will be to develop a standard that will specify interoperability requirements for video devices. Once the framework was established in late 2008, the manufacturers opened the process to all interested parties. This step will go far in removing barriers, such as the perceived custom nature of IP-based surveillance and concern regarding specialized knowledge required to install these systems that have been a hindrance to the adoption of the technology.
In most cases, an IP-based surveillance system is more cost-effective than ananalog system. Furthermore, IP-enabled equipment is expected to decrease in price faster than analog equipment. The previously referenced total cost of ownership analysis prepared by Axis Communications concludes that IP-based solutions of 40 cameras or more have a lower cost to acquire, install, and operate than same-size analog-based solutions. In fact, while 32-camera systems are the break-even cost point between the two systems, the analysis finds that even 16- to 32-camera analog solutions are only "slightly lower" in cost than IP based systems.
The typical structured cabling implementation topology for an IP-based surveillance system is shown on page 13. For maximum infrastructure flexibility and to facilitate adds, moves, and changes, it is recommended that a full crossconnect be provided in the TR. A side benefit of IP-based surveillance technology operating over structured cabling is that cameras can receive centralized backup power from the server room, so they will continue to operate in the event of a power failure.
IP in focus
Advanced video systems now deliver the highest-levels of system performance, image quality, flexibility, and intelligence; capabilities that can only be realized with the implementation of IP-based technology and a structured cabling infrastructure.
Next month, I will have a companion article discussing the use of structured twisted-pair cabling infrastructure to support broadband video and IPTV applications.
VALERIE MAGUIRE is global sales engineer with Siemon (www.siemon.com).
---
Juxtaposing surveillance equipment and wireless access-point coverage

Identifying the exact location of surveillance cameras at any time during the cabling design phase, as well as developing a flexible surveillance infrastructure that can accommodate device moves and upgrades, can be challenging. One way to overcome this challenge is to piggyback surveillance equipment access points with wireless access points.
This approach supports all surveillance topologies and may be especially convenient for the management of installations in which cable sharing is used to support up to four 1-pair video signals over one Category 7/7A fully-shielded channel.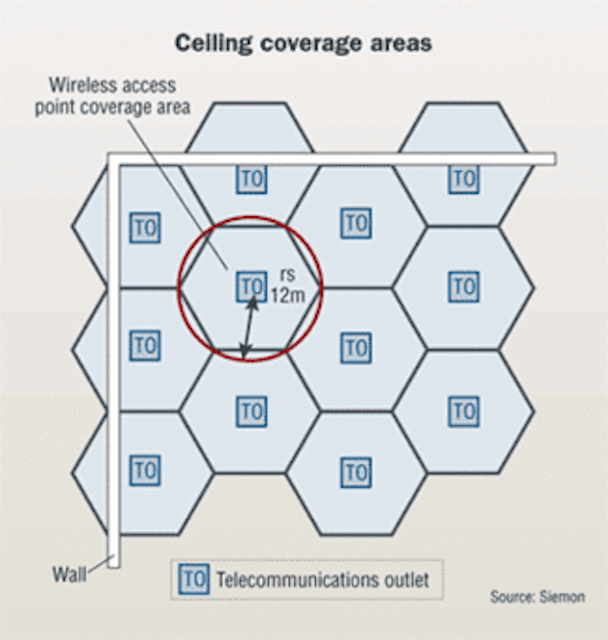 This example of ceiling coverage areas for video equipment and/or wireless access points is based on the TIA's TSB-162 and the ISO/IEC 24704 specifications.
Click here to enlarge image
TIA TSB-162 Telecommunications Cabling Guidelines for Wireless Access Points and ISO/IEC 24704 Information Technology—Premises Cabling for Wireless Access Points, offers guidance on locating wireless access points in ceiling spaces that can be applied to video-equipment access points. A pattern of circles or grids with coverage areas is defined, with the intention that work area outlets be centrally located in their coverage area and MUTOAs centrally located in their associated coverage area grid.
Although coverage areas may range in size from 3 to 30 meters, 12 meters is generally recommended as an optimum size to accommodate most wireless and surveillance applications.—VM