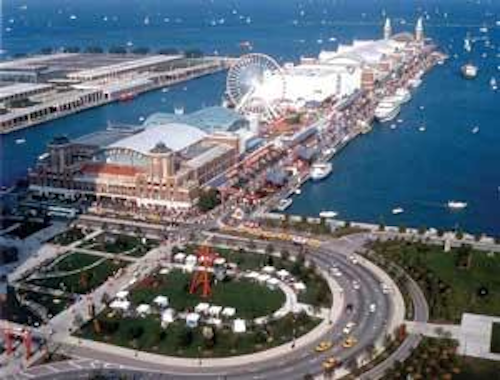 Compiled by Steve Smith
Network cameras from IBM business partner Axis Communications (www.axis.com), as well as the Omnicast advanced IP-based video recording and monitoring system from Genetec (www.genetec.com), have assisted IBM's (www.ibm.com) creation of an integrated networked video monitoring system for Chicago's Navy Pier tourist and business complex.
The project is funded by a grant from the U.S. Dept. of Homeland Security to protect the top-visited leisure and tourist destination in the Midwest, annually welcoming more than 8 million visitors. Navy Pier also hosts business meetings and trade shows, and has an annual economic impact of $1 billion.
It opened in 1916 as a shipping and recreation facility, and now is home to more than 50 acres of parks, gardens, restaurants, shops, sightseeing/dining cruises, and exhibition facilities–all under the ownership and operation of the Metropolitan Pier and Exposition Authority (MPEA). The three-company installation increases video security capabilities throughout Navy Pier, and integrates new and existing safety resources to safeguard people and property.
"We consider this to be one of the finest security command centers of its kind in the country," says Juan Ochoa, MPEA's chief executive officer.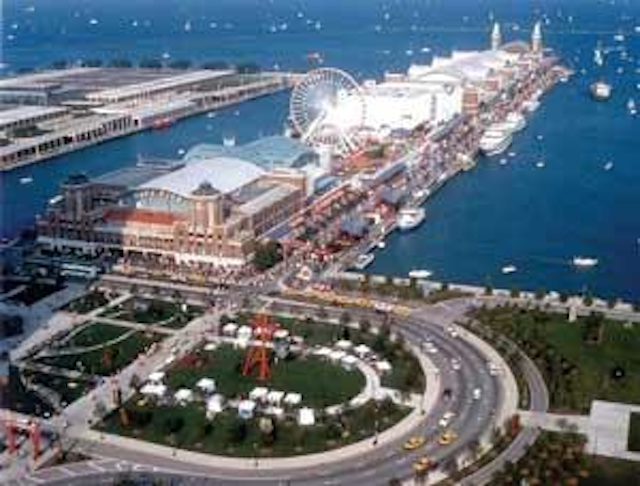 Chicago's Navy Pier 50-acre tourist and exhibition complex requires a state-of-the-art IP surveillance network incorporating integrated solutions from Axis, Genetec, and IBM.
Click here to enlarge image
The installation features Axis high-resolution cameras with far- and wide-range viewing capabilities that add situational awareness throughout the Pier and operational assistance during an incident. In addition, Genetec's Omnicast IP video surveillance system provides seamless management of digital video, audio and data across the IP network. Its failover and redundancy features are designed to ensure uninterrupted access to all live and archived data at all times, while multicasting and multistreaming capa-bilities are designed to help manage bandwidth requirements.
Omnicast's Federation also allows multiple independent systems to be managed as though they were one. Linking the system with the one installed at Chicago's OEMC (Office of Emergency Management and Communications), says Stephan Kaiser, director of U.S. sales for Genetec, "ensures advanced monitoring and management, as well as coordinated response."
The first phase of the project integrates cameras, alarms, sensors, audio and analytics to protect the Pier's visitors. The camera coverage extends visibility along the perimeter of the Pier and its entrance and departure points. Strategically placed emergency call buttons are integrated with the video system and, when activated, will stream video and audio content to the Pier's new command center.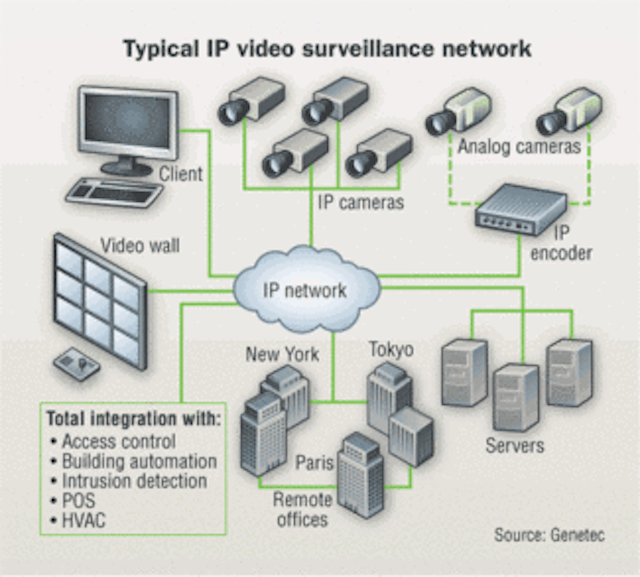 Genetec's Omnicast IP-based video recording and monitoring system, key to the Navy Pier installation, is scalable as surveillance requirements grow and is designed to seamlessly manage digital video, audio and data across an IP network.
Click here to enlarge image
IBM's Smart Surveillance Solution (SSS) technology, developed by IBM Research, allows video analytics to monitor the waterway and alert security personnel when unauthorized boats approach restricted areas. In addition to local monitoring from the Pier's command center, the complete monitoring environment is also accessible by the city's OEMC, its 911 and incident management center (where IBM has already deployed an advanced city-wide intelligent security systems), and by the Chicago Police Department (CPD) Marine Unit–the city's first responders for water-related incidents.
Video will stream continuously for live viewing by security professionals, and will also be recorded and archived for post-event review and analysis.
Upon completion of the second phase of the project, IBM says Navy Pier "will boast the greatest lakefront security coverage in the world." The design includes the use of high-end laser infrared cameras with long range capabilities, which will extend coverage around such landmark venues as McCormick Place, Soldier Field, and throughout waterways and walkways that include miles of beaches and harbors.
As with the first phase, the companies say coverage will be viewable at the OEMC and CPD Marine Units, addressing security threats in real time.
---

Short runs...
WASHINGTON, D.C.–The Communications Cable and Connectivity Association (CCCA; www.cccassoc.org) has elected Kevin Ressler, Tyco Electronics Corp., as chairman of the board, and Tim Waldner, Superior Essex Inc., as treasurer. Pete Lockhart, Anixter International Inc., was re-elected as secretary. Joining the officers on the CCCA's Executive Committee are Randy Crenshaw, CommScope, Inc. and Dave Kiddoo, AlphaGary Corp. Ressler says, "My goal is to grow and broaden our membership through demonstrating the real value CCCA provides its members. For example, our initiative to improve quality verification programs to prevent substandard, fraudulent, or counterfeit cable from entering the North America market shows that the credibility and collective strength of our association can positively impact the market in ways that are challenging for a company to accomplish alone."
WILSONVILLE, OR–Technocom, Inc. (www.gotechnocom.com), a provider of infrastructure technology and services, has again been named to the Portland Business Journal Top 25 Technology Service Provider list. Despite the economic downturn, Technocom maintained the 15th place position on the list, a level the company had climbed to in 2008. Technocom is also 11th of the 25 companies on the list in terms of Portland Metropolitan area-based employees and seventh of the companies headquartered in the state of Oregon. Technocom is a single-source provider offering technology and infrastructure solutions for both business and home solutions throughout Oregon and Washington.
SPARTANBURG, SC–AFL Network Services, Enterprise Division (www.afletele.com) has entered an agreement with Modular Integrated Solutions (MIS; www.datacenterinarow.com) to provide sales, installation and support services for MIS' self-contained data center, Data Center in a Row (DCR). The closed architecture system is designed to be more energy efficient than open architecture systems by providing environmental control of the electronic equipment only. Installation and support services will be provided by AFL's technician network.
WESTLAKE VILLAGE, CA–Chatsworth Products, Inc.(CPI; www.chatsworth.com), a global manufacturer of products and service solutions that store and secure IT equipment, has acquired Epicenter, Inc. (Westborough, MA; www.epicenterinc.com), a provider of data center infrastructure management tools to the enterprise and managed services market. Epicenter solutions provide the capability for advanced data center performance measurement, such as compute per watt. Patented KVM solutions, IP-addressable power distribution units and software are all components of Epicenter's product set targeting centralized cross-platform management of servers, network and storage.
NEW YORK, NY--October 12-31 will be the next test period for the IEEE Wireless Communication Engineering Technologies (IEEE WCET; www.ieee-wcet.org) Certification Program examination. Applications will be accepted through Sept. 4. The IEEE WCET Program was designed by IEEE ComSoc and an international collection of industry experts to provide wireless professionals with a quantifiable method for certifying their wireless communications expertise, and highlighting these capabilities to the marketplace.
DURHAM, NH–At the Ethernet Alliance's (www.ethernetalliance.org) Ethernet in the Data Center subcommittee interoperability plugfest for IEEE 802.1 Data Center Bridging (DCB), held recently at the University of New Hampshire Interoperability Lab (UNH-IOL; www.iol.unh.edu), member participants conducted multi-vendor interoperability testing of DCB utilizing 10GBase-SR and 10GBase-LR optical interfaces. This was the first time multiple vendors had participated in testing products based upon the IEEE 802.1 DCB draft standards. Participants were able to demonstrate the interoperability of their products and participate in a lossless Ethernet fabric simultaneously on the same network.
TUKWILA, WA–The Light Brigade (www.lightbrigade.com) is offering a new two-day technical training course, Fundamentals of Fiber Optics. This entry-level course covers both multimode and singlemode fiber networks and is intended for installation contractors and end users involved in building and maintaining LANs, municipal networks, and private networks. The six-hour course includes optical-fiber termination, system testing and troubleshooting, and fusion splicing.
SANTA FE, NM–Upsite Technologies (www.upsite.com), developer of engineered airflow solutions, has been selected by Lockheed Martin as an Allied Technical Analysis Contractor (ATAC) to support the Energy Efficient Data Center Initiative launched by Energy Trust of Oregon, Inc. The company will augment Lockheed Martin's engineering expertise to evaluate energy inefficiencies in data centers on behalf of Energy Trust of Oregon.
NEW HOLLAND, PA–Berk-Tek, a Nexans Company (www.berktek.com), is providing customers independent ETL Verification of LANmark cable performance, which it says "significantly exceeds the TIA/EIA-568-B.2 and ISO/IEC 11801 standards that have traditionally served as the industry benchmarks." The company says it is the first manufacturer to develop this program at the component level, which focuses on the LANmark family of Category 5e, 6 and 6a cables. Berk-Tek also says it is the first manufacturer to utilize third-party verification (Intertek) to certify that the claimed cable performance is being met.
TAMPA, FL–BICSI (www.bicsi.org) has published the second edition of the Electronic Safety and Security Design Reference Manual (ESSDRM). The manual addresses the convergence of security systems, such as access control and surveillance, onto the network and its impact on future security designs. BICSI says the new ESSDRM is "written to global best practices, vendor-neutral, carefully researched, and precisely written and edited by key industry professionals who are referred to as Subject Matter Experts (SMEs)." The ESSDRM, 2nd edition, will soon become the foundation document for those who seek to become a specialist in ESS design.

More Cable Installation & Maintenance Issue Articles