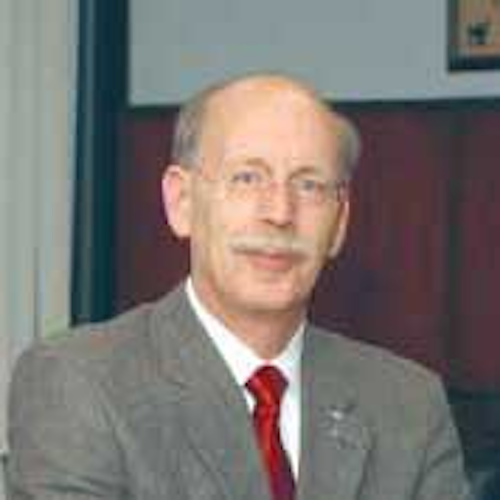 Newest technologies try to detach stigma from video-over-UTP transmission.
Unshielded twisted-pair (UTP) cable was initially developed to carry voice traffic, which travels at 64 kbits/sec—a meager transmission rate by today's communications standards. Ever since it first carried data rather than voice signals, UTP cable has defied doubters by capably handling increased data rates, to the point where specifications for transmitting 10 billion bits per second (10-Gigabit Ethernet) over UTP are being drafted.
Yet despite UTP cable's history of success in managing high data speeds, the prospect of running video signals over the medium still gives pause to professionals responsible for network cabling systems. Video transmission's reputation as a bandwidth-eating application is well documented and well deserved. And lately, it has become a point of marketing emphasis among UTP manufacturers. Advertisements and trade-show displays proclaim that a given vendor's UTP cable can capably handle broadband video transmission, thanks to its electrical-performance properties.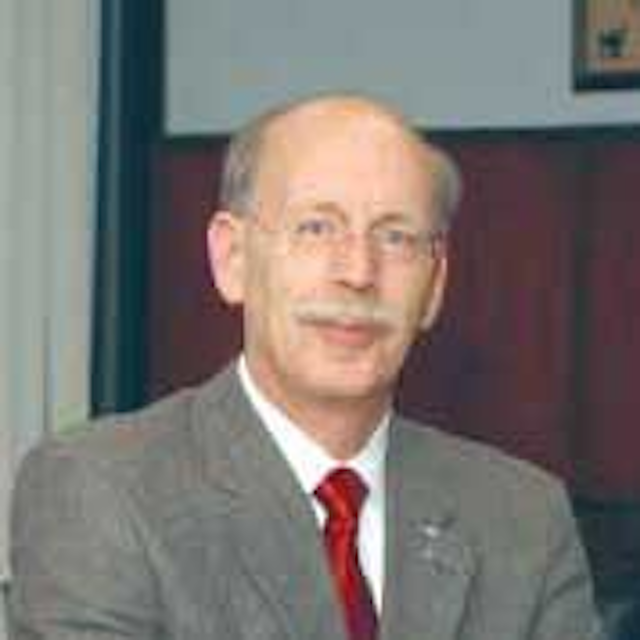 "The difference between IP-based systems and their analog counterparts is night and day."
Frank Abram
Panasonic Security Systems
Click here to enlarge image
Introduce to this scenario the surging interest in property surveillance among user organizations' facilities managers and information technology departments. Two and a half years after the terrorist attacks that spiked the nation's sensitivity to vulnerabilities of every kind, physical security of a premises remains at or near the top of organizations' concerns. But many still have not deployed security measures that include property surveillance. As these organizations get closer to such deployments, however, particularly within IT departments, the technicalities of them must be ironed out.
The notion of IP-based surveillance must be, for many, both tempting and nerve-racking. The allure of establishing a surveillance system within the framework of an existing Ethernet network is tempered by the potential for video-signal transmission to choke the cabling system's throughput capabilities. But what effect will baseband video transmission, as opposed to broadband, have on a network?
IP-based surveillance
Internet Protocol (IP)-based camera and surveillance system manufacturers are bringing those issues to the forefront as they develop more sophisticated and more capable systems with multiple hardware components, all of which plug into Ethernet networks via the omnipresent 8-pin modular connection. These manufacturers also acknowledge that, given the nature of their monitoring systems, the capability of the cabling system is important.
"Whenever you connect something into a network, there are questions about bandwidth," says Steve Baker, vice president of IP monitoring solutions at Sony Electronics Division (www.sony.com). "And they are valid concerns, especially when you talk about video surveillance." The cameras in Sony's recently introduced IP monitoring system, he explains, can run in modes that consume varying amounts of bandwidth. Three characteristics in particular come into play: frame rate, image resolution, and compression levels. All three can be manipulated to produce a less-intensive transmitted signal.
"A follow-along question to these modes of operation is, 'how many cameras do you need to place?'" Baker says. "If you're going to use up to nine or so cameras, it's quite feasible." But if you're working in a larger site, with high-resolution video requirements, then Baker says you could very well be looking at a dedicated network for the surveillance system.
Overall, Baker continues, a robust cabling system goes a long way. He points to academic environments as an example: "Many colleges and universities have high-bandwidth networks, and should have no trouble" handling an IP-based video system.
Fredrik Nilsson, general manager of IP camera manufacturer Axis Communications (www.axis.com), offers similar observations: "Today, most computer networks are 100-Mbit/sec Ethernet systems. In practice, this means the maximum useable bandwidth is around 50 Mbits/sec. Consequently, one network camera, transmitting the highest resolution image at maximum frame rate—30 frames per second—can potentially consume 5 Mbits/sec. Likewise, running an IP surveillance system on an office network simultaneously with other data applications could prove problematic; however, these potential difficulties can be easily overcome by employing two specific techniques."
The first, Nilsson explains, is event-driven frame rate. Thirty frames per second on all cameras at all times is more than most applications require. By leveraging the configuration capabilities and built-in intelligence within the network camera/video server, under normal conditions, the frame rate can be set to a lower rate, such as 1 to 3 frames per second. This rate can be automatically increased to a higher level if an alarm or motion detection is triggered.
The second technique is simply to employ switched networks. "By using network switching—a common networking technique—the same physical computer and IP-surveillance network can be separated into two autonomous networks," Nilsson continues. He says that although these networks will remain physically connected, the network switch logically divides them into two virtual and independent networks.
A discrete network for surveillance is a good idea, according to Frank Abram, vice president of Panasonic Security Systems (www.panasonic.com). "We do not recommend that video surveillance and security systems share networks, especially in large-scale installations, for several reasons," Abram says. "Performance is the primary issue, but so is network security and corruption as a result of viruses. We recommend that IP video surveillance systems have dedicated networks in the 1 GB range to sufficiently handle not only camera feeds, but to provide sufficient bandwidth for digital video recorders to be located at any point on the network, providing virtually unlimited storage capacity with versatile playback and camera control capabilities."
He says there are instances, however, where cameras can be used on an existing network with a high degree of efficiency: "One specific application is to tie remote locations on a WAN into a conventional analog-based video surveillance system. We have seen this hybrid IP/analog configuration used in many applications using Panasonic's network interface devices."
Remote monitoring applications
Remote monitoring is a specialty of the products manufactured by Flir Systems (www.flir.com), which recently introduced IP-based thermal-imaging systems. According to Leonard Phillips, the company's senior writer for infrared applications, such systems are frequently used for remote monitoring. "It's essentially a Web cam with higher resolution," says Phillips. "The cameras have alarm capabilities and can send e-mail or pages to alert managers of remote locations."
The cameras' infrared capabilities make them particularly appropriate for temperature-based monitoring, Phillips says. Some early applications for these cameras include metal-shredding operations because they can see through atmospheric haze, steel making, and electrical substation monitoring.
Dennis Mazaris, president of cabling-consulting firm PerfectSite (www.perfectsite.com), sees remote-monitoring systems as most appropriate for small to medium-sized companies. "Most of my work is with large sites," he explains, "and for the most part, they already have complete surveillance systems in place monitored by full-time staff. I believe the market for
IP-based surveillance cameras that plug into an existing network is for smaller firms.
"Surveillance monitoring is a full-time job," he says. "The owner of a small company who wants to be able to check on the office from a home computer can get that capability from an IP-based monitoring system."
An educational effort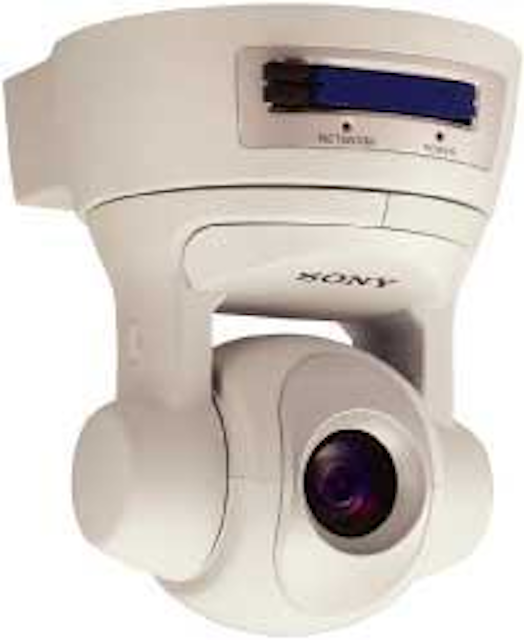 Click here to enlarge image
For those who carry concerns about a surveillance system's bandwidth consumption, IP-based network cameras can be intimidating. So, do makers of this equipment find they must educate the market to convince users that the technology is a benefit rather than a burden?
Panasonic's Abram says yes, and in fact, these dynamics influence his company's product offerings. "There is a real need for education regarding the deployment of IP-based video surveillance system products," he says. "We realize that the migration to a truly digital-based operating platform will be a gradual process, especially given the tremendous number of existing analog-based systems that offer exceptional performance."
Abram adds, "As a result, we have introduced a series of hybrid IP/analog-based products that allow systems integrators and users to integrate IP products into their existing systems at their own pace, and without the fear of purchasing obsolete technology. This is an integral part of our 'digital one' initiative."
Axis' Nilsson comments, "Education is vital for both the system integrator and the end user. I have found that system integrators who are intimidated by new technology often find it easier to tell their customers that an IP video surveillance system is impractical because of bandwidth, and continue to push analog CCTV systems. In reality, a well-designed IP-based system is a significant cost saver. The best way to educate the market is to detail an existing installation where the IP surveillance system works well. The largest installation to date employs more than 2,000 cameras, proving that the technology can be efficiently implemented in any sized system."
Both Axis and Sony compare their products to Web servers when describing their place within an Ethernet. "Each camera is really a mini-Web server," says Sony's Baker. "That brings a sense of familiarity to users, because they are familiar with its mode of use."
Access concerns?
"Each network camera has a built-in Web server," says Nilsson of Axis. "The cameras simply connect to a network and are assigned an IP address. Video can then be accessed from any PC on the network, provided that the user knows the IP address and is granted access."
PerfectSite's Mazaris cautions that access is a security issue in itself. "Remember that 80% of thievery comes from within an organization," he says. "You don't want to let ease-of-use become a tool for unscrupulous employees to gain access to the company's surveillance system."
As for powering these nodes, some IP cameras will accept Power over Ethernet. "Power for the cameras can be provided either via the local power supply or Power over Ethernet," Nilsson continues. "The main benefit of a Power over Ethernet solution is that pulling a separate power cable to the cameras is not required. All that is needed is a network connection."
While Sony's IP cameras also support Power over Ethernet, Panasonic's do not. Abram explains, "Our [Panasonic's] IP system products are similar to computer peripherals in that they need to have separate power sources. There are several reasons for this, including a lack of standards, limitations in power budget that will affect the distances of camera placements, and the possibility of camera noise resulting from the power source."
And so continues the guarded view toward the amount and type of signals a UTP cable can capably handle. With Power over Ethernet-enabled IP-based video cameras, users will trust their UTP cabling systems to carry video signals, the cameras' pan-tilt-zoom control signals, and DC voltage.
IP-camera manufacturers concur that user trends are shifting toward IP-based and away from analog-based surveillance systems. But how quickly the digital conversion will be realized is unclear.
Says Panasonic's Abram, "Ethernet-based video surveillance and security systems deliver higher levels of performance by every measure, by nature of their digital operating platform. In addition to higher-resolution video images on both the acquisition and recording ends of the system, the processing capabilities are also greatly enhanced, allowing more versatile control capabilities and system configurations. The difference between IP-based systems and their analog counterparts is night and day, but the migration is an evolutionary process that will take several years to complete."
Sony's Baker weighs in: "Analog owns the market share today, but IP is the fastest-growing. Researchers say that by 2005, the market for IP-based surveillance will be $110 million. The interesting thing, as we work with customers and integrators, is we find they want the capability to see what's happening at any time. That's what makes the Web browser one of the greatest inventions. Its complexity is hidden behind a simple interface, and we are finding tremendous interest in this flexibility that IP-based systems allow."
And Axis' Nilsson notes, "Vertical markets tend to be the earliest adopters of new technologies. In the case of IP surveillance, the education market has been the pioneer because of its need for a cost-efficient and scalable surveillance system, the availability of IP-based networks, and the need for the ability to remotely monitor any camera from any location. Other early adopters include government customers that require cost-efficient and high-performance systems, as well as the availability of traffic-monitoring applications."
Nilsson concludes, "Despite these clear benefits, IP-based solutions make up less than 5% of the surveillance market, but with a considerably rapid growth rate. Analysts expect IP-based systems to be more than 50% of the market in 2007."
Patrick McLaughlin is chief editor of Cabling Installation & Maintenance.