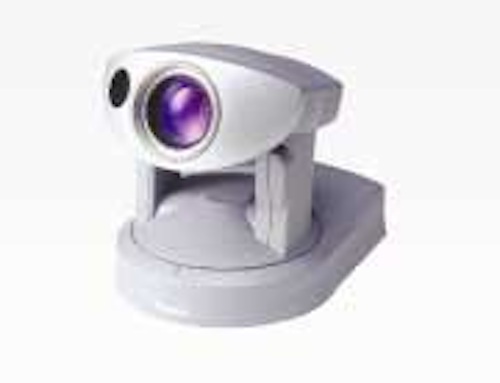 The latest security products help network managers see out-of-doors, in the dark, and from far-away places.
The Canon Network Camera VB-C50i/VB-C50iR replaces the manufacturer's VB-C10/VB-C10R models released in April 2002. The new model combines in one compact unit the communication camera and camera server so that users can establish a monitoring environment by connecting the power cord and Ethernet cable. The new system's internalized server offers compatibility with such protocols as TCP/IP and HTTP for Internet-based networks, and with Ethernet (10/100-Mbit/sec auto-switching) for LAN connections.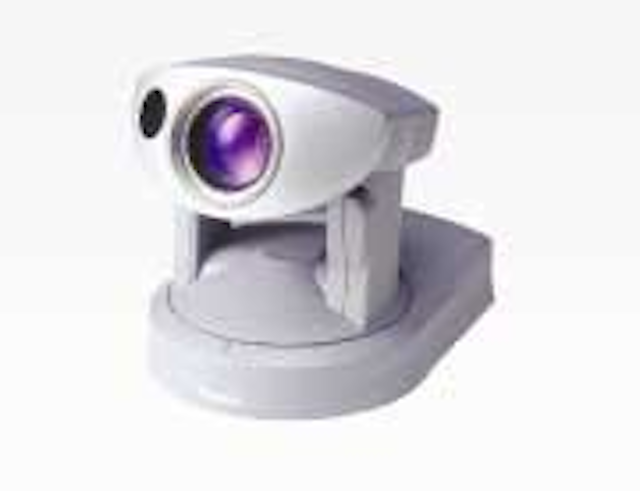 Click here to enlarge image
Incorporating a large-aperture lens and high-density, 1/4-inch CCD sensor, the VB-C50i/VB-C50iR makes color-video image capture possible in low light down to 1 lux. Also, when operating in Night Mode 2, the camera uses an infrared illuminator positioned beside the lens to enable monitoring in zero-lux darkness, satisfying the need for reliable performance in low-light conditions.
Equipped with a 26× zoom lens and offering a 12× digital zoom function, the system enables effective surveillance and image capture in vast spaces such as factories, warehouses, and superstores. Moreover, a built-in motion detector and autotracking system monitors for movement in any of four designated areas, automatically adjusting pan and tilt to track the subject.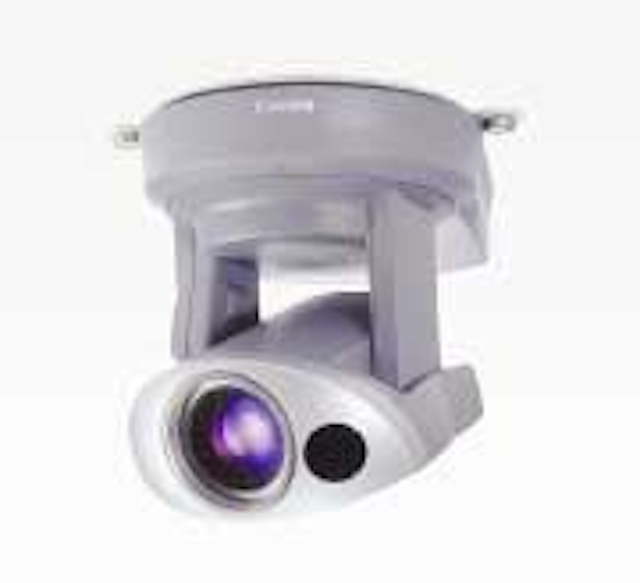 Canon's network camera sees in low light or no light.
Click here to enlarge image
The camera offers high-speed wide-angle panning and tilting to support broad area coverage. The VB-C50i's pan function enables 100° horizontal movement in either direction for a combined range of movement of 200°, while the tilt function permits an upward tilt of as many as 90° and a downward tilt of as many as 30°. The VB-C50iR's pan function offers 170° horizontal movement in either direction, and the tilt function allows an upward tilt of 10° and a downward tilt of 90°. Both models achieve a maximum pan speed of 90° per second, and a maximum tilt speed of 70° per second.
Both models transmit 640×480-pixel images at a rate of 30 frames per second. The system also permits the sender to control image quality and capture rate so as to optimize the settings for the network environment. A multi-streaming function facilitates the simultaneous transmission of images at various sizes to enable monitoring via networks with lower speed capacities, or devices using smaller screen sizes, such as mobile phones.
CANON
www.canon.com
Enclosures for outdoor surveillance
Pelco's outdoor enclosures for surveillance cameras are available in a variety of sizes and capabilities. The smaller versions are generally lower-cost, with forward-opening hinged lids and rear latches designed to provide easy access for installation and service. Some offer cable entry glands and mounting holes on the bottom. Options include low-power heaters and defrosters.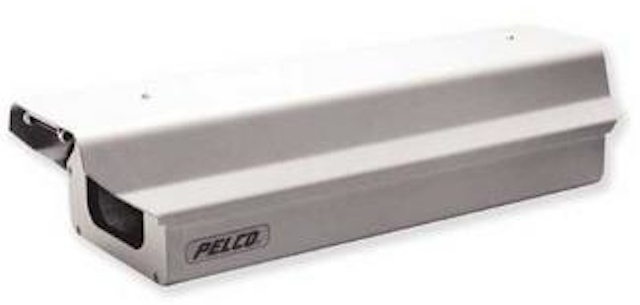 Click here to enlarge image
Medium-sized enclosures can be used with either fixed-mount or pant/tilt/zoom cameras, and are made of die-cast and extruded aluminum. They are available with gas-spring-assisted, forward-opening lids, and include cable entry gland and mounting holes on the bottom. Options include 120-V AC outlet and preset lens wiring harness.
The all-aluminum large enclosure has a gas-spring-assisted, forward-opening lid, plus cable entry glands and mounting holes on the bottom. It includes link-lock latches for security, can be used with fixed-mount or pan/tilt/zoom cameras, and offers such options ias 120-V AC outlet, preset lens wiring harness, and a window wiper.
PELCO
www.pelco.com
Evacuation panel interfaces with paging system
The PDVS series voice evacuation control panel contains a 25- or 50-watt high-efficiency digital power amplifier for use in life-safety applications. The PDVS-25 and the PDVS-50 include options designed to enhance the voice evacuation package and increase ease of installation.
Features include a supervised internal microphone, low current draw, undistorted 25- or 50-watt sine power, standard digital message unit, and four-speaker loop outputs. Sixty seconds of prerecorded voice messages can be programmed into the digital voice message unit. Messages can be activated by either 24-V DC polarity reversing or dry-contact inputs.
A built-in auxiliary audio input lets the PVDS interface with telephone paging systems. Additional non-fire emergency messages can be added to the system and used to alert building occupants of conditions such as weather alerts, chemical spills, and gas leaks. Custom-programmed messages and alert tones are also available.
Diagnostic meter bars, which indicate speaker load or signal levels on the audio channels, plug-in terminal connections, and an installer's system-test button are all designed to make the device installer-friendly. An intelligent overload protection system limits the output power to a maximum preset level, protecting the panel without disconnecting the load or disabling the evacuation system.
POTTER ELECTRIC SIGNAL COMPANY
www.pottersignal.com
Network camera uses Power over Ethernet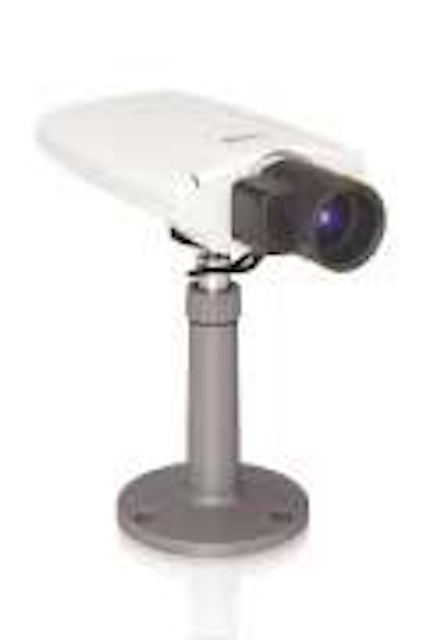 Click here to enlarge image
The Axis 211 Network Camera reduces installation costs and increases security by providing 802.3af-compatible Power over Ethernet (PoE), which consolidates the power source to a central location. The camera includes a built-in Web server and universal plug-and-play support designed for easy connection to a local network or the Internet. Once installed, it delivers real-time images or live video at up to 30 frames per second in full 640×480 resolution. A progressive scan image sensor and varifocal DC-iris lens let the camera deliver image quality for both indoor and outdoor applications.
The product uses the manufacturer's ARTPEC-2 video compression chip and advanced signal processing technology. Motion JPEG video format is used to secure high image quality and detail resolution. For applications where available bandwidth is restricted and high frame rates are required, support for MPEG-4 is offered as a free downloadable upgrade.
The Axis 211 is compatible with the manufacturer's video application programming interface, letting customers access a base of video management applications in various markets. The camera is designed for use in high-performance surveillance applications in such markets as education, retail, transportation, health care, and government.
AXIS COMMUNICATIONS
www.axis.com
Monitoring system focuses on IT infrastructure
The IMS (Infrastructure Monitoring System)-4000 detects and alerts you to environmental conditions and device activity in an information-technology infrastructure. The IMS-4000 monitors IP devices through pinging and port availability. When a network component becomes unavailable, the system notifies you about which IP device is unavailable. You can monitor the status of network links, routers, printers, and servers, or any device that has an IP address. Each host and node can monitor up to 64 devices.
Also, the system monitors critical environmental conditions, such as temperature, humidity, smoke, sound level, motion, water intrusion, and power outages. Each host and node unit support up to eight environmental monitoring sensors. When a sensor exceeds a user-determined threshold, the system notifies the user about the condition; lights on the face of the host instantly reveal problems.
According to the manufacturer, larger networks can benefit from using additional IMS-4000 nodes; each IMS node added to a network provides eight additional environmental inputs, the ability to monitor up to 64 additional IP addresses, and additional power monitoring. Up to 31 IMS nodes can be managed from one IMS host unit, offering a maximum capacity of 256 environmental elements, 2,048 IP addresses, and power in 32 separate locations.
SENSAPHONE
www.sensaphone.com