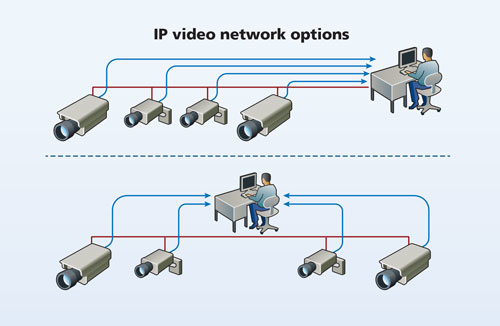 Vendors as well as independent sources provide documentation and tips for building camera networks.
By Patrick McLaughlin
User organizations embarking on the deployment of an Internet Protocol (IP) video surveillance system have quite a learning curve to navigate. To assist them in the endeavor, several vendors have produced guides, tips, and other documentation in various forms. Within this documentation, vendors cover topics that include design considerations for IP video systems. Some also include recommendations concerning the supporting cabling infrastructure.
For example, in its "IP Video Surveillance Guide," Anixter (www.anixter.com) notes, "Because there is significant financial investment in analog CCTV, many security managers opt for a phased transition strategy to IP, blending both analog and digital security technologies wherever possible during the migration."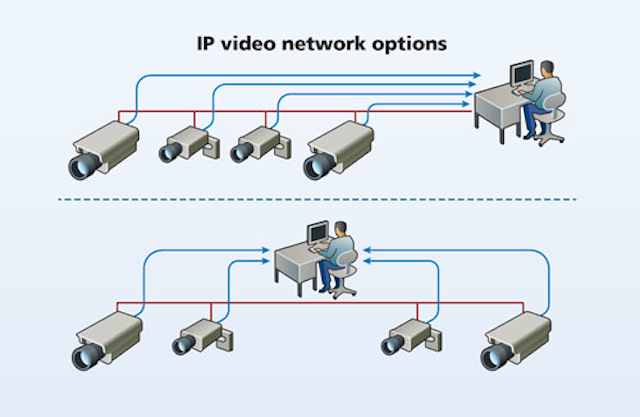 From Moxa's document titled "Three Key Design Considerations of IP Video Surveillance Systems," this illustration shows two network-architecture approaches. In the top approach, each section of the bus increases the bandwidth load on the network until, by the rightmost camera, the network must support data coming from all four cameras. In the bottom approach, no network segment must support data from more than two cameras at any time.
It details a common scenario of analog cameras connected to an analog video switcher, an analog monitor, a VCR and a video encoder. "This traditional setup provides sequential monitoring and recording of multiple analog cameras. By connecting an IP video encoder to convert the analog video into digital data, images can be sent over an Ethernet/IP network (through a router/switch), which provides Ethernet connections for several networked IP cameras. With this configuration, authorized security personnel in local or remote locations can view video originating from both analog and digital networked IP cameras."
Concerning the cabling infrastructure, Anixter says, "As the video surveillance industry evolves and new digital and IP-based technologies are developed, the cabling infrastructures that support these systems must also change. Today, video surveillance infrastructures range from traditional coaxial and multiconductor cables to twisted-pair and wireless solutions. With so many choices, it can be a challenge selecting a video surveillance infrastructure that is cost-effective, provides room for future growth and offers the ability to migrate to new technologies."
Assessing architectures
The guide then explains the characteristics of the home-run and star-wired cabling-infrastructure architectures. It describes the home-run approach as "cumbersome and inflexible," saying the architecture "uses many coaxial and stranded power/control cables that take up a lot of space, contribute significantly more weight to ceiling structures and are difficult to troubleshoot system problems." Anixter is more of an advocate for the star-wired approaching, saying it "is not commonly used, but does lend itself to be a more maintenance-friendly design. Rather than home running coaxial and multi-conductor cables, the star-wired design uses wiring closets where the cable runs from each camera to a BNC connector patch panel. From there, bundled coaxial and multiconductor cables are run together to the security headend. These cables are unbundled and terminated appropriately. The video coax is terminated on another BNC panel for breakout to recording and monitoring equipment.
"Star-wired or standards-based structured cabling systems help create a modular cabling infrastructure that easily expands without disrupting neighboring devices … Additionally, isolating faults within the cabling system is easier because the intermediate patching points allow the troubleshooter to easily identify different segments of the cabling infrastructure, reducing the time it takes to find the cable fault."
The guide then goes into some detail on the characteristics of wireless, fiber-optic and twisted-pair infrastructures for surveillance systems.
Three key considerations
Moxa (www.moxa.com) offers a document titled "Three Key Design Considerations of IP Video Surveillance Systems," in which it identifies network architecture, bandwidth, and quality of service (QoS) as those considerations.
On network architecture, Moxa uses the example of a four-camera network; it illustrates and explains a bus topology as follows: "The PC is placed at the edge of the network to monitor the video images from all cameras. All video data will flow to the PC eventually. Each section of the bus will increase the bandwidth load on the network, until in the rightmost network segment the network must support data coming from all cameras. For this reason, bus architectures are usually inefficient network topologies and not recommended for IP video."
It then illustrates and describes a setup in which the PC is placed in the middle of the network. In this scenario, "The total bandwidth load of four cameras is split between the two halves of the network. There is never a network segment that needs to support data from more than two cameras at once. This architecture distributes the bandwidth more evenly and decreases the possibility of network issues."
Concerning bandwidth, Moxa notes, "In IP video surveillance, the communications model is typically server-client or host-client communication. The server is the IP camera and the client is the PC or storage hard disk. The IP camera will generate a video stream as long as there is a client request. The number of clients in the system depends on the type of connection. Depending on the specific network and system requirements, sometimes a unicast communication model is sufficient, but in other circumstances a multicast communication model is required."
The company then provides detail on each option, stating specifically that "in order to send multicast packets, the network devices must support multicast and a multicast protocol. For IP cameras, which are the host in the network, look for multicast support that enables them to send traffic to a multicast group."
QoS is important also, Moxa says, because it "is a mechanism that ensures higher quality network performance for critical applications. Traditionally, without QoS, all traffic will be processed equally by the network, and transmissions will be based on the network's best effort. The QoS assigns different network traffic different priority. The traffic with higher priority will be processed before lower-priority traffic. This ensures the network performance is reserved for the most critical applications, and can guarantee that these critical applications will experience more-reliable communication. Therefore, the transmission of critical applications will be optimized by QoS to reduce frame loss, stabilize the jitter and minimize the latency."
The company concludes its document by stating, "Every network is different, and each network must be designed to meet the specific requirements and variables of each specific application. However, for any network, it's useful to review the three key design considerations outlined. Identifying the right network architecture, bandwidth requirements, and quality of service settings for an IP video network are the important first step to building a data network that will successfully become a consistent, dependable communications platform that empowers IP video surveillance systems."
Online calculator
An online tool called Camera Calculator is available for use free of charge at the website www.ipvm.com. The tool is based on Google Maps; in April 2015 IPVM announced its availability. "The calculator provides the ability to address and map out cameras completely online," IPVM said. "This is a major breakthrough that will save system design specialists time and money."
The calculator's integration of Google Street View "allows users to see a surveillance camera's field of view before installation. In doing so, system integrators who use the calculator save on costly site visits. As cameras are moved around a selected scene, the street view automatically updates as well. Users and integrators can experiment with different angles and locations, from their computer, quickly finding the ones that work best."
The company added that camera selection is aided by automatic pixel-density calculation. "Place a camera on a scene and immediately see an IPVM image quality preview. No more guessing whether a camera will meet your customer requirements. Quickly change the distance of your target, angle of view, and focal length to accurately specify cameras."
In mid-October IPVM released Camera Calculator 2.0, which includes floorplans and markups "that enable full surveillance designs," it said. "Plus, it all ties into our exporting solution, enabling you to generate PowerPoint, Word, and PDF presentations."
Markups enable users to customize maps with labels, lines, shapes, colors and other enhancements. They can add poles, wireless links, cables, access-control placement and other detail. Version 2.0 also offers autoscaling floorplans. "Make sure you get the right dimensions of the floorplan laid out on top of the Google map," IPVM said. "Simply enter in a known distance and we will scale it for you."
The new version also includes a camera-list feature, which IPVM says "helps you navigate and edit cameras by providing a single scrollable list of every camera in your project."
IPVM says its next step with the calculator will be a mobile app. The Camera Calculator can be accessed at www.ipvm.com/calculator.
These three examples are just a small portion of the information available as resources for professionals charged with designing the infrastructure for IP video networks. Like Moxa, many providers of IP cameras have created guides and documents for this purpose. And IPVM reports significant uptake of its Camera Calculator since the tool launched.
---
Patrick McLaughlin is our chief editor.