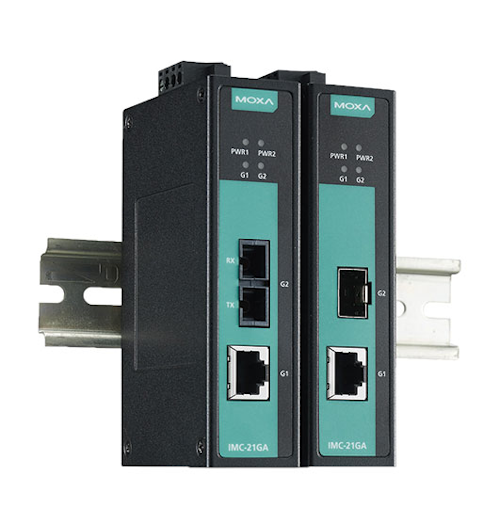 From the August, 2015 Issue of Cabling Installation & Maintenance Magazine
Harsh-environment Gigabit connectivity
The IMC-21GA Gigabit Ethernet-to-fiber media converter from Moxa, engineered for harsh environments, is "especially effective in high-bandwidth applications, such as megapixel machine vision inspection or IP video surveillance," the company says, further describing the converter as an "exceptionally full-featured and cost-effective option." It converts 1000Base-T to 1000Base-SX/LX or select SFP module media.
It is an industrial-grade converter, equipped with a relay output warning alarm, and is available in models that support a standard operating temperature of 0 to 60 degrees Celsius, or -40 to +75 degrees Celsius.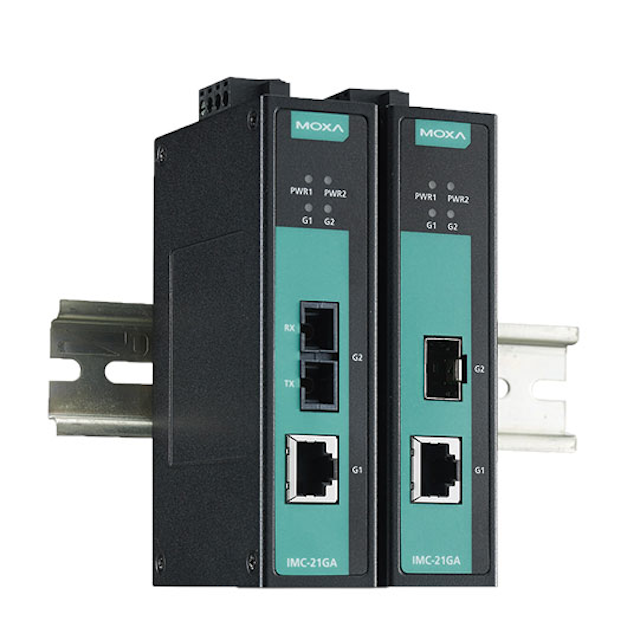 Gigabit Ethernet converters
Black Box's LGC5300 Series Gigabit Ethernet Media Converter series convert 10/100/1000Base-T UT and 1000Base-X fiber for extending Ethernet networks over fiber. Designed for use in industrial networks, the LGC5300 series can withstand extreme temperatures of -40 to +65 degrees Celsius, Black Box says. "These tough extenders are classified as power sourcing equipment [PSE]; they can power distant PoE/PoE+ devices, such as security cameras, wireless access points, and building automation equipment over standard UTP Ethernet cable," the company adds.
"The converters are especially useful for powering devices in hard-to-reach locations with limited access to AC power outlets, such as rooftops, ceilings, and factory floors," Black Box continues. The media converters also feature an SFP port, which enables adaptability to different fiber types for long-distance reach requirements. A PoE power reset function disables the power output in the case of a link failure on the receive end. The powered device then has two seconds to re-initialize.

Converter provides up to 60W PoE
The OmniConverter GHPoE/S extends distances to remote WiFi access points and IP cameras via fiber, and eliminates the requirement of AC power adapter and PoE midspan. Omnitron Systems explains, "The OmniConverter GHPoE/S is the first PoE Fiber Ethernet media converter that supports 60W PoE output for popular multi-stream WiFi access points and outdoor pan/tilt/zoom IP cameras, and provides backward compatibility to thousands of IEEE 802.3af- and 802.3at-compliant powered devices in the market."
It offers plug-and-play operation as well as built-in wall-mounting bracket. Configurable DIP switches are available, enabling fiber redundancy, link propagation modes, and remote PoE powered-device reset. The OmniConverter GHPoE/S is available with a hardened temperature range of -40 to +75 degrees C, 48 VDC and universal AC powering, and DIN-rail mounting.
Omnitron Systems, omnitron-systems.com