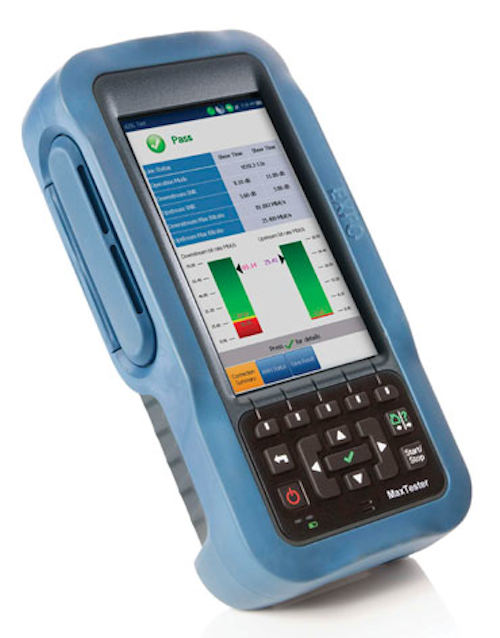 From the June 2015 Issue of Cabling Installation & Maintenance Magazine
Far-end device for copper-pair quality testing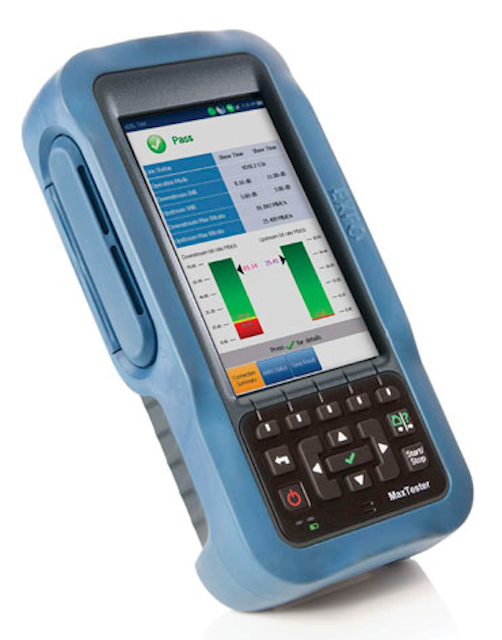 EXFO recently entered into a reseller agreement with Australian telecom test-equipment manufacturer Teletech for the TS125 Remote Far-End Device. "This reseller agreement paves the way towards a complete solution for all operators and contractors with existing methods and procedures in place, where the use of a far-end device [FED] complements their copper pair quality testing," EXFO said when announcing the agreement.
"Coupled with the EXFO MaxTester 600 Series-in particular the MaxTester 610 and MaxTester 635-the use of the FED drastically reduces the number of truck rolls needed to change the state of the circuit when performing measurements to assess the copper circuit quality," EXFO explained. "The EXFO MaxTester 600 remotely controls the FED, instructing it to place short, open, or any other terminations at the far end of the copper pair circuit in order to properly conduct measurements."
Etienne Gagnon, vice president of EXFO's physical layer and wireless division, commented, "By leveraging Teletech's reliable expertise with far end devices, EXFO is now poised at a vantage point in the industry to provide a fully comprehensive solution for copper pair quality testing. The TS125 FED complements our MaxTester 600 series to deliver opex savings for operators by reducing test times and truck rolls."
Teletech's chief executive officer Malcom Basell added, "Teletech is pleased to work with EXFO. Their next-generation test instruments using SmartR features are ideal for Teletech's Far-End Device. The Teletech TS125 Remote FED perfectly complements EXFO's MaxTester 600 series and extends the range of copper pair quality tests by removing the need for repeated travels to the far end of the line. When completing tests, the MaxTester automatically controls the TS125 to ensure the line is always terminated correctly."
TIA publishes ANSI/TIA-4994 sustainability standard
The Telecommunications Industry Association (TIA) has announced the publication of a landmark sustainability standard for information and communications technology (ICT). Developed in partnership with the Sustainable Technology Environments Program (STEP) Foundation, the new standard is the first to address the efficiency of systems inside of buildings, offices, theaters, residences and more
According to TIA, ANSI/TIA-4994, Standard for Sustainable Information Communications Technology, establishes the first-of-its-kind industry benchmark for sustainable energy and materials practices related to low voltage ICT systems. It provides architects, building owners, engineers, manufacturers, integrators, designers and facility managers with clear, industry-sanctioned guidelines for designing, installing and operating more efficient ICT systems.
"This is a truly landmark standard that will encourage sustainable practices and technologies, and help builders deliver high tech performance at reduced costs," said TIA CEO Scott Belcher. "There's been a significant focus on sustainable buildings in recent years, but little attention has been paid to cabling and other essential network equipment. Working with STEP, TIA has embarked on an important effort to address this gap. With this standard, anyone that builds, owns or operates a building has a clear roadmap for achieving a high level of ICT material sustainability and energy efficiency."
The standard establishes a five-phase approach to planning, implementing and measuring the sustainability impact of an ICT project - setting a clear benchmark for sustainable energy and materials practices. It applies to most building technology systems, such as video surveillance, servers and telephones, and addresses issues such as energy consumption and heat loads, which can represent a significant percentage of a facility's overall energy load and environmental impact. The result is higher performance criteria for achieving sustainability.
This standard takes a deep look at all the phases of building design from master planning to implementation. In doing so, it provides clear and specific guidance to help designers, engineers, builders, owners and operators achieve greater energy efficiency through efforts such as changing business practices or selecting more efficient equipment installs.
"This effort represents the cooperation among manufacturers and independent consulting entities from among the world's telecommunications leaders," said Glenn Sexton, Chair of TIA's Sustainable Information Communications Technology Committee (TR-42.10). "For years there has been a need to address the technology components of construction. This standard underscores TIA's commitment to sustainable practices in the design and deployment of telecommunications cabling and infrastructure."
TIA notes that companies can find significant savings through sustainable solutions, which improve performance and save in life cycle costs. For example, in 2013 Sandia National Laboratories deployed the world's largest passive optical network (PON), which is projected to save $20 million over five years through reduced energy costs and replacement equipment savings
"Sustainability is good business, but only if business is part of the process," said Charlie Fox, executive director of the STEP Foundation. "With TIA's expertise and industry connections, ANSI/TIA-4994 Standard for Sustainable Information Communications Technology will help project managers and building owners implement sustainable technologies and practices that will produce economic benefits for their organizations."
The TIA-4994 standard is the first of an anticipated suite of STEP ICT standards that will document process, design, integration and performance to meet sustainability criteria. The standards provide industry agreed upon criteria for achieving the maximum level of sustainability and financial benefit. As ICT systems become more interconnected, TIA and the STEP Foundation say they will continue working together to advance efficient use of ICT resources in a manner that improves business.
Flat, flexible 6A cable for continuous-motion applications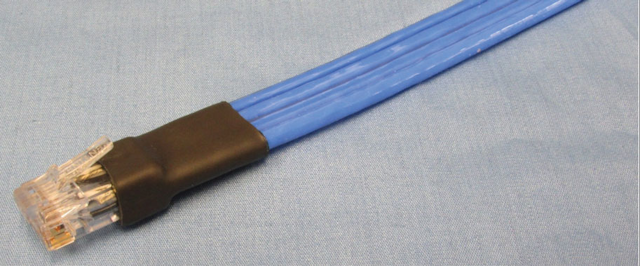 Cicoil recently released its Lightweight and Ultra flexible Category 6A cable. When announcing the new cable, the company said, "Unlike industry-standard Ethernet cables that don't' provide consistent data transmission accuracy in continuous-motion applications, Cicoil's compact design provides exceptional reliability when flexed, twisted or routed through tight spaces." The Category 6A cable comprises 4 individually shielded 28-AWG 100-ohm twisted pairs.
The company hails its patented extrusion process as the technology that enables a Category 6A cable to provide 10-Gbit/sec transmission under adverse environmental conditions. Cicoil says the extrusion process allows the twisted pairs "to be placed in a small, flat profile, precisely controlling the spacing of each component, insulation thickness and the overall cable shape. As compared to other Cat 6A cables, the flat design concept allows for easy stripping and a significant decrease in cable prep time."
This Category 6A cable incorporates Cicoil's proprietary Flexx-Sil rubber-encasing technology. "The unique outer jacket is self-healing from small punctures and will not wear, crack or deform due to long-term exposure to vibration, sunlight, temperature extremes [-65 to +165 deg. C], acid, submersion in water, sea ice, steam, coarse sand, flames, radiation, alcohol, mechanical stress, humidity, ozone, UV light, autoclave and many chemicals," the company states.
"In repeated flexing applications, the space-saving Cat 6A cable features a repeated bend radius of just 0.9 inch, and a cycle life exceeding 10,000,000 repetitive flexing cycles," Cicoil said.
The cables are available now for immediately delivery, as are cable assemblies in 3-, 6- and 12-foot lengths. Custom options include low-friction coatings, custom shape and torsion designs.
Corning introduces 200-micron singlemode fiber for smaller-diameter fiber cables
Corning Incorporated recently announced the Corning SMF-28 Ultra 200 fiber, which the company describes as "the industry's first 200-micron fiber with a 9.2-micron nominal mode-field diameter (MFD)," adding that the bend-resilient fiber "enables the design of smaller, lighter, fully backwards-compatible high-fiber, high-density cables."
The company explained the landscape into which this fiber was developed and introduced: "As global demand for bandwidth continues to explode, smaller cables with higher optical fiber counts are needed. Conventional ITU-T recommendation G.657-compliant 200-micron fibers may have a nominal mode field diameter (MFD) as low as 8.6 microns, resulting in an MFD mismatch with legacy 9.2-micron MFD ITU-T G.652-compliant fiber in existing networks. By combining ITU-T G.657.A1 compliance with a 9.2-micron MFD, SMF-28 Ultra 200 fiber uniquely delivers enhanced bend resistance and seamless integration with the installed ITU-T G.652 fiber base in a 200-micron product."
Corning added that its family of SMF-28 Ultra fibers-of which Ultra 200 is the most recent innovation-offers "enhanced optical bending resilience for innovative cable design with a macro-bending response surpassing the requirements of ITU-T G.657.A1 recommendations. The fiber's low attenuation improves signal reach up to 10 percent over conventional ITU-T G.652 fiber types and increases coverage as much as 20 percent when served by a point-of-presence or central office."
John Igel, vice president and general manager of Corning Optical Fiber and Cable, commented, "Corning SMF-28 Ultra 200 fiber helps solve one of the world's toughest network challenges-increasing fiber capacity without taking up more space. With the problem of MFD compatibility eliminated, network operators have the freedom to deploy fiber-rich 200-micron cables to address capacity and congestion-with the proven performance of SMF-28 Ultra fiber."
IP-enabled loudspeaker complements video surveillance system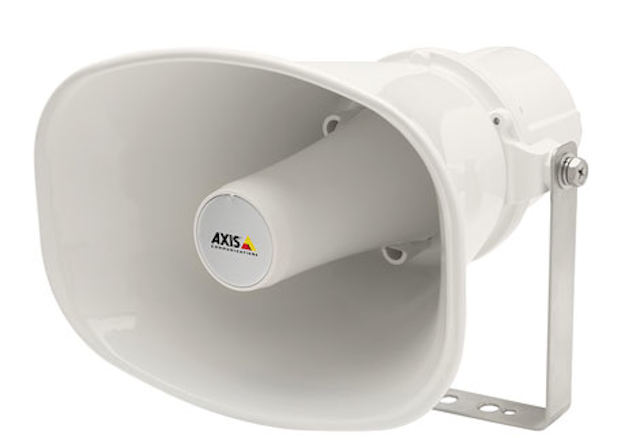 Axis Communications introduced an IP-enabled loudspeaker intended to allow remote speaking in video-surveillance systems. The company describes the C3003-E Network Horn Speaker as "a simple-to-install outdoor loudspeaker that provides clear, long-range speech for remote speaking over a network. When used together with video surveillance, AXIS C3003-E enables an operator to remotely address people and deter unwanted activity." Axis points out that ideal environments for the speaker include parking lots, construction and critical-infrastructure sites, and public squares.
Peter Lindstrom, director of new business with Axis, commented, "AXIS C3003-E is really an IoT device that provides many advantages because it is connected to an IP network. For instance, you can assign a regular phone number to the loudspeaker and simply dial in to it to get heard. It enables integration with just about anything."
The self-contained loudspeaker offers signal transmission, decoding, amplification and speaker in a single unit. "Unlike many analog speakers, there is no need for AXIS C3003-E to connect to a separate amplifier or to a network camera to plug into a network," the company explained. "As a standalone unit [it] can be placed anywhere, enabling a flexible, scalable and cost-effective approach to system design. An external power supply is also not required, thanks to the speaker's support for Power over Ethernet. With one network cable, AXIS C3003-E receives power and plugs directly into a video management system and/or VoIP telephony system."
Lars Kampe, business development manager with Securitas, said, "Horn speakers allow our operators to immediately intervene when video analytics alerts us of trespassing at customer sites. Normally a trespasser will flee the scene when notified of his detection. This saves cost for our customers due to reduced damages and also no unnecessary callouts. Securitas has worked with analog speakers until now. With analog loudspeakers, there is always an uncertainty since there is no way to remotely detect if they are actually working correctly. AXIS C3003-E allows us to remotely monitor the heartbeat of the speaker and check the sound quality. The speaker also supports PoE, which makes it easier to install and lowers installation costs. It gives us the possibility to use prerecorded messages. With Axis's loudspeaker, our customer proposition is greatly enhanced."
The speaker can play a prerecorded audio file when it is manually or automatically triggered in response to an alarm. The speaker comes with prerecorded audio files, such as trespassing and emergency messages, and allows users to upload their own audio.
Berk-Tek opens TEK Center to demo real-world cabling, emerging application scenarios
Berk-Tek, a Nexans company, recently announced the opening of The TEK Center at its New Holland, PA facility. The center includes 7,000 square feet of space that enables visitors to experience a working data center, an enterprise showcase, and application-and-material laboratories. Networking and technical experts from Berk-Tek's staff are available to help TEK Center visitors select cabling solutions that best suit their needs.
"At Berk-Tek we understand that selecting the right network infrastructure is a critically important decision, and that making the right decision now can pay big dividends later," said Jim Frey, director of marketing for Berk-Tek, when the company announced the center's opening. "The TEK Center was built for customers and prospective customers to see and feel what they are specifying instead of relying on pictures and data sheets. It's a place where you can try before you buy."
Company president Paul Trunk added, "Berk-Tek's number-one commitment is to our customers and to help them maximize their success. The investment we have made into the TEK Center is an example of this commitment. We invite our customers and prospective customers to visit us and see for themselves how Berk-Tek can help."
In literature describing the TEK Center, Berk-Tek acknowledged what many users have asked: "How can you know what's really right for you if you can't see it, touch it and feel it?" At the center, the company emphasized, "You can evaluate options firsthand and work with Berk-Tek engineers to spec a cost-effective system. Want to see how different cables perform when subjected to certain levels of stress? Want to evaluate different options for your data center migration path?" Visitors to the center are able to do so.
For example, the facility's working data center has a demo area that can be customized to preview different network architectures including top of rack and end of row, above-rack and raised-floor, migration paths from 1 to 100 Gbit/sec, as well as high-, medium-, and low-density solutions. The enterprise showcase area "contains examples of various environments including indoor, outdoor, security, office, campus and more," Berk-Tek said. "We can demonstrate the effects the simultaneous transmission of voice, data and power can have on real-world applications."
The research and development facility includes an applications lab as well as a materials lab. In the applications lab, Berk-Tek explained, "We put our cables through rigorous testing of real-world applications, in real-world environments to make sure they perform as designed," while in the material lab, engineers "formulate and develop innovative materials and processing techniques for Berk-Tek's high-performing cables," the company noted. "Berk-Tek develops our own materials in order to protect your network traffic from the heat of PoE."
U.S. business-fiber penetration rate eclipses 40 percent
A new research report from Vertical Systems Group analyzes the growth rate of fiber penetration into commercial buildings in the United States, concluding that the penetration rate rose from 10.9% to 42.5% in the decade spanning 2004-2014. "These statistics measure fiber availability at company-owned and multi-tenant buildings with 20 or more employees, which covers more than 2 million individual business establishments," the researcher said.
Rosemary Cochran, principal at Vertical Systems Group, observed, "Accessibility to fiber-based business services in the U.S. nearly quadrupled between 2004 and 2014, with hundreds of thousands of sites newly fiber-connected during this time period. As a result of this growth, our fiber penetration benchmark now exceeds 40% for the first time. Looking forward, the high-stakes endgame for network operators is to deepen and broaden their service infrastructures around fiber-the future of wireline."
Fiber is the medium that delivers the majority of Carrier Ethernet service connections, Vertical Systems Group pointed out, adding that fiber implementations also are increasing for access to high-speed IP/MPLS VPN services, cloud and Internet connectivity, and mobile-backhaul applications.
The researcher also recently surveyed Carrier Ethernet service providers; that group cited fiber-footprint reach as the top competitive advantage overall. These service providers also said collectively that fiber expansion is their primary growth challenge for 2015.
Report claims 54 percent of federal video-surveillance data goes unanalyzed
MeriTalk, a public-private partnership focused on improving the outcomes of government IT, has announced the results of its new report, entitled "The Video Vortex."
The study, based on a survey of 151 federal decision makers, evenly split between physical security and IT managers, and sponsored by EMC Corporation, looks at video surveillance across federal IT, and the opportunities for agencies to enhance the value of their video data assets. "If Uncle Sam only catches half of the movie, he will have challenges following the plot and leveraging the information to achieve the goal-improved security," said MeriTalk in a press statement, which continues as follows:
"The stakes are high to make the most of video data. An overwhelming 99 percent of feds believe that video surveillance technology will play a significant role in their ability to prevent crime, theft, and terrorism over the next five years. With the quantity of video data exploding, the potential for enhanced situational awareness and better intelligence is massive, but only if it is analyzed."
The opportunities are considerable; agencies are using video data to obtain critical insights. Survey respondents flag the most common applications for video surveillance. Fifty-seven percent use the data to monitor suspicious behavior, 49 percent use it to monitor traffic, and 38 percent harness it for anomaly detection. Looking to the future, feds see vast potential in increased integration of video and big data analytics, including instant event search, facial recognition, and inter-agency real-time surveillance.
In an effort to maximize video insights, feds see significant promise in one key area: collaboration. There is clearly a strong connection between capturing video and making it available as an enterprise data asset across agencies. That's where physical security and IT need to get on the same screen. That's why 79 percent believe their agency needs to improve collaboration between physical security and IT in order to be successful. At present, less than half of civilian agencies (47 percent) have collaboration as part of their standard operation procedure (SOP). DoD is significantly more likely to ensure this partnership at 78 percent. As a first step, feds need a consensus on who is in charge-76 percent of physical security managers currently see video surveillance as a collaboration-but few IT managers agree (33 percent).
The study shows that working together is a critical piece of the plot, indicating that agencies that require collaboration are significantly ahead. They are more prepared for the influx of data (81 percent versus 24 percent), more likely to analyze at least 50 percent of their data (63 percent versus 47 percent), and more than twice as likely to operate an edge-to-core platform architecture for surveillance (92 percent versus 44 percent).
"The numbers say it all; the key to a more secure country is improved collaboration," says Michael Gallant, senior director, video surveillance, EMC Corporation. "Physical security and IT need to avoid being ships passing in the night, and join each other at the helm. A more-collaborative approach will make agencies more prepared, and more likely to analyze video surveillance data to derive actionable insights."
As agencies attach more sensors to the network, from cameras on people (civilian, 44 percent; defense, 75 percent) to cameras on drones (civilian, 17 percent; defense, 78 percent), video volumes are growing faster than other network traffic. In order to reap significant mission benefits from this data, IT infrastructures must be able to keep up with the unprecedented growth. Nearly all feds say their agency's IT infrastructure is not ready, identifying three key required investment areas: storage (91 percent), computing power (89 percent), and personnel (84 percent).
"More than the same old movie, video empowers Uncle Sam-whether it's identifying trends or catching the bad guys," says Steve O'Keeffe, founder, MeriTalk. "Teamwork and innovation are the keys to ensuring the story is happily ever after, rather than a horror movie."
"The Video Vortex" report is based on an online survey of 151 U.S. federal IT and physical security decision makers in January 2015. The report has a margin of error of +/- 7.95 percent at a 95 percent confidence level.
State of Maine, Harris Corp. deploy new statewide public safety communications system
At the most recent International Wireless Communications Expo (IWCE 2015), Harris Corporation announced that for the first time ever, State of Maine agency users across jurisdictions and departments can communicate over a single, statewide emergency communications network, powered by Harris's VIDA (Voice, Interoperability, Data, Access) Network technology.
Harris Corporation and the State of Maine's Office of Information Technology announced the successful full deployment of the Project 25 (P25) VHF statewide digital radio system, MSCommNet (short for the Maine State Communications Network).
The state's new public safety communications network-featuring 40 transmit-and-receive sites, including seven solar-powered sites and seven dispatch centers-provides statewide communication interoperability for more than 2,000 agency users, including state police, forest rangers, game wardens, correctional officers, and marine patrol personnel and other agencies.
MSCommNet also provides for interoperability with all county and local public safety agencies. State users report significantly improved voice clarity and coverage across the state using Harris portable and mobile radios, including the Unity XG-100, Harris reports.
"The MSCommNet network provides unprecedented improvements to enhance the effectiveness of Maine's law enforcement and state agency teams," said Greg McNeal, chief technology officer, State of Maine Office of Information Technology. "Our customers are extremely satisfied with the quality and the increased radio coverage Harris has delivered. With MSCommNet, our state agencies, no matter where in the field they are working, are connected."
Harris notes that Maine's new MSCommNet system deployment resulted from joint efforts by Maine's Office of Information Technology; Departments of Public Safety, Inland Fisheries and Wildlife, Corrections, Marine Resources, Conservation, and Maine Emergency Management Agency; and local, county, and federal governments.
Small-footprint Category 5e M8 connectivity system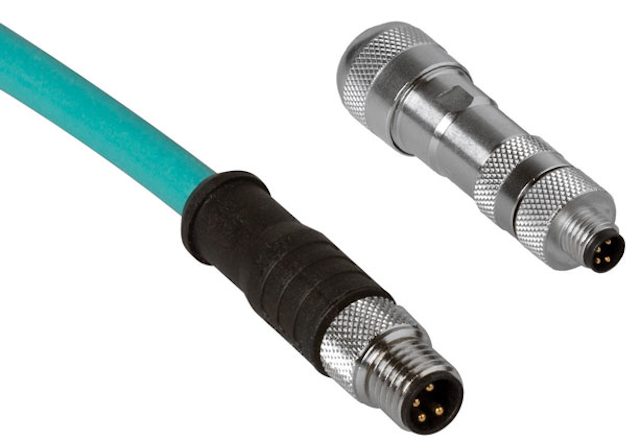 To keep pace with the continuously shrinking sizes of industrial control devices, Turck has unveiled its first M8 Industrial Ethernet connectivity platform-the smallest available to date for this application, it claims. The company says its new M8 Ethernet platform offers all of the benefits customers are accustomed to from Turck Ethernet connectivity, but in a smaller package for applications with limited space.
With the ability to transfer up to 100 Mbits/sec of data, Turck's new M8 connector is suitable for various Industrial Ethernet protocols, including EtherCAT. The new connector utilizes shielded Category 5e cabling, with the 360-degree shielding carried through to the coupling nut. In addition, the cable offers a high flex rating.
Significantly, the company notes that its M8 connector for Ethernet is intended for use with Turck's new ultra-compact digital TBEN-S modules. The compact connector design is rugged and suitable for use in IP67 rated environments. It will reliably operate in temperatures ranging from -40 deg. to +70 deg. C. The overmolded construction eliminates time-consuming hand-wiring and misconfigurations common to twisted-pair cables, and is available in both straight and right-angle configurations. In addition, hybrid cordsets are available, to convert from the M8 connector to a D-code M12 or RJ45.
"In conjunction with the release of our ultra-compact TBEN-S module, which utilizes M8 Ethernet for the bus connection, we wanted to offer our customers an Industrial Ethernet connectivity solution for applications with limited space," said Laura Schweitz, product manager for Turck. "Not only are we able to offer our customers an M8-sized Ethernet solution, but we are able to do so without compromising the functionality they enjoy from the rest of our Industrial Ethernet line."
Twisted pair cable assemblies for HDBase-T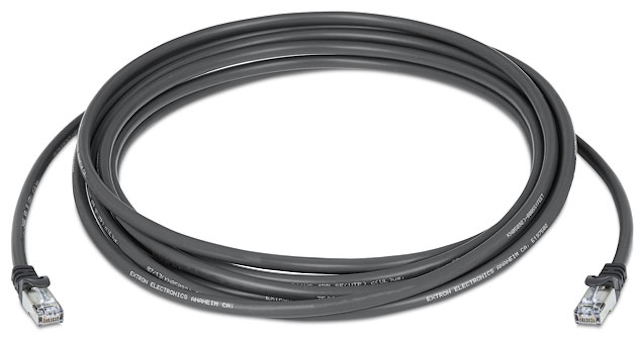 Extron Electronics recently introduced its new XTP DTP 24 Series precision-terminated shielded twisted-pair cables in lengths from three feet (90 cm) to 100 feet (30.4 m). Available in both non-plenum and plenum-rated versions, the cables are constructed with the company's HDBase-T Alliance-recommended XTP DTP 24 bulk cable and factory-terminated with XTP DTP 24 plugs.
Extron notes that its XTP DTP 24 Series cables are constructed with performance-optimized, 24 AWG shielded twisted pair cable. The cable uses an SF/UTP (shielded foil/unshielded twisted-pair) design for superior performance in digital video and audio distribution system applications. The cable assemblies are certified to 475 MHz bandwidth at distances up to 330 feet (100 meters), and engineered and tested to exceed HDMI error rate specifications of less than one pixel per billion at 100 meters.
"With the explosive growth of XTP Systems and DTP Systems digital twisted-pair installations, AV integrators have looked to Extron for ways to further simplify installations and reduce their overall labor costs," comments Casey Hall, vice president of sales and marketing for Extron. "These new, precision-terminated XTP DTP 24 cable assemblies offer performance, reliability, and off-the-shelf convenience for the most commonly used lengths."
To complete an XTP or DTP system cable infrastructure, Extron recommends use of Extron-certified XTP DTP punchdown jacks and couplers, available in packages of 10, or in prepopulated AAP (Architectural Adapter Plate), MAAP (Mini Architectural Adapter Plate), and WPD (Wallplate-Decora) form factor wallplates.
OM4 Plus fiber system enables 300 meters of 40/100G
Total Cable Solutions (TCS) recently released an end-to-end OM4 Plus solution for data centers "designed to push 40/100G fiber signals up to 300 meters," the company said. "One of the first premium OM4 Plus solutions in the industry, the TCS system offers premium trunk cables, harnesses, patch cords, MTP cassettes and adapter plates in violet (purple) to easily identify the new OM4 Plus infrastructure."
Charles Hoskins, chief executive officer of Total Cable Solutions, commented, "TCS prides ourselves on being on the cutting edge. Few companies offer an OM4 Plus solution, and even fewer offer a violet option. We are using the same premium MTP Elite connectors as some of the other major brands, but at a fraction of the cost to our customers."
TCS added, "Similar to other major brands in the industry, TCS chose to adopt the violet color for the OM4 Plus Premium Fiber System in an effort to create standardization and avoid confusion in the data center. A standout difference is that the Total Cable Solutions OM4 Plus Fiber System features internal shuttered premium panels, cassettes, and adapter plates, cutting down risk of personal injury, degradation of components and cable wear."
Marty Dziuk of data center integration firm Gillaspy, which uses TCS systems on projects, said, "More and more data centers are color coding their cabling infrastructure. With so many different fiber types and bandwidths being used it is imperative to be able to distinguish OM4 Plus from OM3, OM4 and others. The TCS OM4 Plus system allows you to identify each at a glance."
Gigabit-speed copper-to-fiber converter
FiberPlex describes its TIS-8632 copper-to-fiber converter as "a six-port Ethernet switch that interfaces Cat-based networks to fiber-optic communications. The unit features two pluggable SFP ports for singlemode or multimode optical fiber and four RJ45 ports to extend IT data distribution beyond copper cabling's 100-meter limitation, or to isolate a path between nodes for security or noise-immunity purposes."
Buddy Oliver, FiberPlex's president, added, "Our new TIS-8632's combination of Ethernet SFP support and bussed DC power capability creates a powerful yet affordable option for distributed Ethernet solutions in the IT or AV space."
Multiple TIS-8632 units can be daisy-chained together-via fiber or copper depending upon distance requirements-and can be used to add multiple AV elements like distributed IP video cameras onto the network, or to isolate a conference room for security purposes, FiberPlex pointed out.
"The TIS-8632 is part of the TD Import Series and supports SFPs for 10/100/1000 Ethernet as well as GbE fiber-optic communications, either singlemode or multimode, or both, for bridging the two together," the company explained. "It is designed to be an affordable, reliable workhorse for use in various commercial and industrial environments. The TIS-8632 can be DIN-rail mounted and up to three TIS-8632 units can be installed in an optional 1U TDR-01 rack shelf. It is powered by either a 9VDC AC power adapter, which is included, or via bussed power supplied through an integrated three-pin Phoenix connector."
FiberPlex adds that the TIS-8632 copper-to-fiber converter can be used in conjunction with the company's media converters and wavelength division multiplexers as part of a complete fiber-optic network.
Branch circuit meter delivers power-quality data
TrendPoint Systems Inc. recently introduced Branch Circuit Power Meter 2.0, the newest version of its branch circuit power meter (BCPM) product, which the company says "delivers utility-grade power data." TrendPoint provides a monitoring platform for high-density power consumers including data centers.
"BCPM 2.0 is the latest evolution of TrendPoint's exceptional technology, delivering power quality data down to the branch circuit level," the company said when announcing the product. "The BCPM 2.0 meter is the first of its kind to offer waveform capture, along with harmonics. It improves upon the industry's method of using three-phase PQM [power quality monitoring] meters for switchgear, switchboards, and distribution panels. The new version also removes complexity from metering platforms, by enabling TrendPoint customers to monitor all pieces of power equipment in a data center on one platform at equal-to or better price points than competitors."
Jon Trout, the company's chief technology officer, commented, "With BCPM 2.0, TrendPoint is achieving the next level of simplicity and comprehensive visibility for power monitoring. Most other BCPM products on the market cannot even deliver utility-grade power data. Our BCPM 2.0 is delivering even more of this high-value power quality data, including harmonics and waveguide capture.
"BCPM 2.0 also works better as part of an overall metering platform. We can implement one power meter, one platform, one system in one piece of equipment."