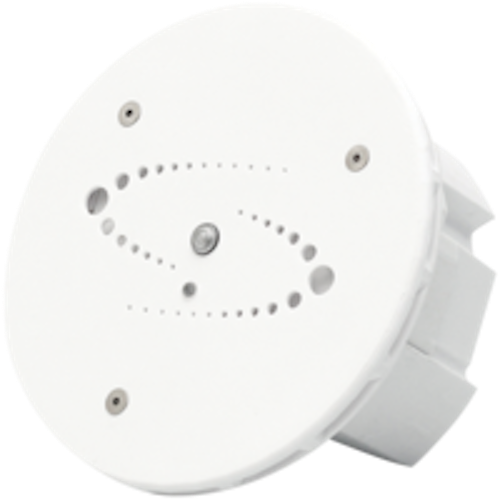 IPVideo Corporation (Bay Shore, NY) a manufacturer of audio/video recording, passive weapons detection systems and IoT sensor technology, announced that it was selected as the 2019 Secure Campus Award Platinum winner for Security and Personal Safety Devices for its new HALO IOT Smart Sensor, as awarded by Campus Security & Life Safety magazine.
The award was handed out at ISC West 2019 earlier this month.
"HALO has 11 built in sensors working together in a single intelligent IOT platform that learns, analyzes and is able to create alerts and events that are designed to keep the campus environment safe," IPVideo Corporation President, David Antar, who accepted the honor at ISC West, said about the awarded product.
IPVideo's Antar added, "We designed HALO to be a networked Power over Ethernet (POE) device fully integrated into video management, access control and building management systems. Administrative and security personnel can be instantly alerted to threats including those not visible to traditional cameras or security systems. HALO creates a safer environment for everyone and the product stays true to IPVideo's mission of creating a smarter safer world."
Related: Diverse threat factors seen driving cities' physical, ICT security resilience spending to $335 billion by 2024
Per IPVideo Corp., "The HALO IOT Smart Sensor was first introduced to help K-12 and Higher Education combat the vaping, bullying and active shooter threats that schools currently face. Through the addition of environmental sensors such as air quality, advanced smoke detection, chemical, light, natural gas, carbon monoxide, carbon dioxide and audio analytics such as glass break, gunshot and aggression detection, HALO has expanded to almost all vertical markets including higher education, hospitality, healthcare and government, who can now secure common areas as well as those not traditionally covered by security devices such as bathrooms, locker rooms, patient rooms, hotel rooms and dorm rooms without infringing on privacy."
"As the only vape detection product on the market that detects THC and limits false positives, HALO was an immediate must have product for K12 Education Campuses across the country," asserts IPVideo Corporation Vice President, Rick Cadiz.
An independent panel of judges from the security industry selected HALO IOT Smart Sensor for its features, innovation, user friendliness, interoperability, quality, design, market opportunity and impact in the security industry, technical advances, and scalability.
"Campus Security & Life Safety's Secure Campus Awards program was incredibly successful, the number of entrants and the innovative solutions we saw this year was outstanding — mirroring the dedication our industry has to campus security," said Sydny Shepard, Executive Editor of Campus Security & Life Safety magazine and its website, campuslifesecurity.com. "I am thrilled we are able to highlight the best products such as the HALO IOT Smart Sensor, working to keep our campuses safe."
See Also: A deep dive into TSB-184-A recommendations on cabling for PoE