IP-enabled loudspeaker complements video surveillance system
Axis Communications' C3003-E Network Horn Speaker can be integrated into a video surveillance of IP telephony system.
Mar 27th, 2015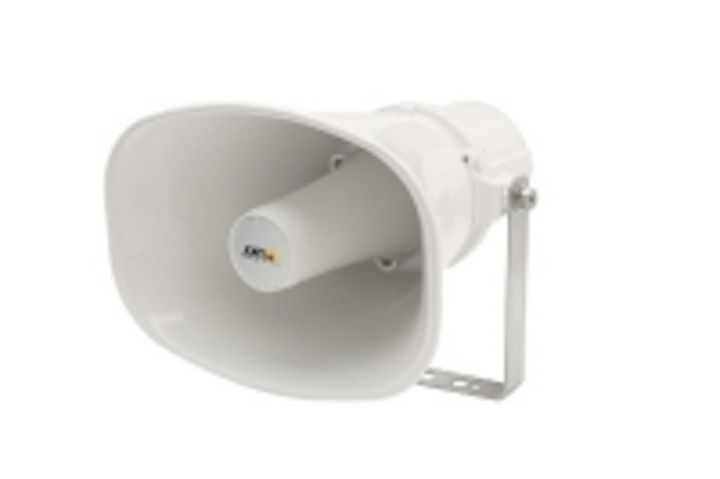 Axis Communications introduced an IP-enabled loudspeaker intended to allow remote speaking in video-surveillance systems. The company describes the C3003-E Network Horn Speaker as "a simple-to-install outdoor loudspeaker that provides clear, long-range speech for remote speaking over a network. When used together with video surveillance, AXIS C3003-E enables an operator to remotely address people and deter unwanted activity." Axis points out that ideal environments for the speaker include parking lots, construction and critical-infrastructure sites, and public squares.
Peter Lindstrom, director of new business with Axis, commented, "AXIS C3003-E is really an IoT device that provides many advantages because it is connected to an IP network. For instance, you can assign a regular phone number to the loudspeaker and simply dial in to it to get heard. It enables integration with just about anything."
The self-contained loudspeaker offers signal transmission, decoding, amplification and speaker in a single unit. "Unlike many analog speakers, there is no need for AXIS C3003-E to connect to a separate amplifier or to a network camera to plug into a network," the company explained. "As a standalone unit [it] can be placed anywhere, enabling a flexible, scalable and cost-effective approach to system design. An external power supply is also not required, thanks to the speaker's support for Power over Ethernet. With one network cable, AXIS C3003-E receives power and plugs directly into a video management system and/or VoIP telephony system."
Lars Kampe, business development manager with Securitas, said, "Horn speakers allow our operators to immediately intervene when video analytics alerts us of trespassing at customer sites. Normally a trespasser will flee the scene when notified of his detection. This saves cost for our customers due to reduced damages and also no unnecessary callouts. Securitas has worked with analog speakers until now. With analog loudspeakers, there is always an uncertainty since there is no way to remotely detect if they are actually working correctly. AXIS C3003-E allows us to remotely monitor the heartbeat of the speaker and check the sound quality. The speaker also supports PoE, which makes it easier to install and lowers installation costs. It gives us the possibility to use prerecorded messages. With Axis's loudspeaker, our customer proposition is greatly enhanced."
The speaker can play a prerecorded audio file when it is manually or automatically triggered in response to an alarm. The speaker comes with prerecorded audio files, such as trespassing and emergency messages, and allows users to upload their own audio.