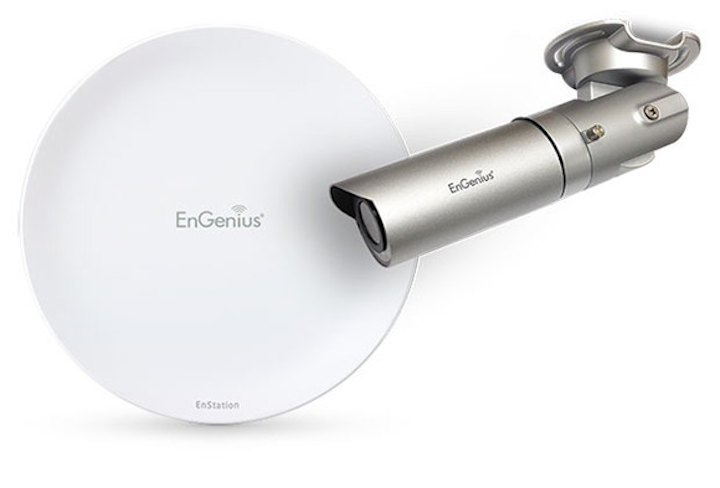 EnGenius Technologies, Inc. (Costa Mesa, CA) announced that it has begun shipping its EnGenius Wireless IP Surveillance System, designed for monitoring large indoor and outdoor environments such as parking lots, shopping malls, warehouses, and campgrounds.

EnGenius bills the Wireless IP Surveillance System as a means to "provide users with a reliable, flexible, easy-to-deploy and manage system that reduces capex by eliminating the need for trenching or hanging unsightly cables, and lowers opex by reducing management costs." The company says the system enables the transmission of video over long distances, or in harsh environments where traditional wireless IP cameras or cable runs would be inefficient or cost-prohibitive.

According to the company, the 2.4 GHz IP Surveillance System (EDS8012) and 5 GHz IP Surveillance System (EDS8015), which are housed in environmentally hardened, IP-rated housings, are easily deployed in point-to-point or point-to-multipoint configurations to provide high-speed video surveillance at speeds up to 300 Mbps over distances up to 5 miles.

"The EDS8012 and EDS8015...are a cost-effective long-range solution that enables organizations to add or extend video surveillance capabilities beyond the limited range of typical wireless IP cameras, and over distances at which running network cabling would be costly or impractical," asserts an EnGenius press release for the product. Other key features and benefits of the EDS8012 and EDS8015, as stated by the company, include:

-- Fast speeds over long distances: Reliable video streaming at wireless speeds of up to 90 Mbps at .5 mile, up to 60 Mbps at 1.8 miles, and up to 30 Mbps at 3 miles.

-- Flexible deployment modes: Multiple operating modes support access point, client bridge, or WDS bridge functions. Deploy point-to-point for extreme distances or in point-to-multipoint mode to support multiple camera deployments.

-- Business-class surveillance cameras: The EnGenius 1-Megapixel Day/Night Bullet IP Surveillance Cameras feature a wide-angle lens providing 1280 x 720 HD performance for clarity and versatility. Removable IRC filter and built-in IR LED illuminators provide clear image quality in bright or low-light conditions.

-- Designed for harsh environments: Waterproof and dustproof IP55-rated access points and IP66-rated cameras are able to withstand harsh indoor and outdoor environments.

-- Easy deployment: Adjustable three-axis pivoting on the access point and a two-axis pivot mechanism on the IP camera make it easy to precisely align and position the system. PoE support enables deployment of the system in areas where power outlets are not available. Access points are easily setup and maintained using intuitive EnGenius EZ Controller software.

-- Video Management Software: Monitor, record and playback video from up to 16 camera streams with the included software.

-- Alarms and alerts: IP cameras can be integrated with third party digital alarms, sensors or other electronic devices that activate when motion detectors are triggered. View, record and receive triggered event alerts directly on a mobile device with a free downloadable app for Android and iOS.

The EnGenius EDS8012 and EDS8015 Wireless IP Surveillance Systems are available now in North America via authorized retailers, distributors and value-added resellers at a MSRP of $279.00 USD for the EDS8012, and $289.99 USD for the EDS8015. For more information, visit www.engeniustech.com.