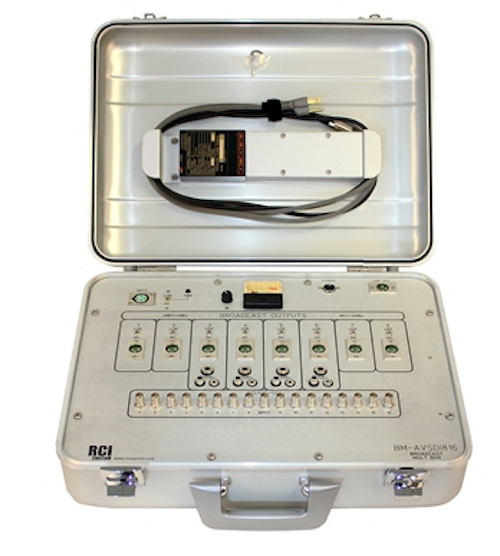 RCI Custom recently bolstered its offering of signal distributors—also commonly called press mults—with the addition of the BM-AVSDI816 audio and HD-SDI video distribution unit. "Combining the broadcast quality audio distribution of the popular RCI BM-16DB along with a robust HD-SDI distribution unit, the BM-AVSDI 816 eliminates the need for multiple microphones at the point of source, while providing journalists and news gatherers an effective and efficient way to receive clean, distributed audio and video signal," the company said.
The BM-AVSDI816 provides 1x16 HD-SDI distribution and 1x8 plus 4 balanced mic/line switchable audio inputs and outputs.
Each unit has active electronics, the company noted, and Jensen transformers on all audio outputs.
"The portable unit is housed in a rugged Zero aluminum case [pictured]," RCI Custom added. "Custom units allow for surface or flush wall mounting, or rack mounting."