In Asia, Standard Chartered opts for CommScope's Redwood building intelligence platform
International bank touts energy savings and advanced occupancy data after successful deployments in Hong Kong and Singapore.
Aug 27th, 2015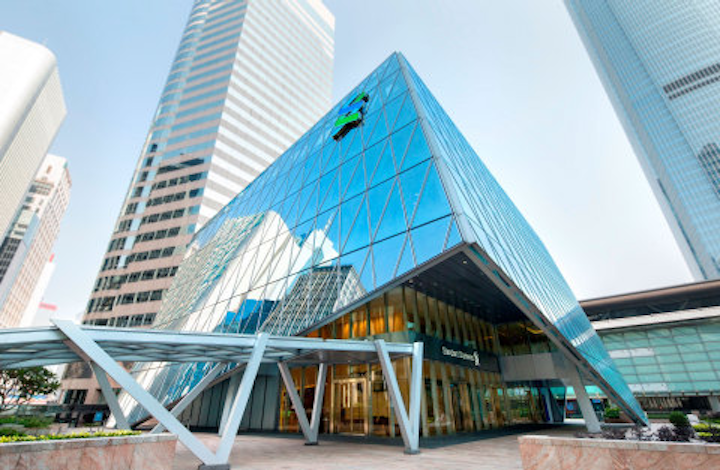 The international bank Standard Chartered announced that it chose CommScope's Redwood building intelligence platform to achieve significant energy savings, improve the workplace experience, and capture advanced occupancy data within two new office buildings in Asia.

According to a press release, "after an exhaustive vendor search, project teams at Standard Chartered locations at Changi Business Park II in Singapore and The Forum in Hong Kong found the Redwood building intelligence platform to be the best option to provide energy savings through efficient LED lighting." The Redwood system provides sensory network data that enables the bank to better understand both its office space occupancy and energy usage.

"Part of our brand promise focuses on the legacy we leave behind for future generations – and that is more than just wealth," comments Denis McGowan, global head, Workplace, CRES, Standard Chartered. "Since the Redwood solution has been operational, we know The Forum now uses approximately 60 percent less energy with six percent fewer lighting fixtures. In Singapore, we anticipate saving almost $100,000 USD during our first year of occupation. This has enabled us to make great strides toward our 2019 energy and sustainability targets."

CommScope notes that the deployed Redwood system operates through a high-density sensor network providing real-time reporting by fixture, group, floor and building. LED lighting can be controlled using the online Redwood management software or through a mobile device, offering occupants the option to digitally interact with the building.

"We see many organizations working very hard to find ways to increase their operational efficiency, and it's amazing to see the reaction when we tell them that a probable solution can be found right above their heads," asserts Ispran Kandasamy, vice president of Enterprise Sales, Asia-Pacific, CommScope. "By using the data set obtainable from the Redwood sensor network, organizations can streamline their lighting, HVAC and occupancy usage within the building – ultimately seeing a significant reduction in operational costs."

When collecting temperature, light and motion data from the Redwood sensors, organizations can gain valuable insight into the occupancy of the building as well as other building systems. For example, Standard Chartered uses the sensors to turn audio-visual systems on and off in certain conference rooms at The Forum. The bank is already using the sensor data at The Forum to monitor space utilization and is in the process of deploying Redwood desk-level sensors in Singapore as part of its strategy to make better-informed real estate and workspace decisions.

"With the Redwood solution, we can accomplish significant savings in our lighting energy consumption and gather the vital data needed to make better decisions about optimizing our environmental footprint," concludes Standard Charter's McGowan. "We have just started down the path of seeing the outcome of our work with Redwood and we look forward to optimizing the sensors to better manage our HVAC and using the motion sensing technology as another layer of building security."

Standard Chartered selected CommScope certified PartnerPRO Network provider Xin Networks to design, install and maintain both locations. To learn more about how the Redwood platform benefits Standard Chartered, download the project's full case study here.