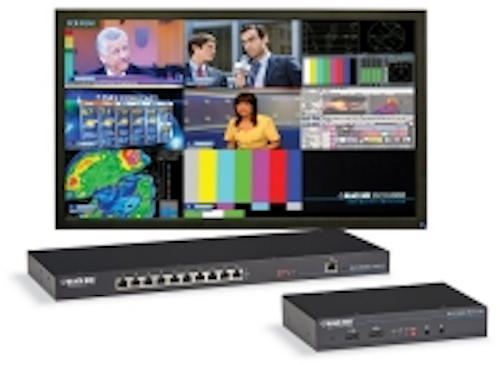 Black Box (NASDAQ: BBOX) recently announced the release of its DCX3000, a high-performance digital KVM matrix switch.

The DCX3000 delivers fast switching of HD video, audio and USB across a combination of 30 sources and end users. Broadcast applications include live production studios, outside broadcast vehicles (OBV) and post production. Additional applications include control rooms for public safety, transportation, military, process control and manufacturing, utilities and air traffic control.

The company says the small form factor (less than 1U) system lowers cost by up to 50 percent compared to existing digital KVM matrix solutions. In addition, Black Box says the switch's "paradigm-changing" graphical user interface enables easy selection and switching between video and computing sources through the use of auto-refreshing thumbnail images. The thumbnail selection window design provides an intuitive multi-viewer type user experience and enables an "at a glance" view of the matrix sources.

Video frames are delivered with zero compression and zero latency, ensuring the most graphically demanding applications operate with no reduction in image quality and no performance degradation. Up to 23 ports can be configured to connect to computers, and up to 29 ports may be used for connecting users for secure computing, resource sharing and content collaboration. User stations can be located up to 50 meters from the central switching unit.

The DCX3000 system contains three components: the central switching unit (DCX3000), the receiver unit (DCX3000-DVR), and server access modules (DVI, DCX3000-DVT; DisplayPort, DCX3000-DPT). The remote-powered Server Access Modules (SAMs) extend DVI or DisplayPort signals and USB over standard CATx cabling from individual servers to the central switching unit and the receivers connect end-user stations to the central switching unit.

To learn more, visit blackbox.com/DCX3000.