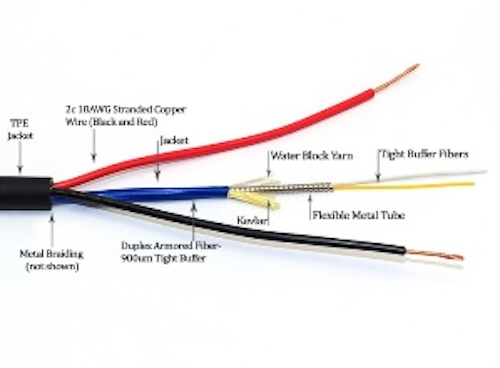 TiniFiber, a brand of Certicable Incorporated (Farmingdale, NY), has announced the launch of its Micro Armor Fiber (MAF) power cable. This plenum-rated "power in the jacket" fiber-optic cable is designed to provide an all-in-one cable solution for security camera connectivity.

Based on its Micro Armor Fiber (MAF) technology, the company says the outer diameter of the new cable is minimized, enabling the most efficient use of space and materials. The cable consists of aramid strands and 12 to 48 multicolored 250 μm fibers packaged in a high performance PVC jacket.

"[Our] Micro Armor Fiber core cable offers unparalleled bandwidth potential from single to 144 strands for both single and multimode usage," says Roman Krawczyk, chief technical officer for TiniFiber's product line.
See also: FTTA cabling system combines power, fiber

TiniFiber adds that its MAF technology minimizes the outer diameter of the cable through a stainless steel tubular coiling process that adds maximum tensile strength and bend radius, while yielding an outer diameter that is similar to a conventional fiber-optic cable housing.

Krawczyk continues, "Cost value proposition is something taken very seriously at TiniFiber. TiniFiber will add value to every project as the defacto 'best in class' Micro Armor Fiber solution. There is not a security solution that cannot benefit from the installation of Tinifiber into their project. The security industry can spec in the TiniFiber and have confidence that the system will not fail or be disrupted due to the cable installation."

Learn more about Certicable's TiniFiber Micro Armor Fiber at www.tinifiber.com.