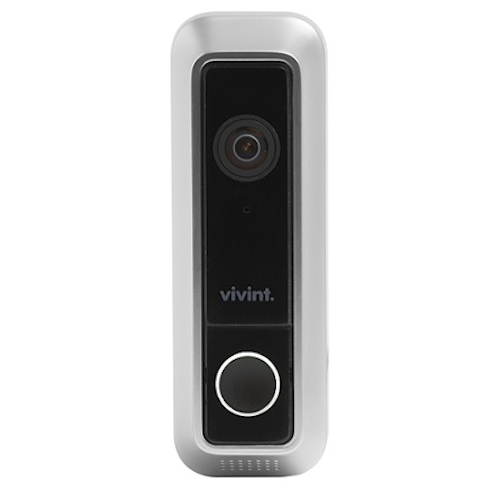 Vivint (Provo, Utah), a provider of smart home technology, has announced its Vivint Doorbell Camera, a Wi-Fi enabled smart home product that integrates seamlessly with the Vivint Sky smart home system.

Featuring a compact design, the Vivint Doorbell Camera is billed as the first product of its kind to integrate with a smart home system. Via the camera, customers can engage in two-way conversations with visitors on their doorsteps from their mobile devices, and use Vivint's smart home technology to remotely unlock the front door, open the garage door, disarm their security systems, and more. The camera's advanced video analytics alerts homeowners to approaching visitors with customized notifications sent not only to a mobile device, but also to the Vivint SkyControl panel, located inside the home.

As soon as the Vivint Doorbell Camera detects a visitor, it begins recording video with audio and saves 30-second clips for later, on-demand viewing. It also automatically broadcasts a live video feed to the Vivint SkyControl panel, as well as to linked mobile devices. With the camera's built-in microphone and speaker, homeowners can have a visual, two-way conversation with the visitor on their doorstep, remotely from any mobile device.

Other key features of the Vivint Doorbell Camera, according to the company, include: a 180-degree lens that shows a home's entire doorstep in high quality video, without a distorted "fish-bowl" view; night vision technology that sees visitors approaching a home even in low-light conditions; advanced echo cancellation and noise isolation for an enhanced two-way communication experience from mobile devices; and a built-in, omni-dimensional microphone that makes conversations clear and easy to understand.

Housed in a sleek black and silver case, the Vivint Doorbell Camera is now available in the U.S. and Canada as part of every professionally installed Vivint smart home package. "We're constantly working to give our customers the best in smart home technology by adding greater intelligence and convenience to their busy lives," comments Jeremy Warren, CTO of Vivint. "With the Vivint Doorbell Camera, we combined brilliant technology and elegant design to provide a doorstep experience like no other in the marketplace."
For more information, visit www.vivint.com/products/doorbell-camera.