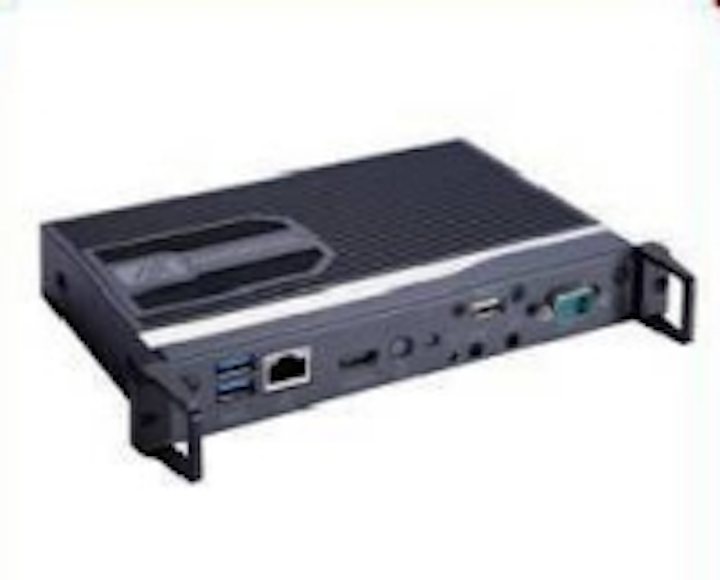 Axiomtek (Taipei, Taiwan), a developer of PC-based industrial computer products, has introduced the OPS885, billed as its latest and most advanced Open Pluggable Specification (OPS)-compliant digital signage player.

The smart pluggable module device is connected to OPS-compliant display via a standardized JAE TX-25 plug connector, and includes HDMI, DisplayPort, UART, audio, USB 3.0 and USB 2.0 signals. The OPS885 also features a wide range of connectivity options, including one 10/100/1000Mbps LAN port, one RS-232, one HDMI interface, two USB 3.0 ports, and one USB 2.0 port on front panel.
The OPS885 also supports one DDR3L SO-DIMM socket with memory maximum up to 8GB. In addition, it features one mSATA interface as storage device and two PCI Express Mini Card slots for graphics-enhanced video card, wireless LAN card for 802.11 b/g/n and 3G/GPRS, and tuner/AV capture card. The OPS885 also incorporates Intel Active Management Technology 9.0 (AMT 9.0) for simplified integration processes and convenient remote diagnosis and maintenance capabilities.

See also: Digital signage presents ambiguity and opportunity

The OPS885 digital signage player is powered by the high-performance 4th Generation Intel Core i5 processor (Codename: Haswell) which incorporates advanced 22 nm technology via the Mobile Intel QM87 Express chipset. Axiomtek says the digital signage player is intended for use in various display applications in diverse environments, e.g., shopping malls, corporate, education, bank, transportation, retail stores, restaurants, and performing arts centers.

"The OPS885 is designed to make digital signage applications more intelligent and easier to install, use and maintain," comments Robert Wang, director of sales and marketing for Axiomtek's digital signage business unit. "Its dimensions are only 200 x119 x 30 mm, which is suitable for all kinds of digital signage applications, even in the space-constrained environments. The signage module also provides superb graphics performance, full HD content playback, and dual display presentations."

Axiomtek's OPS885 is scheduled for phase 2 release at the end of December 2013. For more information. visit www.axiomtek.com.
More coverage: Paper explains digital signage as a moneymaker