USB IP camera video recorder eases surveillance for homes, SMBs
D-Link's mydlink Camera Video Recorder offers complete video management with simultaneous recording, playback and searching.

Nov 19th, 2013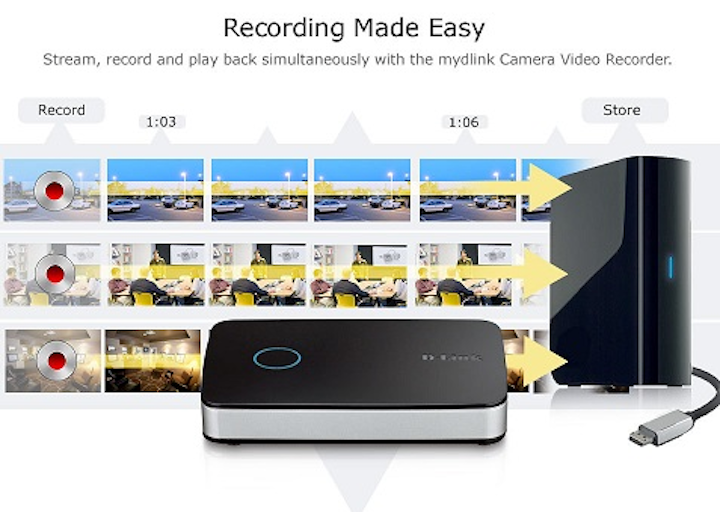 D-Link has introduced its mydlink Camera Video Recorder (DNR-202L), which offers homeowners and small business users an easy way to set up, record and manage video captured from the company's mydlink-enabled Network Cloud Cameras for IP surveillance needs.

Recording to an off-the-shelf USB hard drive, the mydlink Camera Video Recorder offers the company's Cloud Camera customers a robust security solution, supporting simultaneous 4-channel recording and real-time playback for up to four mydlink cameras with customizable motion detection and triggered recording capabilities. The Camera Video Recorder provides two USB ports for cost effective and easy storage expansion, and can be used locally or remotely via the mydlink portal or mobile app with no monthly fees.

The Camera Video Recorder supports up to four mydlink-enabled cameras and provides real-time monitoring, playback and recording all at the same time without the need for a dedicated PC. For easy remote viewing, the mydlink technology allows users to playback video and view live video streams using a web browser or remotely on an iOS or Android mobile device via the free mydlink View-NVR app from anywhere in the world with a Wi-Fi, 3G or 4G connection.

See also: Spotlight on IP video surveillance

Supporting megapixel (HD) quality camera video, the compact (4.6" x 2.75" x 0.80") Camera Video Recorder allows home surveillance users to add up to 8TB's of external storage and record continuously with automatic overwrite functions as well as configure event recording such as triggered motion detection for added security. Offering an Ethernet connection and two USB ports, the device also supports multi-camera viewing, ultra-smooth pan/tilt and zoom functionalities, enabling users to monitor with precision.

"Our new Camera Video Recorder offers a convenient, reliable and affordable camera recording solution, enabling users to remotely view, record, and control their mydlink-enabled cameras," comments Daniel Kelley, vice president of marketing, D-Link Systems, Inc. "The perfect companion to our mydlink-enabled IP cameras, the Camera Video Recorder records easily to any USB hard drive to offer customers a complete home or small business surveillance solution."

The D-Link mydlink Camera Video Recorder (DNR-202L) is now available for $99.99 at retail outlets. Detailed specifications are available at www.dlink.com/dnr-202l.