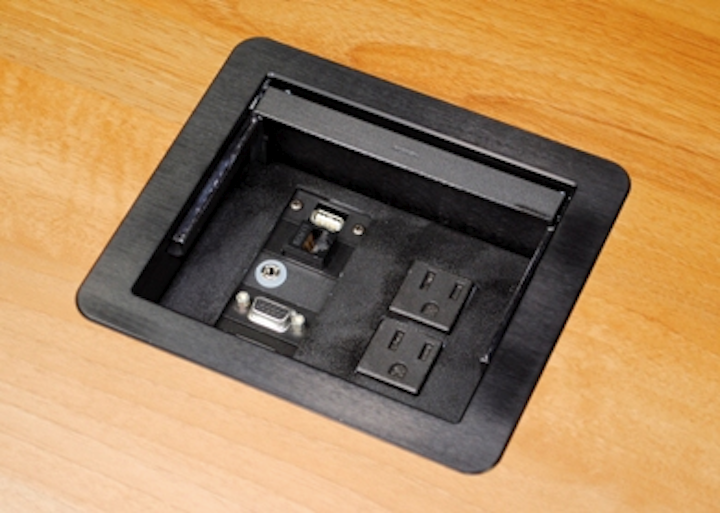 Legrand describes its Wiremold brand InteGreat AV Table Box as "a compact, unobtrusive way to transform meeting rooms into well-connected spaces that eliminate distracting cords and cables, and allows users to focus on conducting business." The product extends AV, communications and power to the work-surface point of use, Legrand explains.
It is the latest addition to the InteGreat series of products that cover the so-called "last meter" of cabling to the work surface. The series also includes cable management as well as a transition channel, the company notes.
The InteGreat AV Table Box includes a cable grommet kit that can accommodate up to eight pull-out connections; alternatively it will accept up to five Wiremold AVIP or Extron MAAP installed connections. It also includes two, 15-amp receptacles in the top compartment and a single 15-amp receptacle on its underside. The activation surface can be adjusted from 1 inch to 4 inches, to allow the cover to close even when large connectors are in use, Legrand says.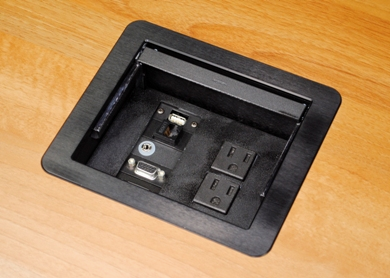 "This box has a brushed aluminum, anodized cover with beveled edges and a 'soft-touch' handle," the company points out. "It is available in both black and silver finishes. The 'pocket' door fully recesses into the table box when open, giving full access to connections without obstructing the surrounding work surface. An integral finishing plate hides hardware on the activation surface and allows for labeling of the device plates."
The product comes with a template the installer can use to cut a hole. From there, installation involves configuring connectivity, setting the activation height, placing the box in the cut-out, and securing it below the table with the bracket and set screw. The cover allows for one-fourth-inch forgiveness in the cut-out opening, Legrand says.
The box also is available through Middle Atlantic Products, also a Legrand company.