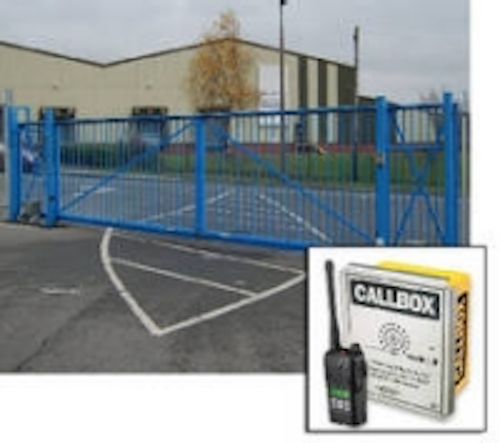 The GateGuard Wireless Access Control System from Ritron Inc. (Carmel, IN) allows wireless 2-way voice communication with visitors and remote control of gates for optimum physical security and convenience. Portable radio-equipped personnel can talk with visitors and then activate a gate from anywhere around a facility. A compact base station radio is also available and provides an AC powered, "fixed" station for 2-way communication and remote-control (either desktop or wall-mount).
The rugged, industrial-grade wireless access control system allows long-range communications (up to 2 miles, line-of-sight), is weather-proof and tamper-resistant. The system works with most VHF or UHF business band 2-way radios. A license-free VHF MURS model is also available. The callbox can be powered by external power or 6 D cell alkaline batteries or the optional Ritron Solar Power kit. The wireless system is easy to install and eliminates costly trenching, claims the company.

The GateGuard system is available in the following business frequency bands: VHF License-Free MURS, Licensed required VHF, and UHF models. Each system includes XT 6 Series Callbox, JMX Portable 2-way radio and a JBS base station. Target applications include commercial and industrial applications including secure office facilities, factories, warehousing, power plants, utilities, schools and healthcare, as well as single-family and multi-tenant residential locations. For more information, visit www.ritron.com.