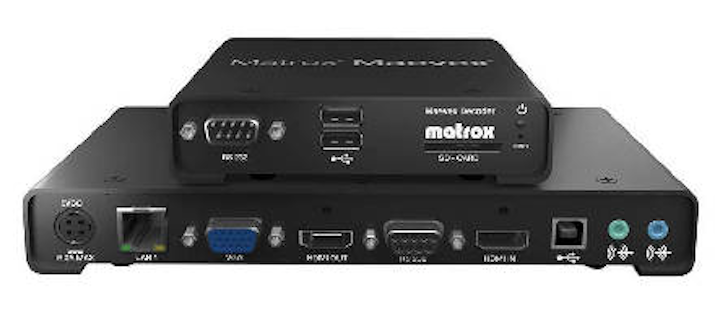 Matrox Graphics (Montreal) will be releasing its Maevex 5100 Series video over IP system by mid-April. Designed to enable extension of full HD quality (1080p60) video over standard IP networks, the Maevex 5100 Series of encoders/decoders is suited for digital signage, collaborative video walls, manufacturing, automation, and process control applications.
Samples of Matrox Graphics' Maevex encoder/decoders are now available to qualified AV installers and system integrators with full production slated for mid-April.
Related: 3 benefits to building an IP network video system

The new encoders and decoders capture, stream, and decode video from variety of sources, and allow for software-based decoding on non-Maevex devices. The Maevex units come bundled with the Matrox PowerStream software, allowing for remote management of devices and enabling a wide variety of user-defined stream-management features, including adjustable low bit-rate encoding for minimal and cost-effective bandwidth consumption.

Related Product: Fiber-optic KVM extender supports dual HD video

The Maevex 5100 Series will be available later this April at the following prices:

• Maevex Encoder – MVX-E5150F -- MSRP USD $999
• Maevex Decoder – MVX-D5150F -- MSRP USD $549
• Maevex Encoder/Decoder Bundle – MVX-ED5150F -- MSRP USD $1299

"Maevex and PowerStream provide AV and IT professionals with a user-friendly means to extend video and audio, striking a perfect balance between excellent video and audio quality and affordability," comments Ron Berty, business development manager, Matrox Graphics Inc. "We expect the availability of Maevex to provide integrators and AV/IT resellers with a cost-effective video over IP solution that was previously out of reach."

The Maevex products will be demonstrated live at the 2013 NAB Show at Matrox booth #SL4616, April 8 – 11 at the Las Vegas Convention Center and at InfoComm 2013 at Matrox booth #4759, June 12 – 14 at the Orange County Convention Center in Orlando, Florida. For more information visit www.matrox.com/graphics.

More Products: Fiber-optic KVM extenders send dual DVI video up to 2000 m