Transmission bus for IP devices supports coaxial, twisted-pair cabling
NVT's TBus product series delivers 56 VDC power for remote transceivers as well as their PoE devices.
Apr 17th, 2013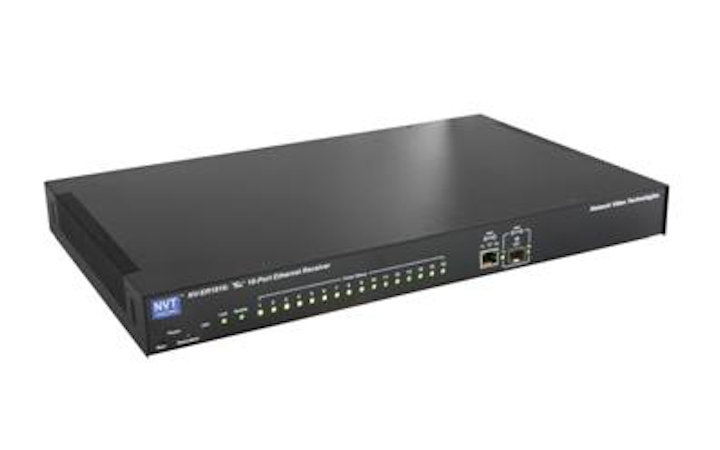 Network Video Technologies (NVT) recently released the TBus Ethernet over Coax/UTP Transmission product series. The TBus, or transmission bus, serves as the backbone communications architecture for NVT's range of IP transmission devices, the company explains. It "supports all forms of coax and UTP cables as well as 18/2, 2-wire, and STP in any combination of star, peer-to-peer, or daisy-chain cabling topology," the company explains.
TBus also delivers 56 VDC power for remote transceivers as well as their remote Power over Ethernet (PoE) devices such as IP cameras. Loads of up to 1 amp are possible, NVT says, supporting high-power PoE+ devices up to 50 watts. "TBus supports advanced 128-bit AES [Advanced Encryption Standard] encrypted network speeds of up to 200 Mbits/sec," the company adds. "Data distances of 8,000 feet are possible on RG59/U."
Transmitters in the product line include the single-port NV-ET1801 and the four-port NV-ET1804. Receivers include the four-port NV-ER1804, the eight-port NV-ER1808i and the sixteen-port NV-1816i. The eight- and sixteen-port receivers are 1U rack-mountable and contain browser-based management tools.