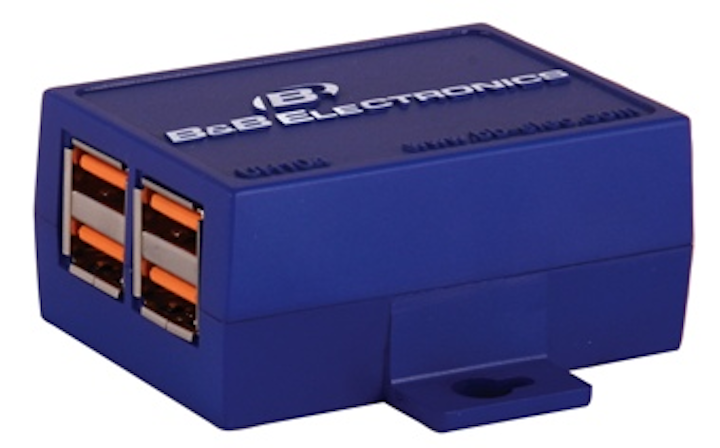 UH104 is the latest industrial-grade USB 2.0 hub from B&B Electronics Manufacturing Co. The four-port mini-USB hub connects multiple peripheral devices to a single USB port. As B&B explains, "Powered exclusively by the host USB port, it provides downstream devices with 100 mA of power and high-speed USB connectivity at 480 Mbits/sec.
"Designed for easy mounting in harsh environments and cramped spaces, the mini [2.4x1.75x1.10 in] USB hub features a rugged ABS [acrylonitrile butadiene styrene] plastic housing, built-in mounting tabs, a wide operating temperature [-40 to +80 deg. C], and high-retention USB connectors that require up to 3.4 pounds of force to disconnect, ensuring tight connections even in high-vibration situations," the company adds.
The hub is made primarily for industrial automation, instrumentation, security, kiosks, point-of-sale and laboratory market applications. It is "designed, tested and proven rugged enough for industrial EN61000-6-1 harsh environments," B&B adds. "Its construction was validated using IEC60068-2-32 drop testing, and it also adheres to 15 kV ESD protection and FCC/CISPR Class B standards."
With an MSRP of $129, the UH104 does not include the built-in surge protection and electrical isolation that many of B&B's hubs do. The product carries a five-year warranty.