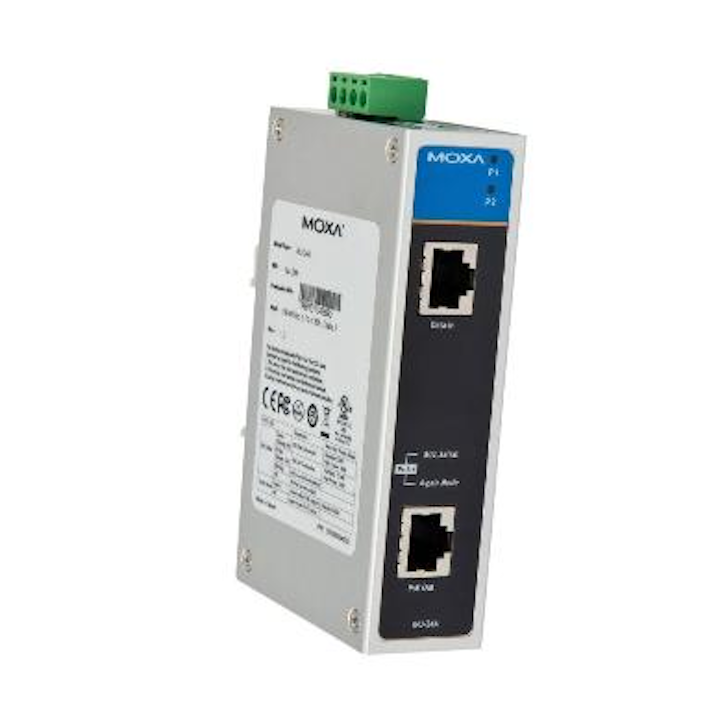 Moxa recently introduced the INJ-24A Gigabit High-Power PoE+ Injector, which the company says is capable of transmitting 60 watts of power to any powered device, along with data, "allowing devices on 10/100/1000 networks to safely operate with twice the power of conventional PoE+," the company says.
Moxa adds that the INJ-24A can quickly adapt to different power standards. "By adjusting the DIP [dual in-line packaging] switch, the operator can select different power standard modes and even which wire pairs to deliver power on," the company says. "This versatility means that the INJ-24A can supply power to nearly any PoE device with minimal compatibility obstacles because it can quickly reconfigure to match the device's settings."
About the need for high-powered PoE devices, Moxa noted, "Networks deployed in outdoor environments would seem like a natural fit for PoE+ technology since outdoor network devices are more difficult to wire and require more costly cables. However, because PoE+ technology can only deliver 30W, it often comes up short outdoors where power-hungry IP cameras, wireless access points or RF modems require added wattage for such things as heating units or integrated wipers. In addition, most commercial PoE connections are not robust enough to withstand static discharge, extreme hot or cold temperatures, power surges and other environmental punishments.
"Leveraging its deep knowledge of hardened network engineering," Moxa continued, the company "purpose-built the INJ-24A to thrive in conditions where conventional injectors fail, ensuring a consistent stream of data and power in the face of power fluctuations, static electricity and other sources of electromagnetic interference. Media connections are reinforced with protection against power surges of up to 3KV, while a heat-efficient housing enables the INJ-24A to operate in extremely cold or hot weather. The built-in 24/48 VDC booster enables the injector to operate on either 24 VDC or 48 VDC."
Moxa prices the INJ-24A at $349.