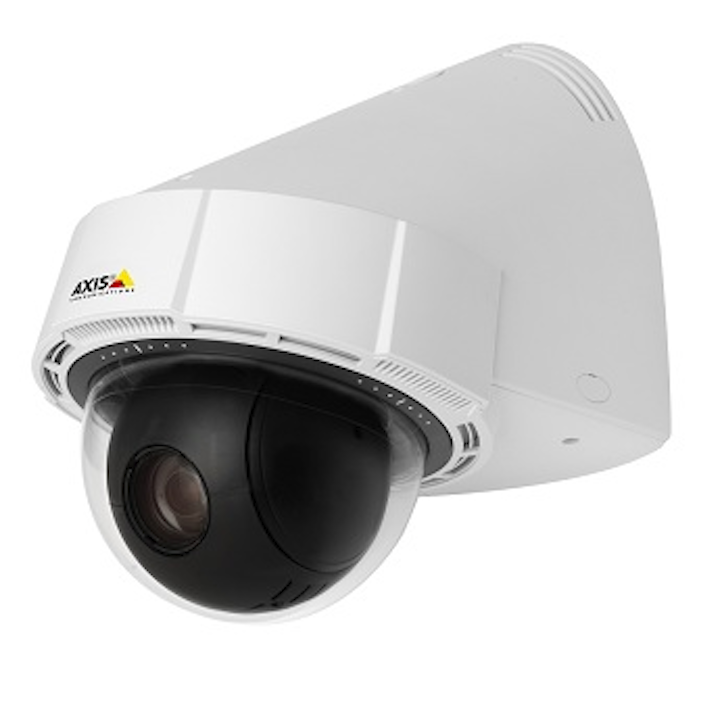 Axis Communications has unveiled its Axis P5414-E PTZ dome network camera, the first in a line of outdoor-ready pan/tilt/zoom domes featuring the company's "direct drive" technology, meant especially for wall-mounting. The new HDTV 720p-quality PTZ dome with 18x optical zoom is billed as ideal for use in city and perimeter network video surveillance applications, including parking garages, campuses and schoolyards, and outside of retail and medical buildings.

"About half of all PTZ cameras [installed today] are mounted on walls. Axis P5414-E addresses this market with a unique design," says Erik Frännlid, director of product management, Axis Communications. "The result is an attractively priced, high-performance HDTV PTZ camera that's easy to install."

The camera's intelligent direct drive pan/tilt system facilitates easy wall-mount installation and supports mechanical PTZ endurance by limiting the amount of moving mechanical parts such as belts or gears. The camera is directly attached to the drive shaft of two motors -- one for panning and another for tilting the camera. Other innovations include a built-in wall bracket that eliminates the need to purchase a separate mounting accessory, which makes for more efficient installation.

Related: Axis Communications wins Wall Street Journal's technology innovation award

The Axis P5414-E's summary of key features includes the following points:

-- HDTV 720p performance in compliance with the SMPTE 296M standard for resolution, full frame rate, HDTV color fidelity and 16:9 format.

-- 18x zoom with autofocus in combination with HDTV resolution delivers the advantage of a wider (16:9) field of view while providing zoomed-in views with the same level of detail as a standard resolution, 36x-zoom camera.

-- Multiple, individually configurable streams in H.264 and Motion JPEG video formats.

-- Day/night functionality with an automatically removable infrared(IR)-cut filter for color video during day time, and high-quality black and white video in low-light.

See also: Night lighting tips for network cameras

More: Top 10 installation challenges for IP video surveillance

-- Intelligent video functionalities such as video motion detection, Advanced Gatekeeper and audio detection, as well as support for additional applications through the Axis Camera Application Platform.

-- Outdoor-ready with IP66 and NEMA 4X ratings that ensure protection against dust, rain, snow and corrosion.

-- Access to proprietary video management software through Axis. The camera also includes support for the Axis Video Hosting System and ONVIF for easy camera system integration.

With the ability to pan 270 degrees, the Axis P5414-E can also be mounted on the corner of a building using a corner mount bracket to enable wide area coverage and high optical zoom for detailed surveillance in HDTV resolution. The dome camera features an integrated sunshield designed for easy removal, allowing customers to paint it to match the installation environment. This sunshield's sloping form helps the camera resist attempts by vandals to pull it down.

The camera has a hidden junction box that supports two-way audio, a memory card slot, four configurable inputs/outputs to external devices, and the option to use either 24 V DC or Power over Ethernet Plus (IEEE 802.3at). The Axis P5414-E also supports Advanced Gatekeeper, which enables the camera to automatically pan, tilt and zoom to a preset position when motion is detected in a predefined area.

The Axis P5414-E is expected to be available in July 2013 through Axis distribution channels at the suggested retail price of $1599.
Search for Security Products in our Online Buyer's Guide