Power over Ethernet extender wins 'best-in' award at security show
Berk-Tek's OneReach system is the first-ever winner of the 'Best in Network Support Solutions' category as part of ISC West's New Products Showcase.
Apr 15th, 2011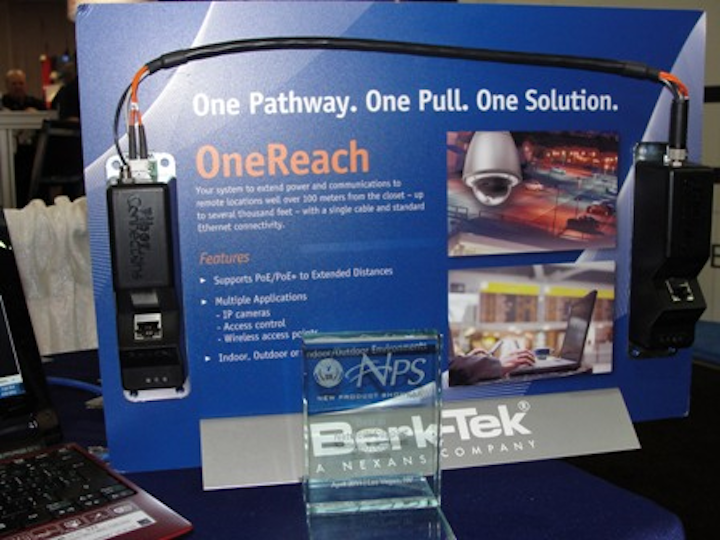 The OneReach Power over Ethernet Extender system offered by Berk-Tek received the "Best in Network Support Solutions" award in the New Products showcase display, which was sponsored by the Security Industry Association at the annual security exposition ISC West. ISC West was held in Las Vegas, NV in early April. According to Berk-Tek, their award marked the first time a cabling manufacturer won this award. The New Product Showcase (NPS) is in its 33rd year and includes 21 product categories. The NPS was established to recognize innovative products, services and solutions in electronic physical security. 2011 was the first year the NPS included the Network Support Solutions category.
Mike Connaughton, RCDD, fiber-optic products business manager with Berk-Tek, said,"As surveillance systems are moving towards IP and relying on a structured cabling infrastructure, the award categories are expanding to accommodate these emerging technologies. We are proud to be the first cabling manufacturer acknowledged through this prestigious recognition." Connaughton accepted the award from the Security Industry Association's chief executive officer Richard Chace. In the image at the bottom of this screen, Connaughton is in the center holding the award, surrounded by other members of the Berk-Tek/OneReach contingent in their booth at the ISC West expo.
The OneReach PoE Extender system comprises PoE media converters and Berk-Tek's CL3R-OF (Class 3, NEC-rated) copper and optical fiber composite cable. By using the system, Berk-Tek says, IP PoE cameras can be supported at distances of up to 4,000 feet without the need for an electrical outlet at the camera end.

You may also be interested in reading this article: Extending PoE long distances for safety's sake. Originally published in the March 2011 issue of Cabling Installation & Maintenance, the article details the use of the OneReach PoE Extender system at Hudson Valley Community College in Troy, NY.