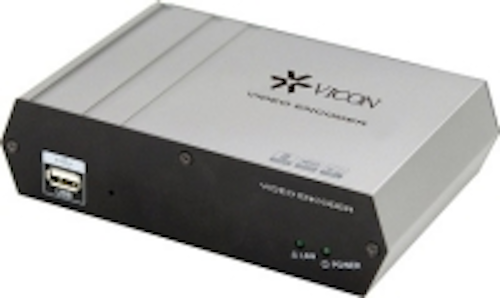 Network video management systems specialist Vicon Industries has introduced its VN-901T single-channel video encoder, which changes NTSC or PAL video from any analog camera into an ONVIF-compliant video stream that can be integrated into most IP video management systems, including ViconNet VMS.

The device transmits H.264 high-profile, MPEG-4 and M-JPEG video compression formats with dual streaming. All camera features are supported through the encoder, including PTZ. The device may be powered by either PoE or 12 VDC/24 VAC. Two alarm inputs, one relay control output, 1 PTZ port and a line-level microphone input are provided.

"In situations where customers are upgrading to an IP solution, there is sometimes an isolated, high-end analog camera that is performing well and would be terribly expensive to replace with an IP-equivalent model. The single-channel VN-901T encoder is perfect for these instances," comments Margie Gurwin, Vicon's director of marketing.

The VN-901T is available now. Learn more.

Related news: Vicon appoints 2 new sales managers for Northeast U.S.