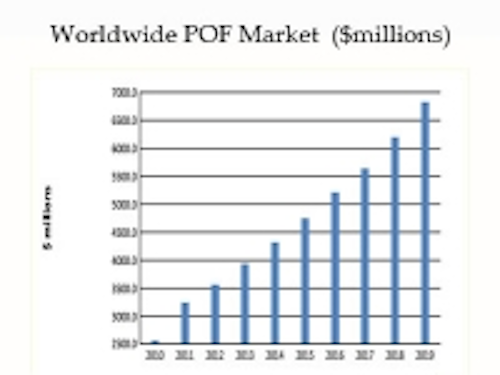 Image: IGI

IGI Consulting, Inc. (IGI) has announced a major update of its widely accepted report on the plastic optical fiber (POF) market. The researcher's Plastic Optical Fiber Market & Technology Assessment Study - 2014 Edition claims that developments in the past several years have propelled POF as a leading contender with copper wire for high speed data and video applications.
New technological developments in sources, connectors, and fibers are expanding the bandwidth-distance limits of POF into new applications, states the report. "After many years of playing second fiddle to the glass optical fiber business, POF is now starting to get the recognition it deserves," said a spokesperson for IGI. "Some are even saying that POF could be a disruptive technology."

Based on recent developments in the industrial controls, consumer electronics, and automotive applications, IGI forecasts major growth and opportunities in the POF market. Major developments in each of these three markets are providing the major drivers pushing POF technology into the mainstream, says the report.
According to IGI, major factors behind this sharp increase in market demand are the need for lower-cost interconnections, increased performance requirements (higher speeds), introduction of digital electronics, electromagnetic noise and interference, and the development of standards. In addition, POF technology has shown dramatic developments in lower loss and higher performance, due to the recent commercialization of new perfluorinated (PF) graded index (GI) and PMMA GI fibers, and of new optical sources.
The market and technology assessment study includes updated market forecasts through 2019. IGI says that forthcoming technology advancements in the POF market could include:

- Optical interfaces using GI POF for consumer Ultra High Definition Video
- Visible LEDs for up to 5 Gbps short reach transmission over SI POF
- 110 Gbps POF link for ultra HD television
- Silicon for Gigabit POF data links
- New polystyrene GI POF
- New ITU POF home networking standard
- New ball point pencil connectors
- Active Optical Cables using POF
- Applications of POF sensors for "green" energy
- Application of POF for UAVs and robotics
- Newly published cost comparison of Fiber vs. Copper study
- CoolPOF
- New materials for high temperature POF
- 40 Gbps POF receivers developed

Order IGI's new POF market study here.