HDMI-over-IP controller enables matrix switching, video wall control
Device expands management functionality of Black Box's MediaCento IPX transmitters and receivers.
Jun 17th, 2014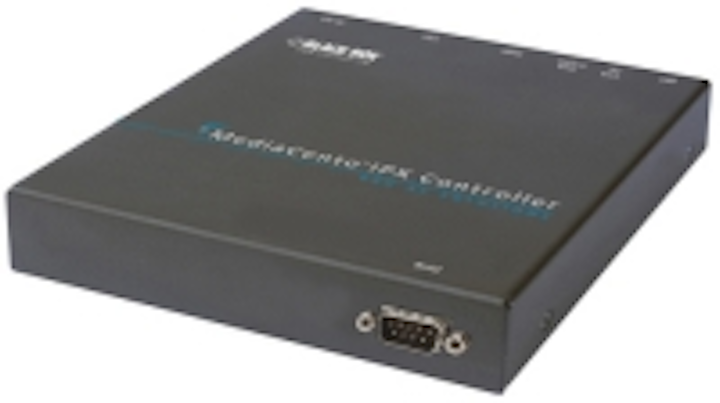 Black Box (NASDAQ: BBOX) has introduced its MediaCento IPX Controller, an appliance that enables IP-based video matrix switching and video wall control for HDMI-over-IP solutions. The new network appliance enables browser-based control for managing network connections between content sources and endpoints. The MediaCento IPX system enables extension of HDMI video and USB over an IP network to a virtually unlimited number of screens and video walls.

Using an internal Web server interface, users can switch from any source to any display, create pre-sets and combine multiple receivers into a video wall, and control and switch video wall zones remotely. The controller also features mobile support to allow users to easily access and activate pre-sets from their mobile phone or tablet device. Because it is IP-based, there are no port limitations and it can support hundreds of individual screens and video walls up to 8 x 8 in size.

More news: Black Box renews national partnership with CommScope

Set-up is easy; the MediaCento IPX Controller automatically detects any MediaCento units in the network and pulls them into the Web interface for easy control. The controller has two Ethernet ports to coordinate video connections on one network and receive control signals from another network. For example, connections over a dedicated video distribution network can be controlled from a corporate LAN or the Internet using a mobile phone, tablet, or office computer.

"The embedded MediaCento IPX Controller device combines video distribution over IP and flexible matrix switching with highly impressive and cost-effective video wall control, a combination previously unheard of," comments Erik Indresøvde, Black Box's global AV product manager.

For more information, call 724-746-5500 or visit www.blackbox.com/go/MIPX.